The best thing about hypertufa troughs is that they give us a place to plant tiny fragile things that might otherwise be lost, trampled, or overtaken in our gardens. They are also especially perfect for anyone interested in alpines who might not have a dedicated or perfectly situated rock garden. – We do have a dedicated rock garden but in a less than ideal situation. It's in partial to full shade at the lowest (wettest) point on the property and we've found that a lot of alpines, which need a high pH and well-drained scree, struggle. In troughs, we can at least give those plants high pH (leached from the cement) and decent drainage by adding plenty of sand or grit to the potting mix.
That said, we haven't purchased many precious alpines for the troughs (yet. – I'm lusting for saxifrages) and we filled them instead with the tiny stonecrops we can never resist when we see them for sale, and pieces of various and sundry Rock Garden survivors. I wish I had taken pictures of these troughs earlier in the season because the fall color that makes the plants extra pretty also makes them harder to identify. Please speak up if it looks like I didn't hit the nail on the head. (Click on pictures for larger view.)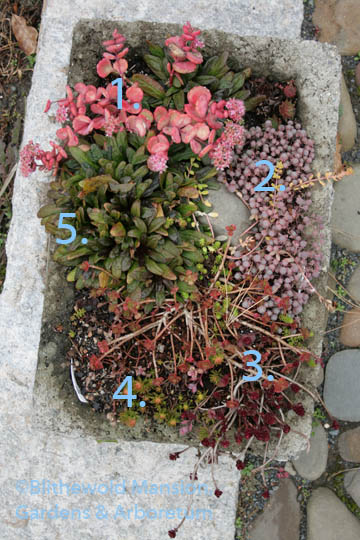 1. Sedum cauticola 'Lidakense'- summer foliage is blue-grey, flowers are hot pink.
2. S. dasyphyllum – summer foliage is very blue and VERY tiny.
3. S. spurium 'Voodoo' – deep burgundy-brown foliage.
4. S. 'Angelina' – might need to keep an eye on this bright-orange/chartreusey  beauty. Given half a chance it will fill the whole trough. (Funny that it has all but disappeared in these troughs.)
5. Ajuga 'Chocolate Chip' – probably the cutest bugle ever. Its foliage is much more purplish  in the summer and does really well in partial shade.
________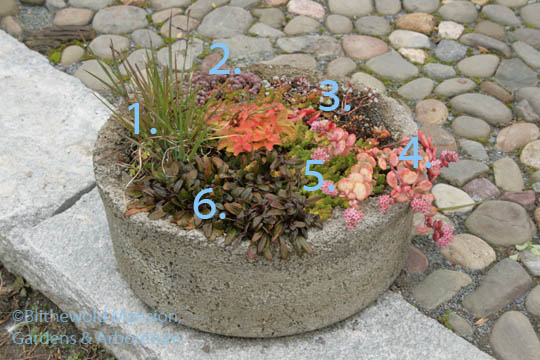 1. Sisynchrium 'Lucerne' – blue-eyed grass. Blooms tiny purplish blue stars in early summer.
2. Sedum dasyphyllum
3. S. spathuifolium 'Cape Blanco'
4. S. ewersii – also has blue summer foliage and it's very possible that I've confused it with S.  cauticola 'Lidakense' above. S. ewersii trails and S. cauticola has reddish stems…
5. S. 'Angelina'
6. Ajuga 'Chocolate Chip'
_______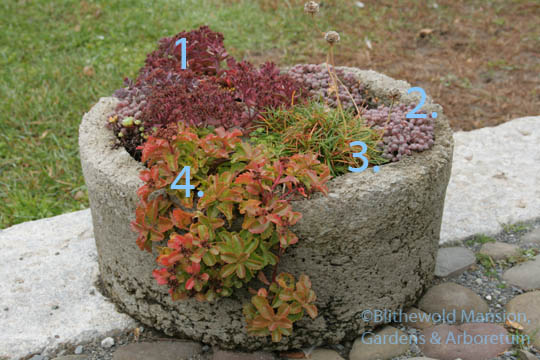 1. Sedum sieboldii – October daphne. blue summer foliage.
2. S. dasyphyllum
3. Armeria maritima – Sea thrift. pink pom-pom flowers on and off all summer over a tuft of thread-leaf foliage.
4. Sedum kamtschaticum 'The Edge' – larger foliage than the others, delicately smudged in yellow with yellow flowers.
All of these plants are hardy and the troughs will stay in place outside all winter. Please let me know if you think any of these things are misidentified – and if I've managed to help you get a vision for creating an even prettier trough tapestry of your own. (I have all sorts of hopes and plans for next season's batch!)