Tuesday, November 2, 2010
|
|
chartreuse
,
container plants
,
container plants
,
fave rave
,
foliage
,
How, When, What-we-do
,
plant combinations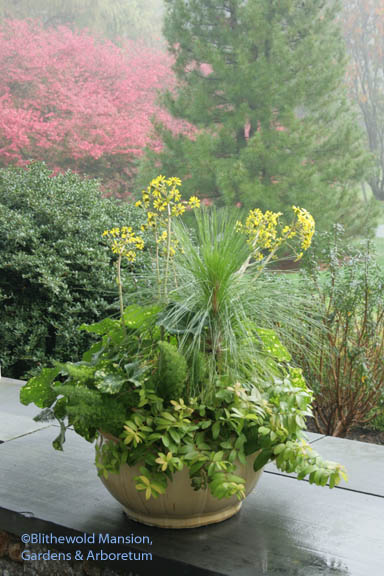 Back in June 2008 I wrote, "A mixed container is a challenge. Just like planting a garden with the right plant for the right spot, for a mixed container one must at least consider putting plants with similar needs together." Then I went on to talk about breaking that rule. (It didn't work out well. I'm pretty sure I never mentioned those particular pot combos again.)
This past April – the 8th to be exact if I can trust the scrawl in my calendar that reads "k – front porch pot" – I planted a container that I wasn't sure would make it past Daffodil Days. I was so unsure of it that I didn't even take a picture after I planted it. But not only did it make it through spring, I just took it off the porch yesterday, looking more beautiful than ever. My temptation is to take zero credit for it and say it was just dumb luck – one of those happy accidents that happens sometimes in the garden. But actually, the plants played very well together and there's a (remote) possibility that I might have had an inkling when I planted it. The plants I chose could all take the kind of "evenly moist" that is easy to maintain in a glazed pot (watered twice a week); they all appreciate a little morning sun and afternoon shade. And here's where I really lucked out – they almost all grew just enough to fill the pot without being bullies.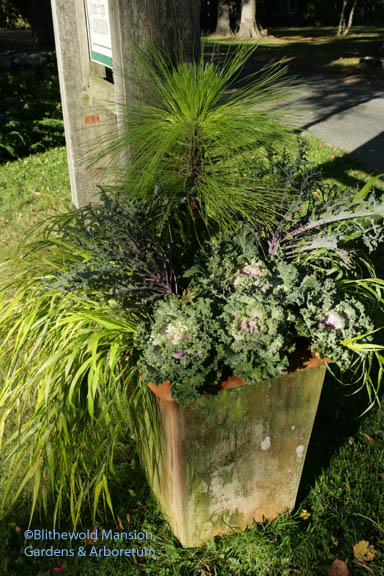 The plants:  Pinus palustris (Longleaf pine) – in any container it's guaranteed to turn heads. (I planted one in the pot by the road too.) Farfugium japonicum 'Aureomaculatum' (Leopard plant) – another stunner, finally blooming now. Hypericum calycinum 'Brigadoon' (St. John's wort), Asparagus densiflorus (asparagus fern) and a couple of tiny Campanula 'Elizabeth Oliver'. The campanula were the only plants that, after they were done blooming, were overtaken by the rest. It was almost as if I planned it that way.
I know there's something to be said for redoing containers periodically throughout the season to keep it all interesting – and keep a gardener on her toes. But my goal is always to get it right the first time. (And this was the first time.)
Have you planted a container combination that stood the test of time and maintenance? What worked? (Was it carefully planned or a happy accident – or a combination?)