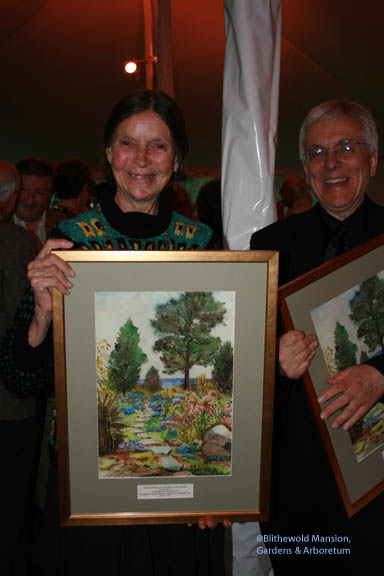 Marjorie Shaw Jeffries, recipient of the Marjorie Van Wickle Lyon Award at Wednesday night's Annual Meeting said that it has taken her a long time to figure out why everyone feels so strongly about Blithewold. And she grew up loving this place! Marjorie Jeffries is Marjorie Van Wickle Lyon's niece, Augustine Van Wickle Shaw's daughter and Bessie and Augustus Van Wickle's grand-daughter (Click for the Blithewold family history). She summered here as a child and since her aunt died and Blithewold was opened to the public, Marjorie has been making priceless contributions of stories, letters and family articles to the archives as well as musical performances and her own art for visitors' enjoyment. In her award acceptance speech she talked about her attachment to the property through her family ties and her astonishment that this place could mean so much to others. She said she's come to realize that "it's the people that make Blithewold so special". And it's true. Just look at this pack of gorgeous and filthy people who gave their all yesterday planting the Rose Garden and tell me it's not true!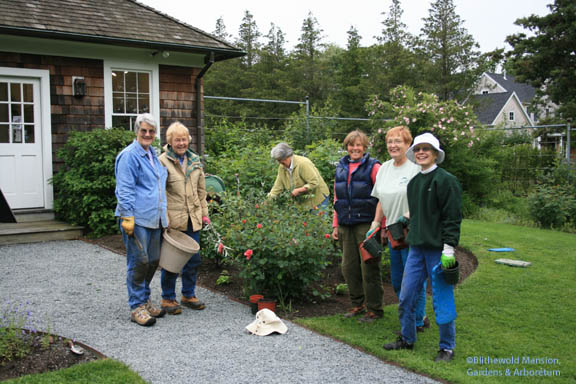 It's a beautiful property, ideally situated with stunning and unusual specimen plants but that's not what resonates the most for those of us who are attached to it. "It's the people."
Blithewold is well loved and in a way like the velveteen rabbit – it is "Real" and somehow comforting. I think even first-time visitors get a sense of its soul. Not every landscape has a soul – you know the ones that don't – they hardly bear a wander and a pause. But any garden created with love and attention can stop us in our tracks and make us wish we knew its people. Are there gardens (besides your own) that are "Real" in this way for you?