As we grow into our gardens I think we all develop trademarks – styles of gardening or a certain look in plants that is recognizable to our friends as being totally us.  To mark Julie's next to last day as Blithewold's Director of Horticulture, I thought I'd share some of what is "so Julie".
Perfectly and delicately proportioned plants are what I think of as being very "Julie".  Her favorites tend to have a balance between bloom and leaf shape and keep tidily to themselves rather than bothering the neighbors.   Perhaps because her own garden is the size of a postage stamp and everything in it is in perfect scale, she also tends to gravitate towards anything diminutive that, to me, cries out "so sweet!".
Tried and true favorites are Tagetes tenuifolia 'Lulu' (Marigold) and old fashioned heliotrope (Heliotropium arborescens).
Both have nose filling scents and although they ramble a bit, they are both brittle and more likely to be smashed than to smash something else.  ("Smash" is trademark Julie!)
A few days ago I asked Julie for a few of her current faves and here they are:
She's into the tiny leaf basils that I wrote about here and the ornamental peppers, especially 'Candlelight'.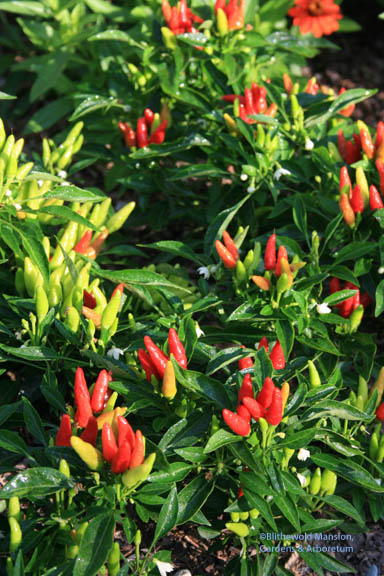 See what I mean about perfect proportion?
Daphne transatlantica.  I love that Julie chose this one because it is Daphne x burkwoodii 'Carol Mackie' that is stealing the show in the Rose Garden right now.  D. transatlantica is like the pretty girl's quiet friend:  When you take the time to notice her you realize she's the one in bloom.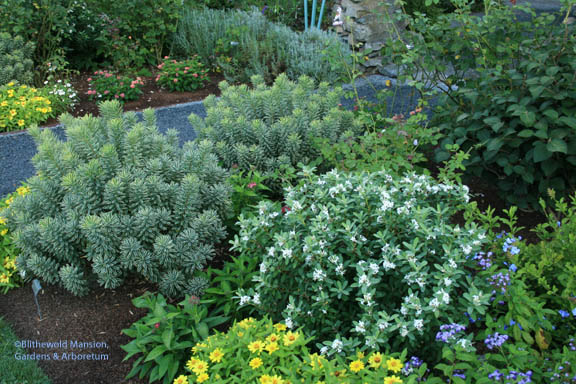 This daphne blooms all summer without stopping and is wonderfully fragrant.
Hydrangea quercifolia 'Snowflake' is at the top of her charts now too ('Limelight' will join the list when its blooms fade to pinkish in a couple of weeks).  The double blooms of 'Snowflake' are amazing in detail – and look exactly right with the leaf size, shape and color.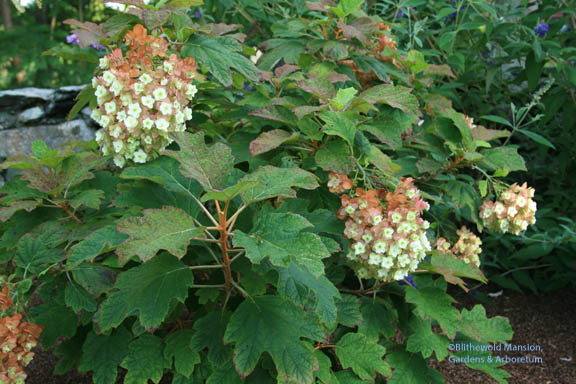 The view of the North Garden from the north porch is also a Julie favorite –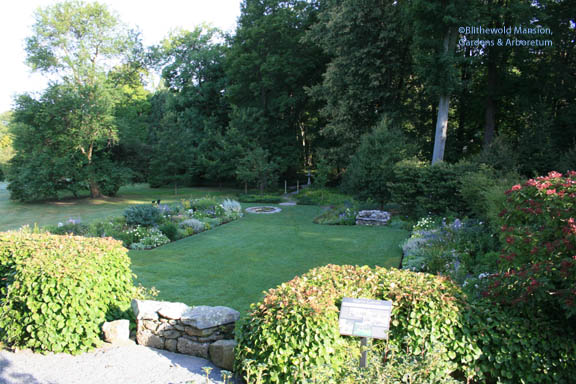 – and so is the Red-Tailed hawk that comes by to bathe in the North Garden.  It's as if the fountain was made for him – it is perfectly proportioned!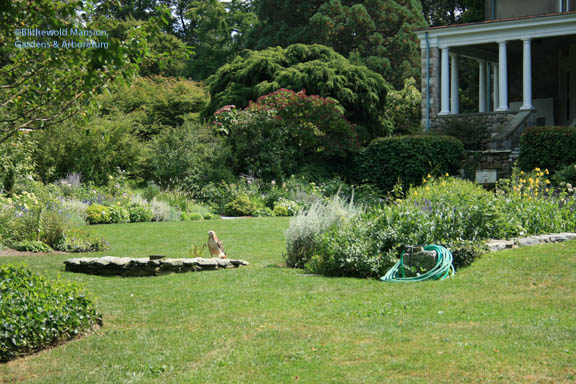 What are your trademark favorites?  If you're inspired to write a whole post about your – or a friend's – signature style, please share by creating a link to this post.
À bientôt, Julie!