Thursday, June 4, 2015
|
|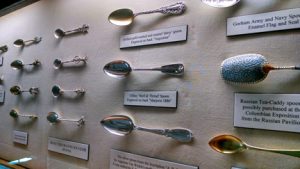 This month the changing exhibit in Blithewold's Billiard Room focuses on silver commemorative spoons. Bessie and Marjorie both purchased silver spoons on their travels around the United States and Europe, resulting in an impressive collection of more than 100 pieces.
The small selection in this exhibit includes souvenir spoons from Europe, some of them highly decorative.  There is also an Army and Navy spoon with enamel US flag and seal, and a beautifully enameled Tea Caddy spoon, ca. 1892. Of historic interest are the spoons that were given to celebrate a new baby in the family.  They are all engraved with the name and date.  They include "Bessie," "Marjorie 1886," and "Augustine 1898." There is even the silver spoon crafted and engraved to celebrate the birth of Augustus Van Wickle's mother, Anna Randolph Stout, ca. 1825.  Of particular interest in this category is a Zodiac Spoon given to Augustine (Sagittarius for her November birthday) engraved "Augustine 1898."
Silversmiths represented are Gorham, Tiffany, Baker & Son, and Bailey, Banks & Biddle.