Friday, September 6, 2013
|
|
Allium tuberosum
,
bush clover
,
fall
,
Helenium
,
late summer blooms
,
Lespedeza thunbergii 'Edo Shibori'
,
Lespedeza thunbergii 'Samindare'
,
Monarda punctata
,
sensory stimulation
,
sneezeweed
,
Uncategorized
,
weather
,
what's blooming
,
what's colorful
I am always reluctant to say goodbye to summer but this morning, as I type with cold hands for the first time in months, I have to acknowledge a shift. The capricious weather has been bouncing from gray stormy back to sultry only to blow on a breeze to delicious apple-crisp. And visitors to the gardens no longer seem to expect a riot of summer color and instead act surprised to find a kaleidoscope that shifts with every turn. We're not surprised though. While Gail and I are glad to have been spared the hail that battered nearby gardens the other day, we are used to taking a whole lot of color after Labor Day for granted.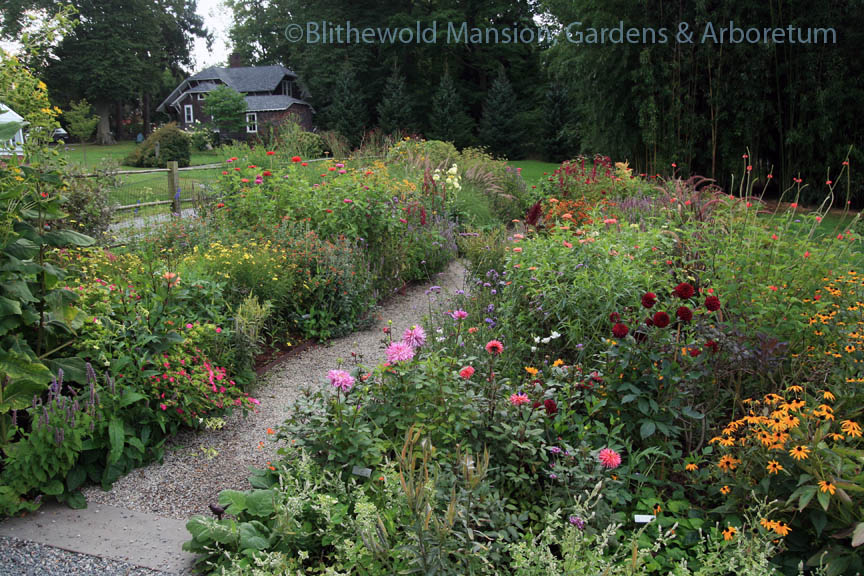 But even though we expect color – and planned for it – doesn't mean we aren't excited about it. Of course we're still enjoying all of the flowers that started blooming weeks and months ago (echinacea, 4 O'clocks, nicotiana, agastache, zinnias, roses…) but are especially thrilled now by the late bloomers. Last spring or early summer, Gail tucked a couple of brandy-new sneezeweeds into the cutting garden. I can't decide if I love Helenium 'Can Can' or 'Tie Dye' better… Good thing we have both.
Garlic chives (Allium tuberosum), an old standby newly placed in the pollinator garden, are perfectly timed to prove that white after Labor Day was never gauche. Even so, I  generally prefer more pigment in my colors and am endlessly fascinated by the range of pale pinks and speckled golds in the pagoda tower flowers of native dotted mint (Monarda punctata). I never want summer to end but I am always impatient for those to start blooming.
Same is true of bush clover. All summer I cannot WAIT for that to bloom. I like Lespedeza thunbergii 'Samindare' so much I bought one for my own garden last year. It only arches 4-5′ tall (after an early spring whack-back to the ground) so doesn't take up as much garden as its sister 'Gibraltar'. The bees can't get enough of 'Edo-Shibori' (5-6′ arches) but to my eyes from a distance its tiny pink and white flowers read as beige so now I can't wait for its translucent chartreuse seedpods.
Is your garden a kaleidoscope of color after Labor Day? Are there any late-summer bloomers you can't wait to see?