Thursday, April 28, 2022
|
|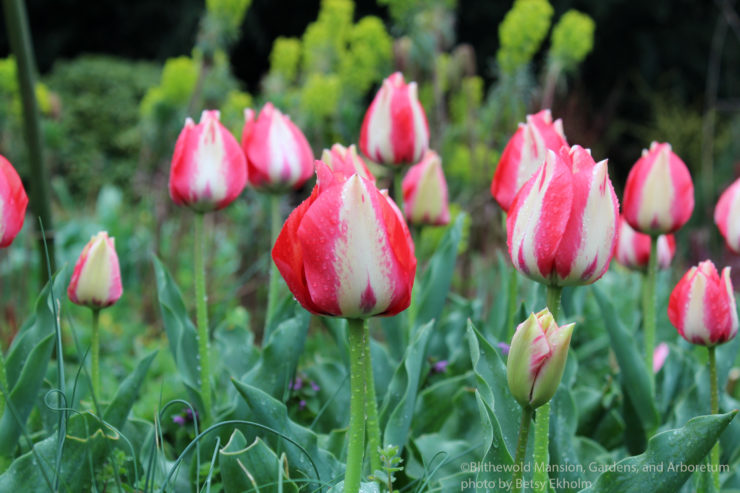 As we turn the corner into May, it feels as if we are finally leaving behind the last shivering grasps of April. There were some glimmers of spring this last month, but the final week left much to be desired in the way of soul-warming weather. On the upside, the cooler temperatures encourage blooms to hang around longer than if everything became suddenly sunny and hot.
Our early daffodil display has past its peak, but the later blooming varieties are now making up for this transition. And the tulips have already decided that it's their time to shine. The North Garden in particular is heading toward full bloom with the many white tulip varieties we planted last fall. I love the peaceful, classic effect of a single color of tulips. The variation now comes in flower size and shape. Should you wish to create a similar effect, I can tell you that the white tulips we planted are 'Catherina' (a late variety white tulip with yellow petal bases), 'White Triumphator' (a lily-flowering tulip), 'Exotic Emperor' (a slightly green-tinged Emperor tulip), 'Hakuun' (a stunning giant Darwin hybrid tulip) , and 'Mount Tacoma' (a peony flowering tulip). We planted our tulips with grape hyacinth (Muscari aucheri 'Blue Magic') underneath to provide a sweet contrast.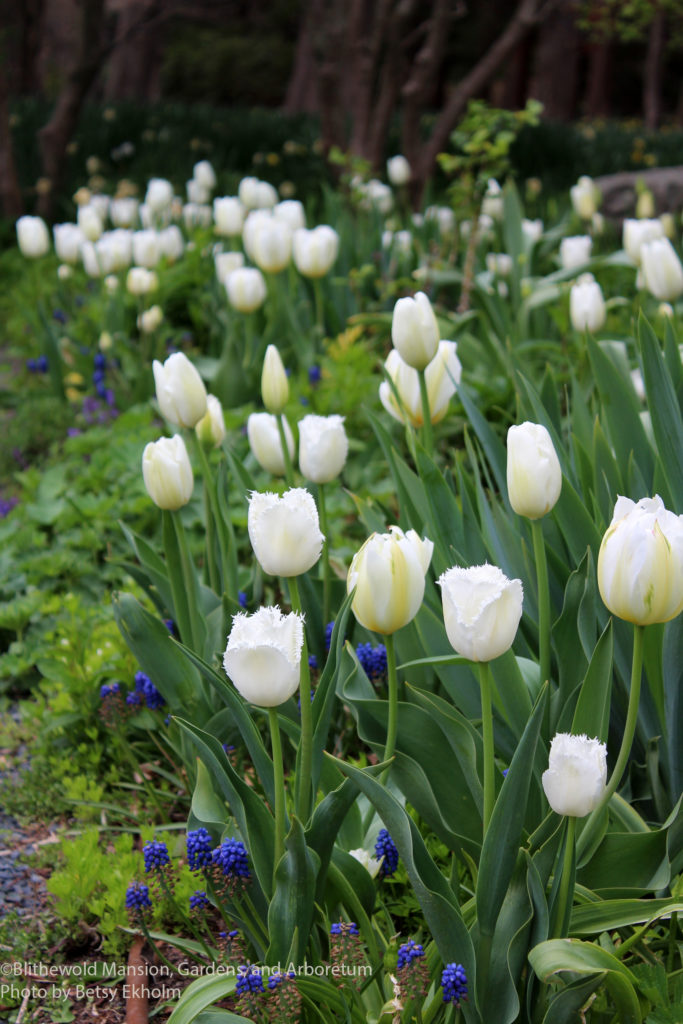 The Rose Garden took a hit over the winter as it became the focus of attention from hungry animals (deer, voles, squirrels, or a combination). We lost several hundred bulbs to satiate these critters, but many tulips remain and are just now coming into bloom. We often play with pink and red tones in the Rose Garden to complement the autumn-flowering cherries (Prunus autumnalis); which, despite their name, are actually spring blooming trees that have a smaller flush of flowers in the fall. This year's tulip colors are a combination of medium and soft pink tones with one big magenta-red punch. The first to arrive in bloom are 'Spryng Tide', 'Big Love' and 'Flaming Purissima'.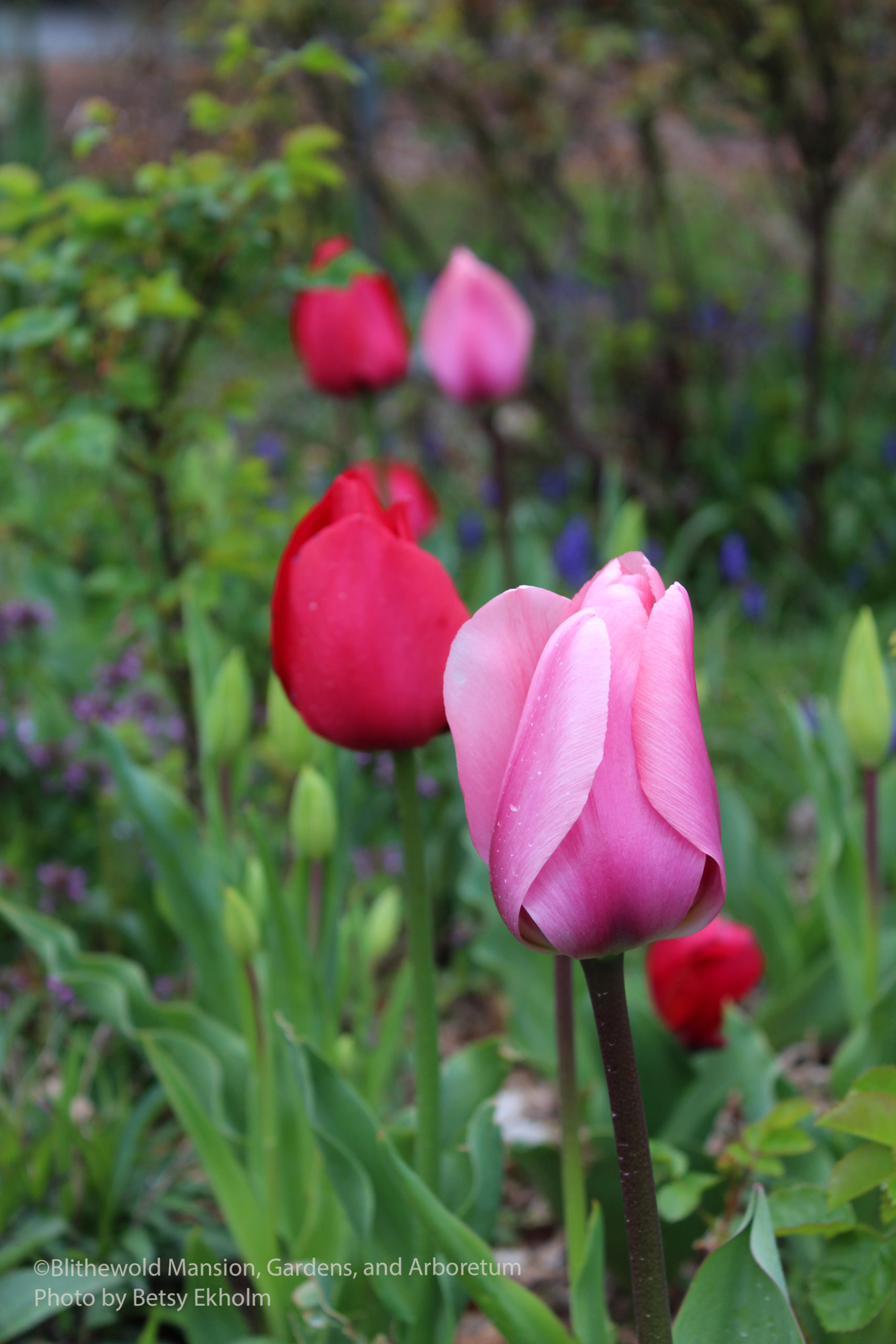 Our Idea Gardens are also vying for your tulip attention. Three sweet orange-tones in particular have summoned my eyes and my camera almost every day this week. I often pair similar colors together in the Idea Gardens so that I can compare them easily and see if I have a favorite or if they simply go well with one another. The three tulips featured below have been competing for my favorite new variety. Many visitors have commented on how much they like 'El Nino' (the tallest of the three), so that might sway my vote. I do like to please the crowd sometimes, so perhaps 'El Nino' will appear in the Rose or the North Garden in the future!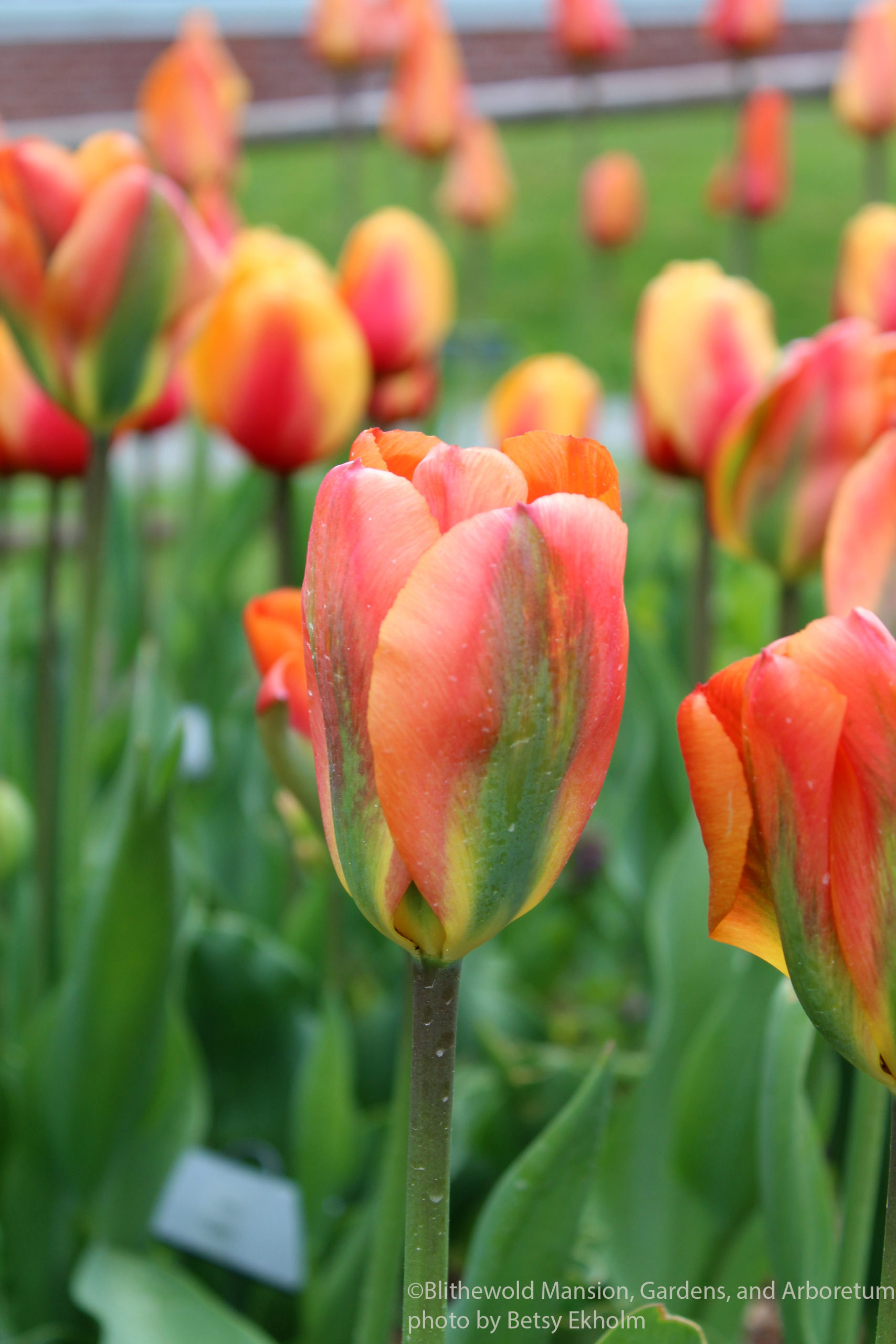 Just a short distance from the oranges, several other tulips are blooming their sweet little heads off. Do you have a favorite? I thought for sure mine would be 'Shirley Double' since we have always loved the class 'Shirley' so much, but I find myself a bit underwhelmed with this new offering. 'Synaeda Blue' and 'Kunyun' are both gorgeous in their own very different way. I guess I will simply wait until all the new varieties come into flower to decide which I like best. We are always looking to show you new cultivars and combinations to inspire you in your gardens. Along the way, I find inspiration, as well.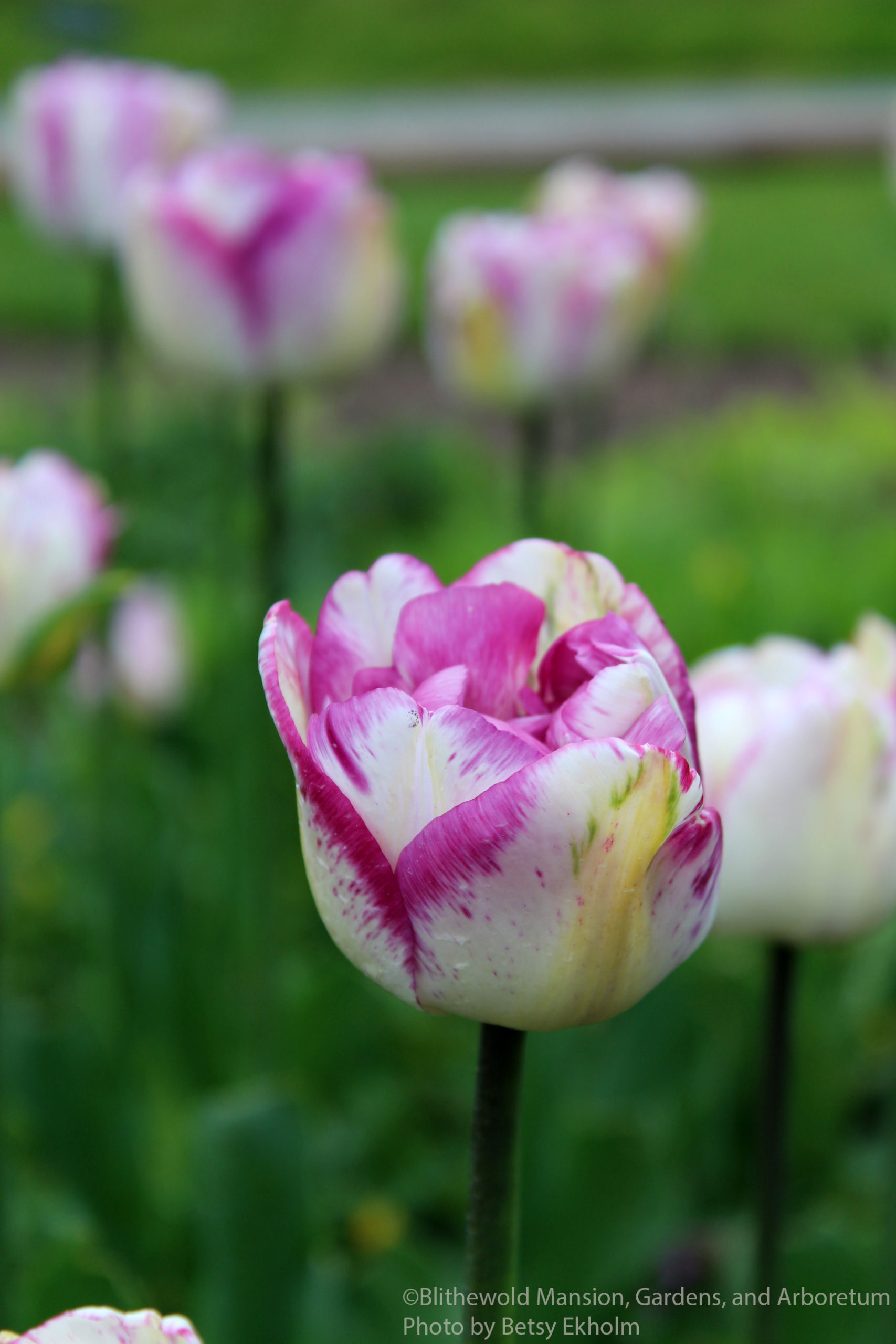 What inspires you in your garden? What are you eager to try for next year? If you are feeling unsure, come visit the gardens and see what you like and what encourages you for next spring. In the meantime, Happy Gardening!