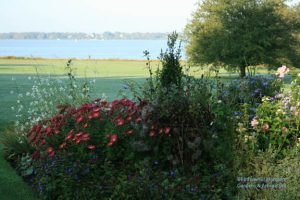 A few typical October flowers opened just in time for bloom day today so without further ado, here are the Chrysanthemums or are they Dendranthema?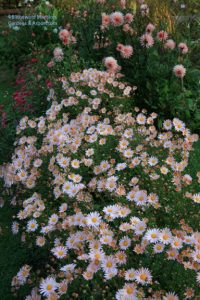 Whatever their name is, the 'Sheffield Pink' (left) never fails to make me want to stop and memorize that color and I love these mystery deep pinks in the North Garden (right) so much that I'm thinking of dividing them and spreading the love through the beds.  None of us remembers planting them so we've blamed/thanked a wedding planner from a few years back who must have thought the North Garden needed a little hit of a late deep color.  I think he/she was quite right.
Here is a late bloomer that I think is less common perhaps because, alas, for us it is a tender perennial.  But I think Plectranthus fruticosa, if you can find it, is well worth making room for.  All season long it garnered compliments for its striking two-toned leaves and now that it's blooming it looks positively lit from within and everyone wants one or twenty.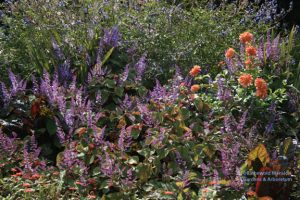 Salvia uliginosa has been blooming since, oh I don't know – July, maybe?  But I think it is worthy of October Bloom Day because its color has recently changed dramatically from a cerulean sky to closer to cobalt.  And to overhear the discussions in the garden, it's as if everyone is noticing it for the very first time.  We will try to keep the Display Garden bed with these late beauties going for as long as possibly possible…
And what would an October Bloom Day post be without some fall color shots?  No matter how gorgeous the bloomers might be, blazing trees and shrubs are the true attractions and distractions of October (I think my car keys should be taken from me – I am too apt to pay attention to any orange tree rather than the road).  Bristol color is still up and coming but it looks like the stars may have aligned for a spizztacular year.
What are your garden's October attractions and distractions?
Many thanks, as always, to Carol from May Dreams Gardens for hosting Garden Bloggers Bloom Day every month.  Click on the link and on all of the links in her comments to see what's in bloom right now all over the country and the world.