Wednesday, November 26, 2008
|
|
Chamaecyparis
,
Christmas
,
Christmas at Blithewold
,
evergreens
,
False cypress
,
holidays
,
trees
,
what's colorful
,
winter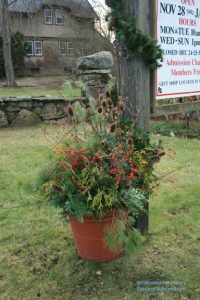 We've all been busy at Blithewold decorating for the holidays and Gail and I have had the particular pleasure of being reacquainted with the abundance of evergreens on the property.  The other day we walked all over dragging a cart and a ladder and picked for wreaths and outdoor arrangements.  (For last year's DIY wreath post, click here.)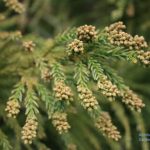 During the spring, summer and fall, trees like this Cryptomeria japonica (right) are like background music to me.  If the evergreens suddenly disappeared from the landscape I might think, "Huh.  Seems like it just got a little quieter in here…" but now that the leaves are off the deciduous divas, the evergreens' volume has swelled and their tune has become the title theme.
Here are some of the trees we love to pick from:
Any Chamaecyparis (False Cypress) we can get our paws on.  Especially:
Chamaecyparis pisifera 'Filifera Aurea' (Golden threadleaf cypress).  Ours glows a gorgeous limey yellow in partial shade.  We have picked from this tree for so many years that it has developed a sort of scoop out of the sunny side so we'll give it a bit of a break this year.   This photo on the right is of the straight 'Filifera' which is loaded with tiny soccer ball cones.
Chamaecyparis pisifera 'Squarrosa' (Moss cypress) has soft frothy gray-blue tufts at the branch ends and an airy openness to the tree.  This one is my favorite for making a fluffy wreath.
Chamaecyparis obtusa (Hinoki cypress).  I love this one too because it's a thick green-green with a certain weightiness and the foliage looks to me like plumage.  (The photos just don't do it justice!)
I walk by this Thujopsis dolobrata 'Variegata' (Variegated Hiba arborvitae) in the Enclosed Garden nearly every day and it's only when I go to pick from it that I remember to notice how spectacularly special it is.  And I do love variegated things with leaves shaped like lobster claws.  This tree grows slowly to about 30′ and needs wind protection.
Juniperus virginiana (Eastern red cedar) is nearly everywhere around here (I have 3 in my own tiny yard!) and looks great in a wreath or arrangement even if the birds have gotten to the berries before you.  I found one last cluster of berries – and aren't I nice because I left the branch for the birds…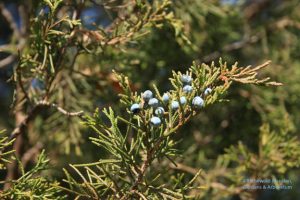 Do you cut greens (or buy some) for wreaths and arrangements?  What are your favorites?  And what are your favorite evergreens in the landscape?
Picking greens always brings out the forager and hoarder in Gail – she's every bit as happy as anyone at Filene's Bargain Basement who's just found the best deal on scarves.  She collected some excellent cones and pods which I'll have to show you in a later post…
Meanwhile have a very Happy Thanksgiving!  And if you're ready for Christmas, Christmas at Blithewold is ready for you. "This Bright and Merry Wood" was the inspiration for the volunteer decorators who decked the halls like never before – there's even a fairy room!  The mansion opens for the holiday season the day after Thanksgiving – for more info click here.  (and, of course, the grounds are always open!)