The June/July selection for The Garden Bloggers' Book Club is My Summer in a Garden by Charles Dudley Warner and this time I read the book! (Lately, since we've gotten into the maintenance groove, I've been able again to open a book and not just pass right out – hooray!)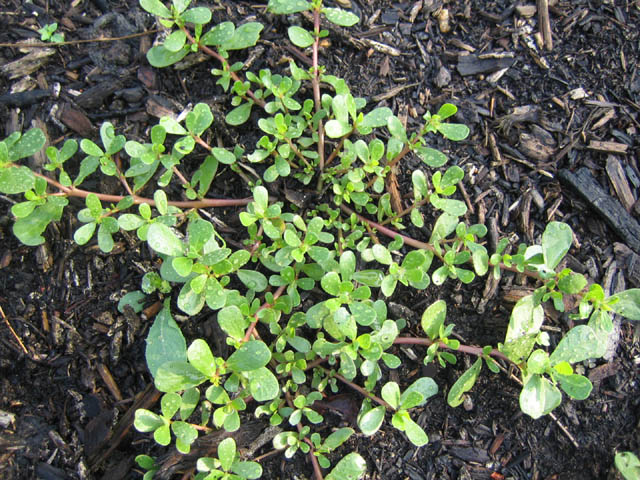 Warner wrote this book in 1870 – about 20 years before the Van Wickles bought and built Blithewold's first house – and if it weren't for slightly elderly language as well as very elderly racial and political attitudes, it reads like I wish I had thought of it. And it reads like it was written by a gardener. Seems like every gardener I know has a similar sarcastic bent and a tendency to cynical optimism (hopeful pessimism?). On weeds, Warner says,
I scarcely dare trust myself to speak of the weeds. They grow as if the devil was in them … The sort of weed which I most hate (if I can be said to hate any thing which grows in my own garden) is the "pusley", a fat, ground-clinging, spreading greasy thing and the most propagatious (it is not my fault if the word is not in the dictionary) plant I know.
Just last week I was talking to another gardener (Hey Pam!) about purslane and how we all have bumper crops of it and too bad we don't think it's super tasty. (She's actually tried it; I don't feel the need to) Warner goes on to say (in a way that makes this modern-day gardener cringe and that I won't quote verbatim) that he saw an Asian man boil and eat it "with relish" and worried that if he worked in Warner's garden, the man might "cultivate it at the expense of the strawberries and melons." The humor at least is up my alley…
One passage that was non-cringe inducing was his rhapsody about a new hoe. We gardeners love our tools! (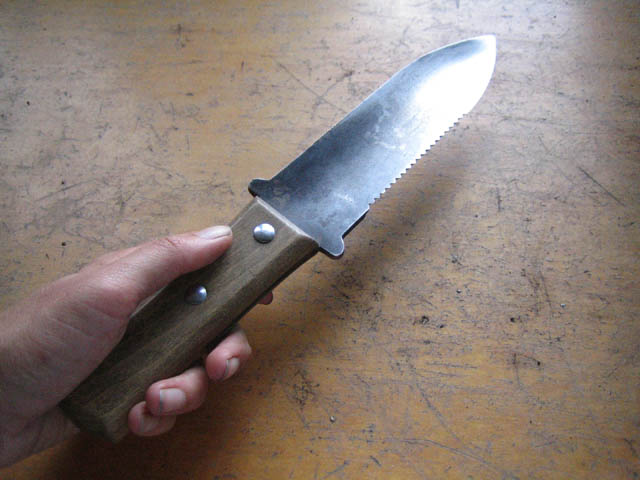 A tangent question to readers: What's your favorite tool? Mine is my 15 year old hori-hori: The handle is polished from use, the blade is smooth as silk and sturdy, intimidating to weeds and fits perfectly in my back pocket – nevermind that my pockets have all blown-out) About his hoe, Warner says,
… I do not mind saying that it has changed my view of the desirableness and value of human life. It has in fact made life a holiday to me.
Nothing like a well designed tool to make a gardener's day! Our vegetable garden volunteer, Dick, uses his mother's tools and guards them from the rest of us. They just don't make hoes and spades like they used to…
I'm not sure whether Blithwold's Bessie (Van Wickle McKee) would have read or enjoyed the book. (Comments from the elves in the archives would be most appreciated!). Warner teases his wife mercilously (sweetly or meanly, it's sometimes hard to tell), accuses her of stealing the credit of growing his vegetables and says in pre-votes-for-women days,
Here I sat at the table, armed with the ballot, but really powerless among my own vegetables. While we are being amused by the ballot, woman is quietly taking things into her own hands.
All in all, reading My Summer in a Garden is like a studying snapshot portrait of a nineteenth century gardener – it's interesting for the view in the picture's background of a different time and fun to find there's a family resemblance.