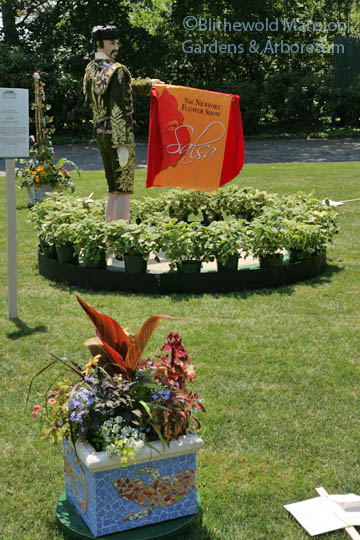 I believe every day is a flower show but an honest-to-goodness Flower Show like the one at Rosecliff in Newport this weekend is a true extravaganza of floriferousness. And I'm not just saying that because we have an entry in one of the competitions. What makes a flower show showier than an everyday flower show in an everyday garden is that every combination of plants – every plant and every leaf of every plant, and every flower is perfectly perfect: scrutinized and meticulously groomed and then judged accordingly. Each designer's garden is amazing, no leaf out of place and no weeds allowed (not like at home); the containers are all stupendous; the flower arrangements are out of this world; and the cut specimen are always truly outstanding. I think that's my favorite part of this show and I might just have to go back tomorrow to see what beauties were entered. It's a great way to learn about new plants.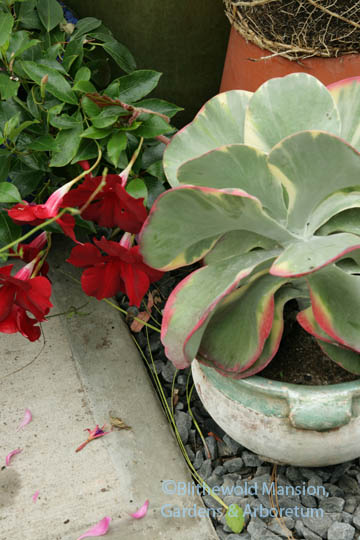 Competition makes a real Flower Show especially intense and that's why when we were first invited, along with 5 other professional gardeners, to fill an enormous container with a "Samba Parade" theme, we balked. But then we totally got into it. Gail, Tricia and I put our heads together, floated all sorts of ideas and crazy hare-brained schemes over weeks of lunch breaks, cleared a large corner of the greenhouse to pair plants with ideas and decide on colors, and then went shopping.
We've actually been trying to beef up our own container show here with new pots and an exciting mix of plants but strive for sustainable combinations – either one plant or species per pot or just a few different things that will play nicely together, with nothing overtaking and not packed so tightly that they'll need to be watered more than once every day or two or three. But the Samba Parade container only needs to thrive until we pick it up Monday morning so we jammed 10 different species in and hoped for the best: the plants survival and a blue ribbon.
Fingers are still crossed that the plants will make it through a warm weekend but I just found out that we won a red ribbon. Second best is nothing to sneeze at when the competition is so fierce. The judge's comment on our entry card reads, "Festive choice of plant material. Design is divided by airy hopbush and dense group of tropicals." We'll take that and shoot for cohesion next time. We definitely had an advantage of a greenhouse full of mature and interesting plants to choose from – the purple-leaf hopbush (Dodonea viscosa) intrigued everyone who walked by as we worked – but we felt at a disadvantage to those professionals who are practiced at creating beautiful pots for clients every season and who are in the habit of ranging further afield than we do to find fabulous plants. What's cool is that all of the containers in this class were winners. The blue ribbon went to one of our very favorite philanthropists, Mrs. Hamilton who employs a team of geniuses; two second place ribbons were awarded, and three were given third place.
Have you ever entered a container or cut specimen in a flower show? Would you do it again?