Friday, November 2, 2012
|
|
dry shade
,
fall
,
garden design
,
Garden Design Luncheon
,
How, When, What-we-do
,
moongate
,
Stephen Orr
,
sustainable gardening
,
Tomorrow's Garden
You might (or might not) remember that a year and a half ago, a few members of Blithewold's staff were invited to be in Martha Stewart's Gardening Show studio audience. It was a hoot to sit in those bleachers watching the goings on of (part of) an empire and I have little memory anymore of what it felt like to drive to NYC in the wee hours of a should-be-sleeping-in morning. But I do still have some of the swag she gave away. By far the best thing in the tubtrug full of stuff was a book by her (magazine's) gardening editorial director. Tomorrow's Garden: Design and Inspiration for a New Age of Sustainable Gardening by Stephen Orr is full of gorgeous photos (taken by Orr) of inspiring modern gardens all over the country that illustrate a full spectrum of garden-with-nature possibilities. Along with telling his own garden's story, he interviewed the other gardens' gardeners on how their designs were created and maintained. And it's generously peppered with plant lists and tips. The only beef I have with the book is that so many of the designs and ideas appeal to me that I'm no closer to deciding what to do in my own garden.
But it's time for another look through it because this the time of year, when the season's successes and problems are still fresh in my mind, is when I do my best thinking about garden design. Just this week, even in the soggy aftermath of the storm, Gail and I worked on a new vision for the moongate bed under the Sophora outside of the Rose Garden. That bed, which is our best example of dry shady conditions, has grown so well it had finally become almost overgrown. The plants we chose for that garden, things like epimedium, liriope, ginger, carex, hosta and tricyrtis, almost all going on 5 years old now, have proven themselves easily sustainable, with minimal supplemental watering during drought, and were finally in need of redistribution to (re)create a more aesthetically pleasing design. Since this is the best time to move epimedium (because it blooms so early in spring) and because this is when our brains are ready for that sort of exercise, we spent yesterday playing musical perennials. (Now that I've had a little practice again, I might be ready to make some decisions at home…)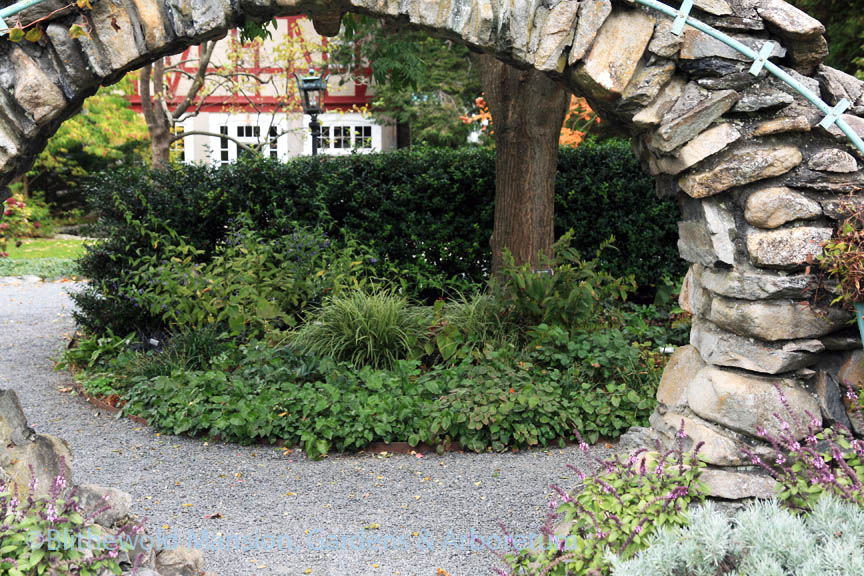 If you are raring for inspiration the way I always am right about now, I say buy the book. –But wouldn't it be even better to meet the author and hear his freshest thoughts on the subject? I'm so excited that Stephen Orr will be speaking at Blithewold's annual Garden Design Luncheon next Thursday, November 8, 10am-2pm. A few (a very few) tickets are still available so register here asap. (Our fingers are crossed that his books will arrive in time from storm ravaged New York… If you already have a copy, bring it with you for him to sign.)