Thursday, October 24, 2019
|
|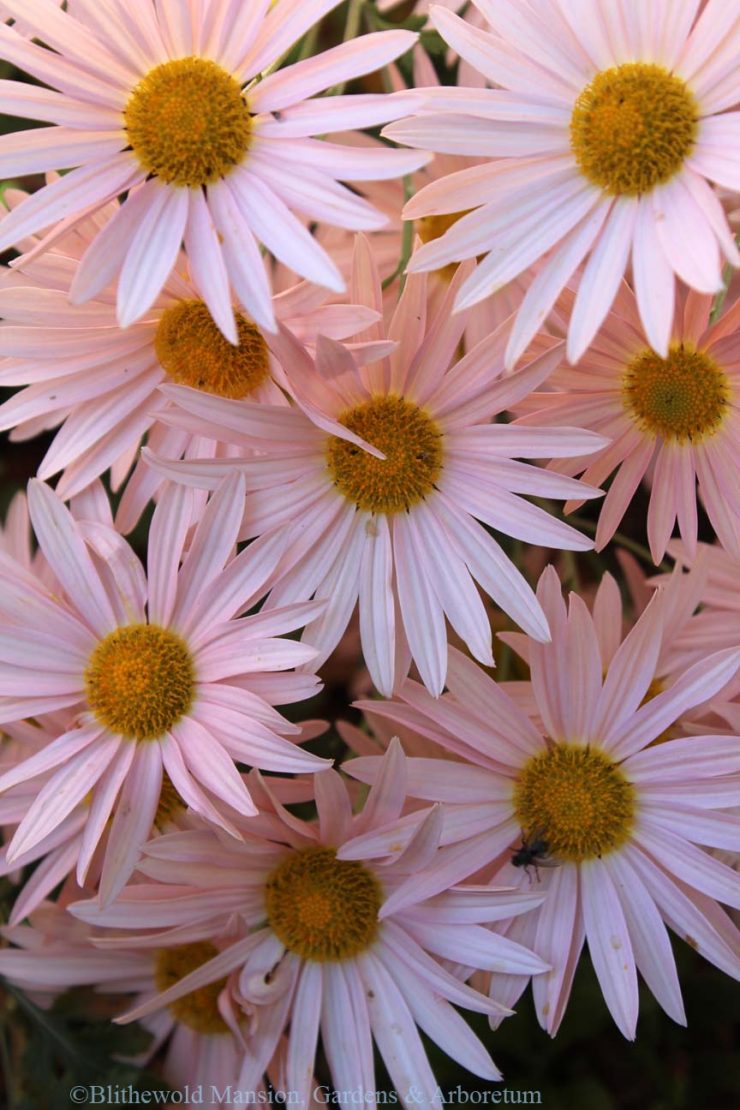 October is a month of contrasts. By day it is warm and lovely, by night the temperatures dip into the zone of almost really cold. If we are lucky enough to sail through the month without a frost, then the flowers bloom on and on. The mornings are still chilly though and I have arrived at work many times lately to find bumble bees warming up from their night spent sleeping on the flowers still in bloom. Thankfully, the afternoons are warm and we breathe deeply the air filled with the sweet scent of fallen leaves.
The past two weeks we have been hustling to take the gardens apart so we can plant our tulips bulbs. Asters and Chrysanthemums (and Dendranthema – a new distinction among Chrysanthemums) are left up as they are just in flower now and the pollinators are enjoying them.
We have several different varieties of hardy mums here. The featured picture at the top is a closeup of Chrysanthemum 'Hillside Sheffield Pink'. I couldn't walk past this plant without being investigated by the myriad pollinators that wanted the flowers all to themselves.
The two plants pictured above are planted next to each other in the Rose Garden. They are both 'Hillside Sheffield Pink' but we believe the lavender-tinged plant has reverted to one of the parents of the hybrid. They are both lovely, absolutely packed full of flowers and, therefore, deserve a space in our gardens. I don't mind the color contrast.
I love pinks and purples (which is news to you only if you are just discovering this blog). These colors, set in balance with white, are especially welcome to me in late October when the world seems obsessed with yellow, orange, and red. The four mums pictured above are all in bloom in the Cutting Garden. I am on the hunt for unknown cultivars' names. I will keep you posted if I am able to figure it out!
As much as I love pinks and purples, 'October Glory' has my heart this year. Its color is such a lovely deep apricot and the bees are feasting on it constantly. One wet morning we lifted up a section of the plant to see that every flower had a bumble bee taking refuge from the rain. 'Innocence' is something special as well. The soft ring of lavender-pink that halos each bloom gives it an otherworldly character in the late season garden.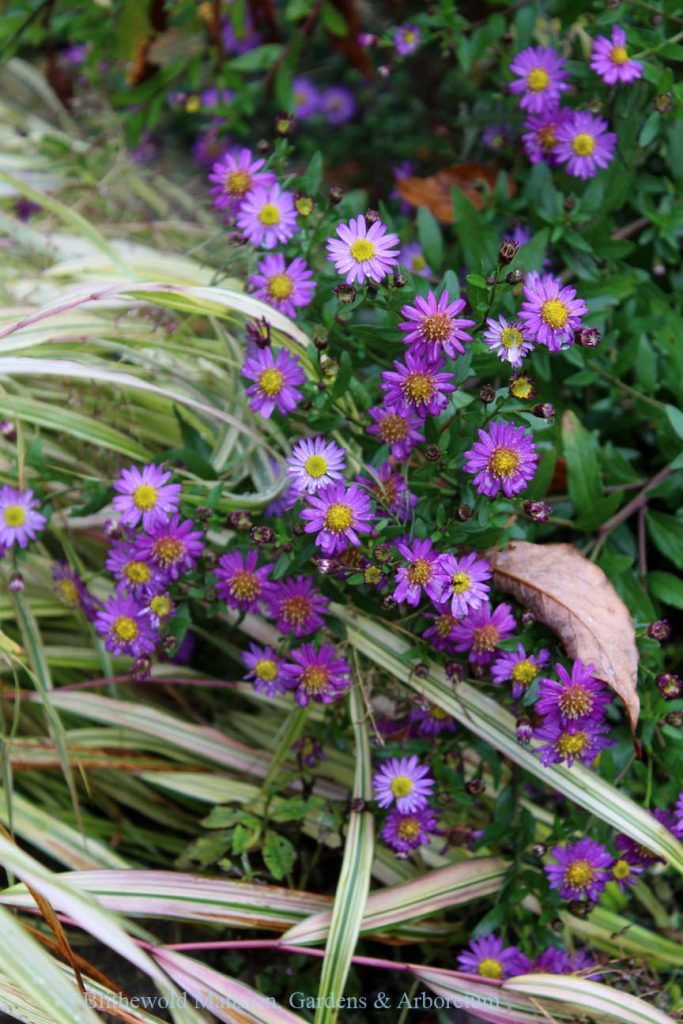 I would be remiss if I didn't also make mention of our asters. Aster ageratoides 'Ezo Murasaki' has fantastic true purple color and is nearly impossible to kill. It does multiply more rapidly than I would like, but that just means there is always some to share with friends! It grows well in both part shade and sun which definitely earns it some bonus points. In the picture above it is mingling beautifully with the Japanese forest grass (Hakonechloa macra 'Aureola') in the Idea Gardens.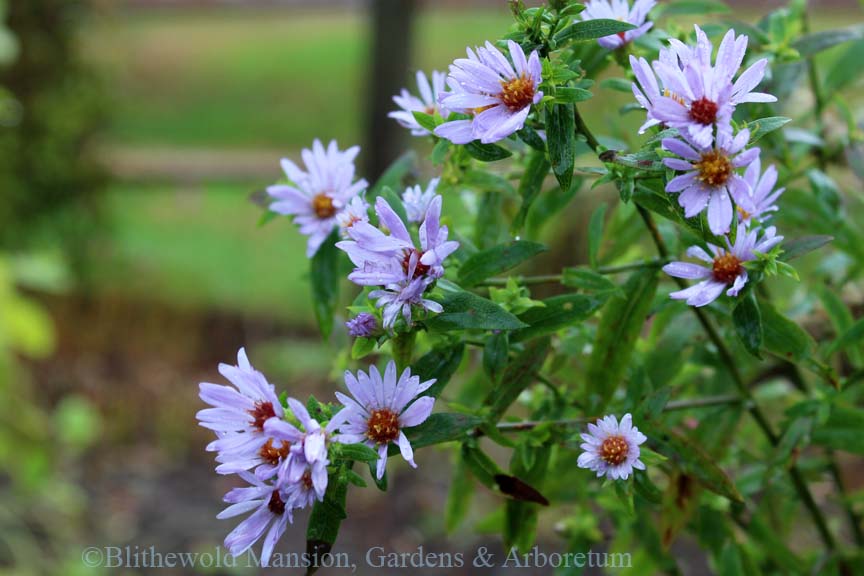 We have many beautiful asters blooming throughout the Idea Gardens. These seedlings sow themselves freely from year to year and we strategically edit them to be only where we would like them. We also cut them back early in the summer so that they are fuller and not so tall and overwhelming in the garden.
If you are missing flowers in your garden in October, remember to plant a few of these beauties next year. They will reward you for years to come!
Garden Design Luncheon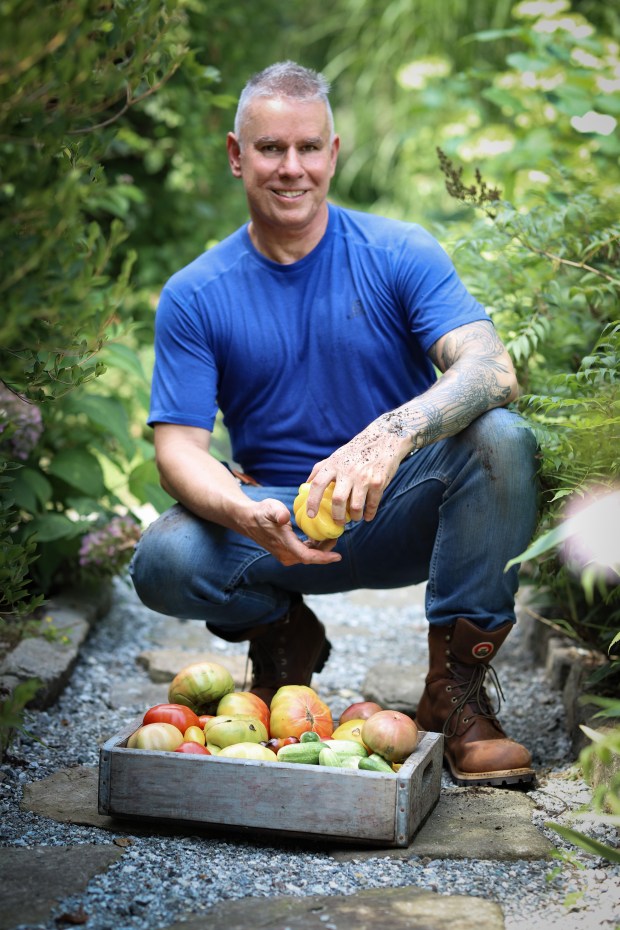 *For those interested in horticulture, and I assume you are since you are reading this blog, Blithewold will be showcasing the horticultural journeyman Matt Mattus at the Gardeners Design Luncheon on November 7th at the RI Country Club. Matt is a self-professed "lifelong plant geek" and we are so pleased that he will be coming to speak to us about one of his true passions – horticulture. Matt has combined his passion for horticulture and life by creating his own blog Growing with Plants. He will be discussing with us his recent plant exploration trip to China with the North American Rock Garden Society. We look at Matt as an inspiration for his quest for knowledge and overall optimism towards the world of horticulture. You do not want to miss this opportunity to hear Matt speak. For more details and to sign up click here.
(Side note: I believe Bessie Van Wickle McKee – Blithewold's original owner – would be so pleased that Matt is speaking at this year's Gardeners Design Luncheon as she was enamored with rock gardens and loved her Asian-influenced water garden.)