Ornamental grasses are coming into their own just now and it's time to sing some praises (and maybe one dirge). There are reviews here and here with links to more and more about all kinds of grasses in all kinds of places so I'm setting a self imposed limit to speak only about our annuals/tender perennials.
I've already shown pictures of everyone's new favorite this year, Pink paintbrush grass (Melinis nerviglumis 'Savannah'). We don't know yet if we'll find it seeded all over the garden but since we want it pretty much everywhere next year, that wouldn't be a totally unwelcome thing.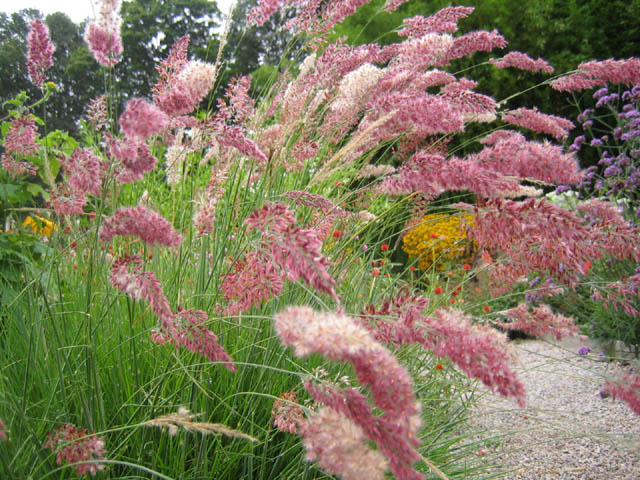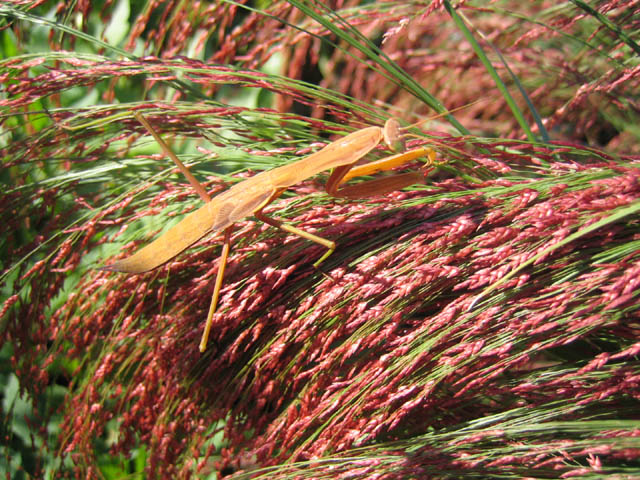 This is our second year for Love grass (Eragrostis tef 'Ruby Silk') and I take the blame for this one. I -and the wildlife- love the silky soft inflorescences that begin red and extend to brown. I think it's handsome, if delicate, in arrangements and deadheading it satisfies the obsessive-compulsive in me. But the plants slouch like bored teenagers. If they weren't planted en masse and held captive and upright in a Cutting Garden grid, we'd probably have to kick them out of the house for looking like weedy slackers. (Get a job!)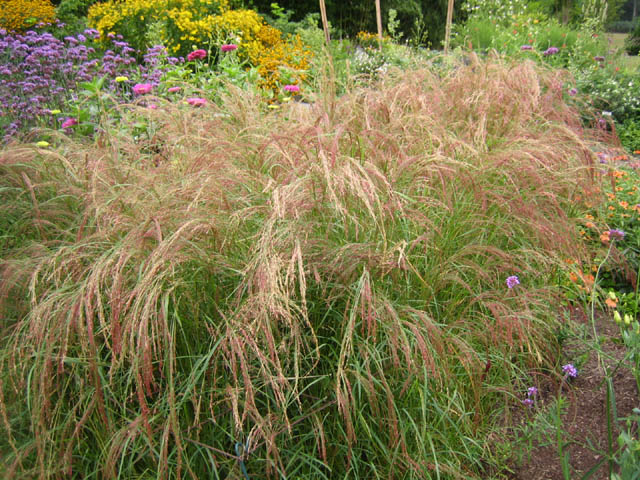 Palm grass (Setaria palmifolia) is another that we use in arrangements although it's a bit of a pain because the blades are deceptively covered in eensy splintery hairs that lodge in all uncalloused finger flesh. (Where are my gloves?) We keep a couple of stock plants in the greenhouse and have been successful growing it from seed. (It usually flowers for us in the winter after we've cut the bulk of the plant to nubs.)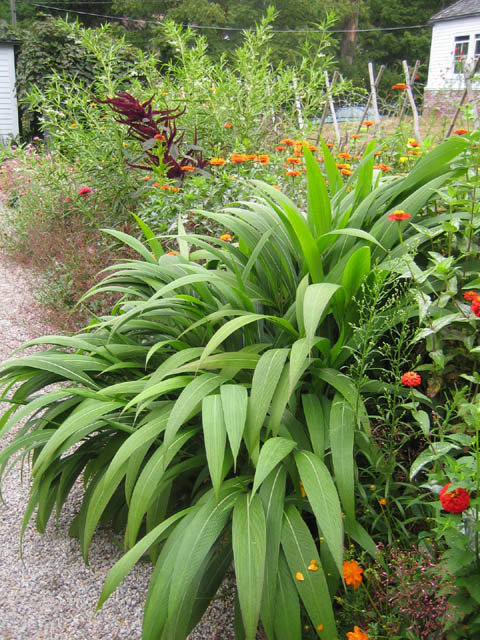 Ornamental millet (Pennisetum glaucum) has been a favorite of the volunteer flower arrangers – its burly black seed heads are very dramatic and the dark foliage is a great contrast for – just about anything! In the garden, we've got it stunningly and serendipitously paired with Snow on the mountain (Euphorbia marginata) – can't miss that combo.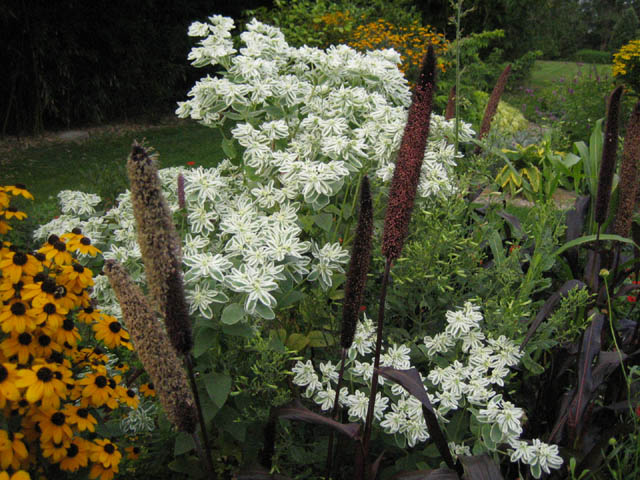 Another favorite of mine, grown for the 2nd year in a row, is Job's tears (Coix lacryma-jobi). Arching inflorescences dangle shiny seeds that clack like prayer beads. Last year I went a little crazy collecting the black and gray seeds because I thought I'd make jewelry… We sowed some of them instead.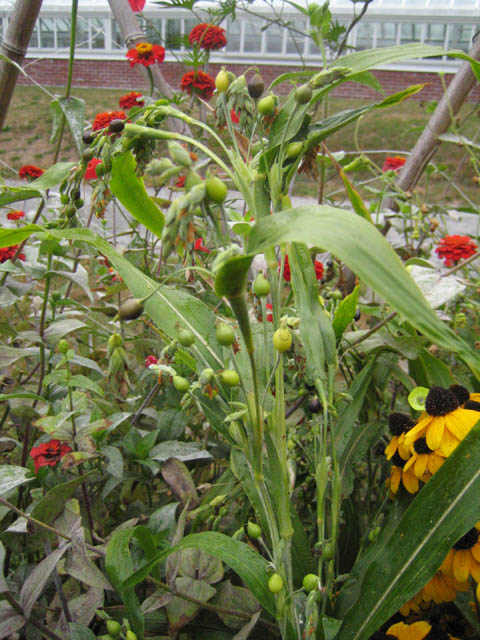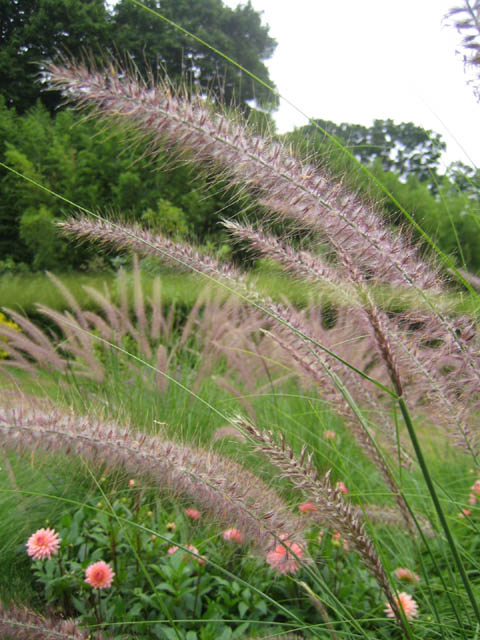 Gail has been growing Fountain grass (Pennisetum setaceum – sold by Stokes as Pennisetum ruppelianum) for the gardens since well before my time and it's certainly a tried and true winner. This year we used it in the Rose Garden and I'm not sure yet if I think it's a good addition or a clash of cultures. Any opinions??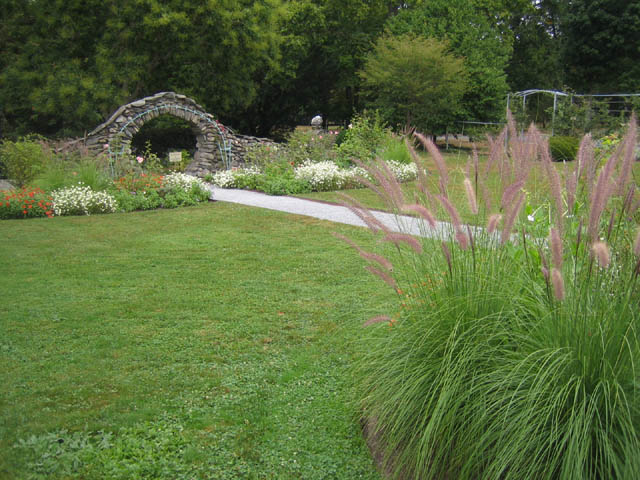 This new neighbor kitty (who, incidentally, has the biggest paws I've ever seen on a tigger) thinks it's just what the garden needed.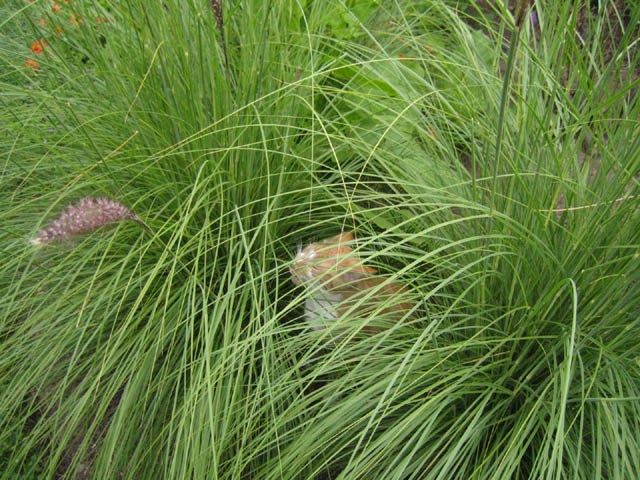 (Hover over pictures for titles/I.D.s and click on for larger images.)