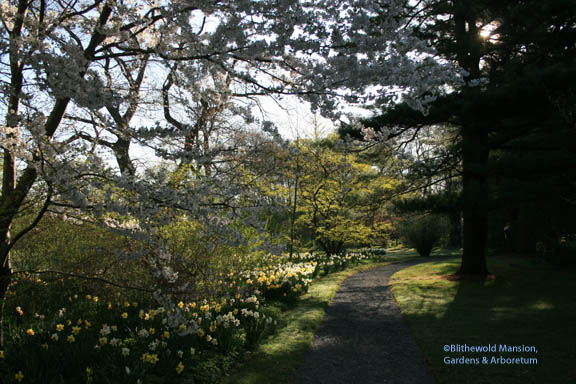 and it seems like a whole week has gone by – everything is happening so fast now! For a taste of what yesterday looked like at Blithewold, head right over to Ledge and Gardens. It's so fun to see Blithewold through another's eyes – but I'm really sorry that I missed Layanee's visit!
I ran around this morning trying to catch up with all the changes. The Korean Spice Bush (Viburnum carlesii) is beginning to bloom and smells divine – if only we had virtual scratch and sniff! Last year we planted a compact form (Viburnum carlesii 'Compactum') in the Rose Garden – it looks (and smells) like a perfect shrub for a small garden. I'm putting it on my own-garden wish list…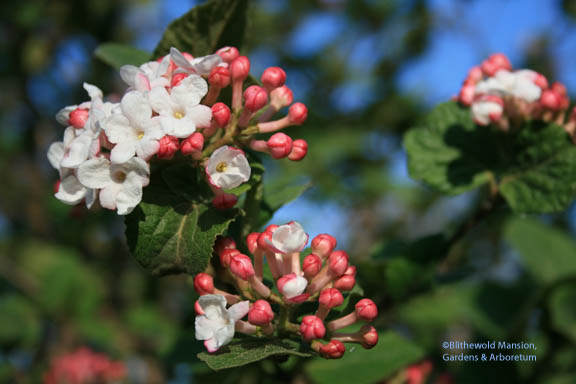 The Mayapples (Podophyllum peltatum) are up all of a sudden along with epimediums that apparently leafed out and began to bloom over night. And the tulips are opening before our very eyes.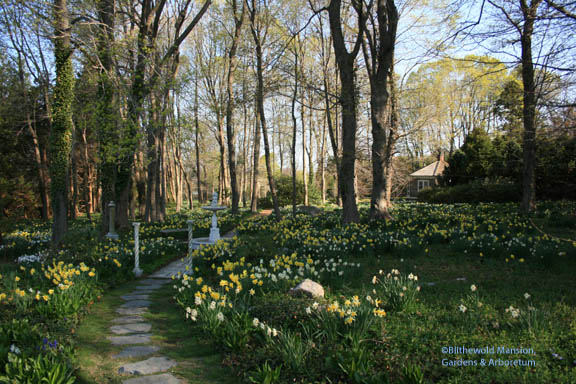 The warm spell is a mixed blessing – the daffodils are still peaking but the first ones (the 'Ice Follies' especially) are beginning to go by. Good thing there are so many other spring beauties opening up! The weekend still looks good weather wise – don't let a little rain in the forecast for Sunday slow you down – we're having an open house in the greenhouse! Gail and Julie will be here from 1 – 4 and our favorite garden books will be out on the potting bench for you to flip through. We're busy getting the place spiffed now — we needed a good excuse to tidy up!