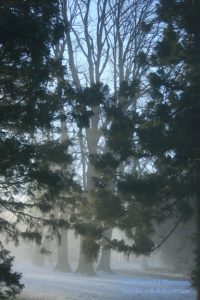 I have always loved Groundhog's Day (the actual day more than the movie) because, whether Phil sees his shadow (he did this morning) or not, it signifies to me that spring is on its way – a mere 6 weeks away!  I have to admit though that in the last few years I've become a little ambivalent about that.  There's a really big part of me that is looking so forward to spring – I even plan on celebrating later today by cutting branches to force.  But there's this other little part of me that loves winter more than I used to because of the chance it gives me to slow down, bundle up, contemplate and recharge.  The temperatures in the last couple of days have soared nearly into sweater weather, the birds have started singing in earnest and the vents have been opening in the greenhouse – all signs that point to a change in seasons.  Those signs along with my favorite holiday are now reminders to me to savor what's left of winter.  With more snow in the forecast for tomorrow, I expect I'll get that chance…
Meanwhile, warm air brought a snowy fog and the most dramatic light show I have seen here yet.  In my pious youth I probably would have called the beams "the hand of God".
Click on pictures for a larger view (Hooray – lightbox is working again! – chalk up the lapse in functionality to operator error.)
How are you celebrating this High Holy Holiday?  Are you ready for spring already?