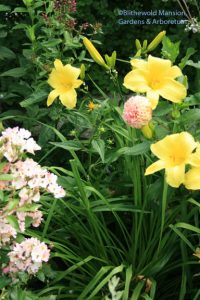 It could happen to anyone. Even the "professionals" get it a little bit wrong sometimes … sometimes in a pretty big way. Last week when I discovered a rather substantial error in mistaken identity that Gail and I made, I swore that I wasn't going to tell a soul. It was too embarrassing. It seemed like everywhere I looked another wrong plant was about to bloom in the North Garden. I kept pulling them out and stuffing them deeply into the weed bag while looking guiltily over my shoulder in case anyone saw. I was pretty mortified. But then today, when I was still finding clumps of mistake and Lilah turned it into an I-Spy game, I found it much more hilarious and thought you might get a chuckle out of it too.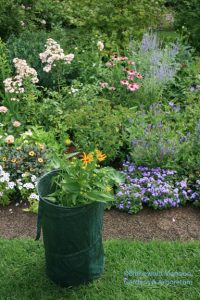 I'm sure it could happen to anyone. This spring, in our annual effort to freshen and improve the North Garden, Gail and I moved several perennials from the Display Garden including a couple dozen divisions of Echinacea purpurea. We did this pretty early in the season – I can tell you that it was Monday, April 27th because I wrote in the calendar, "Gail and I moved echinaceas from DG to NG" – and on that date they were just minuscule clumps of pointed basal leaves and roots.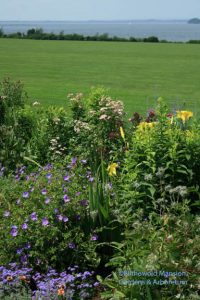 Well. It turns out that some of them weren't echinaceas at all. Neither of us has a memory of any rudbeckia in with the echinacea in the Display Garden but I just yanked an easy dozen Black-eyed Susans (Rudbecka fulgida) out of the North Garden. We did introduce a couple of new colors into that garden this year but school bus-yellow, as one of our good friends describes it, is definitely not one of them.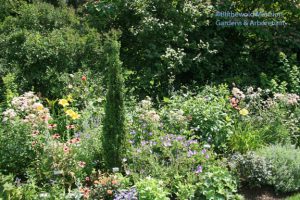 The good news is that the garden is really full and it's impossible to see where any of these plants came out. As a matter of fact, that many echinaceas might have been too many – but we won't know that until we maybe try again next year. Meanwhile, I feel slightly less idiotic since discovering that E. purpurea was once identified as R. purpurea and our mistake was an honest one. And yet…
It could happen to anyone – couldn't it?