OPENING EXHIBITS, APRIL 1
by Margaret Whitehead
The excitement at Blithewold is building as we prepare the Mansion for the season's opening on April 1st. Floors have been polished, carpets cleaned; paintwork and wallpaper conservation is complete, and the china is washed and sparkling.  A new feature in the Butler's Pantry is a display of four full place settings, complete with silver and crystal.
There are several new historic exhibits in the Mansion. Our main exhibit space on the second floor presents two newly conserved gowns from our costume collection. Both belonged to Marjorie Van Wickle Lyon and both are party dresses, dated 30 years apart. In the main case is a beautiful, youthful, pale pink silk dress embroidered with silk floss daisies and trimmed with sequins and beads. It was made for 19-year old Marjorie in Vienna when she was on her Grand Tour in 1903. The next case shows an evening dress made by Miss Ethel Gowns, 57th Street, New York in the early 1930s. It is made of mauve metallic yarn with 'flutter' sleeves and long bias-cut panels, and has a glorious burgundy silk velvet bow at the back waist that extends to the floor.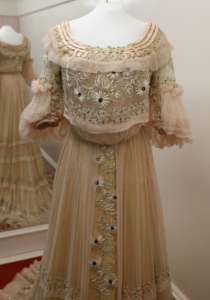 Pink Party Dress, photo taken by Allan
                Smaller exhibits are in glass cases in the Master Bedroom, Estelle Clements' Room, and the Billiard Room. These cases will have changing exhibits throughout the season, starting with two exhibits of particularly fine books from the Blithewold collection. In Estelle's room you will see a collection of children's gardening books, some dating back to the 1880s; the Master Bedroom has a display of leather-bound books with beautiful bindings and stunning illustrations, collected by Bessie McKee. The Billiard Room case shows a unique scrapbook of dried plant material compiled in 1869 by Bessie's brother Israel, on loan from the Hazleton Historical Society.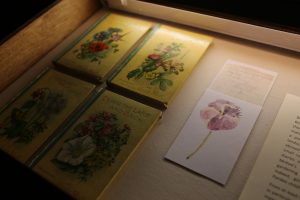 Garden Books, photo taken by Allan