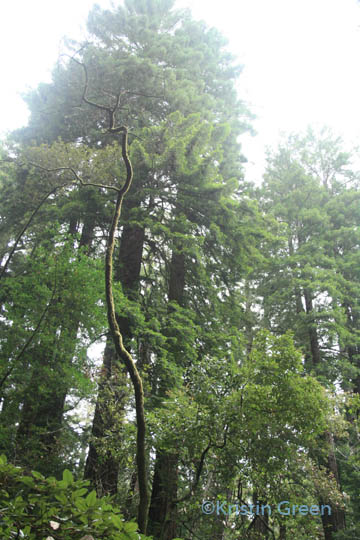 When you travel for work or with family, do you try to squeeze garden pilgrimages into your itinerary? This past weekend I had the pleasure of attending my cousin's wedding in California and although the events surrounding The Event and the happy time spent with far-flung family took up most of the hours of the weekend, I still managed to get in two Blithewold inspired visits. (Many thanks to my easy-going travel companions who graciously handed me the car keys and said, "Let's go!")
The last time I visited Muir Woods I was a car-sick and surly teenager stuck on someone else's tour. This time I went with an eagerness of being reacquainted with the family of a favorite friend: Coast Redwoods (Sequoia sempervirens), which occupy a narrow corridor of temperate and foggy Pacific coast, and may live for thousands of years, are cousin to our Giant sequoia (Sequoiadendron giganteum) – a youngster by comparison. This time I was properly awestruck and as reverent as a pilgrim (even though I didn't have to walk there on my knees) in the presence of Nature at its most venerable. I wouldn't be surprised if the Van Wickle/McKee's visited these trees too… If you go, go early to find a parking spot and a little silence before the polyglot crowds arrive.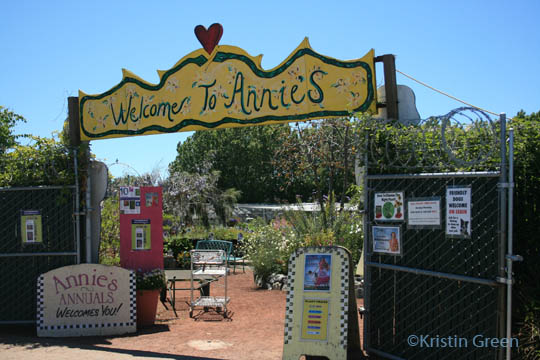 My travel companions were also kind enough – and interested enough – to allow me to drive them deep into the Richmond outskirts to wander Annie's Annuals. I just noticed this quote on their homepage – ha!
"A trip to Annie's Annuals nursery in Richmond is for true plant fanatics what a religious pilgrimage is to the devout believer."
-Barbara Wood Palo Alto Weekly
I'm not sure Annie's would have been on my must-see list if it weren't for Blithewold but I have been eager to visit ever since I first perused their catalog and found plants we couldn't garden without. The nursery is huge – must be acres, and as funky as the catalog; every plant is labeled*, grouped by like-types, tantalizingly described and very reasonably priced. If I lived nearby, I'd need a car with a lot more cargo space.
*I didn't look hard enough for a label on the plant in the bottom right photo – anyone know its name?
While I was away, the gardens here grew! even more beautiful. I've talked to visitors in the last couple of days who added a trip to Blithewold to their travel agenda – and their companions seemed as pleased as mine for the detour.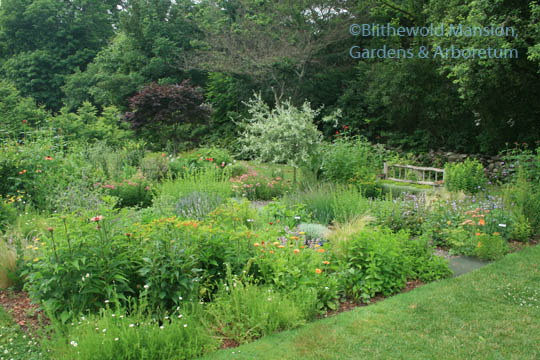 Where would you go – or where have you gone lately – on pilgrimage? (This very minute Gail is visiting gardens near Philadelphia!)