Marjorie Van Wickle's Party Dress, 1903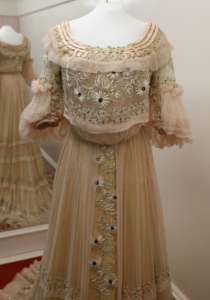 Marjorie Van Wickle had this party dress made in Vienna when she visited in 1903 as part of her Grand Tour. It was designed and constructed by Drecoll's, the fashion house founded by Austrian-born Baron Christoff von Drecoll in 1896. The company specialized in creating elaborate evening dresses, and was known to be a favorite designer of the ladies of the Imperial Viennese court.
Marjorie's shell-pink silk chiffon dress consists of a separate skirt and bodice. The long, full, gored skirt has a slight train, and the center-front panel is embroidered in a stylized daisy design with thick silk floss, sequins, beads, and vertical pleats of silk chiffon. The rest of the skirt is divided into five tiers trimmed with horizontal inserts of embroidered bobbinet lace, and pleats of silk chiffon. The lining is trimmed with a matching pleated hemline flounce, backed with a pink taffeta ruffle. A wide chiffon hemline ruffle is stitched to the lining.
The bodice has a wide rounded neckline and short puffed sleeves, and is embroidered to match the skirt. The cotton foundation of the bodice is stiffened with 13 bones, and the grosgrain interior waistband bears the maker's name, "Drecoll – Wien, Paris." Marjorie wrote to her mother in September 1903, my 'party dress' is very pretty.
Conservation sponsored by Gioia Browne, Nancy Abercrombie, and Glenda Thornton