September is one of my – and Gail's – favorite months in the garden. But so far, this is no ordinary September. Irene aside, it's raining again. I can't remember the last time we weren't desperate for a good drenching by now. (Looking back at my records, it was just 2 years ago that we had a rainy summer. How my memory fades…) In any case, this week the lovely lushness of the late summer garden is soaking wet. Even though we're lucky that this rain hasn't brought further devastation along with it like it has for some, we have to take a rain check on getting much work done out there.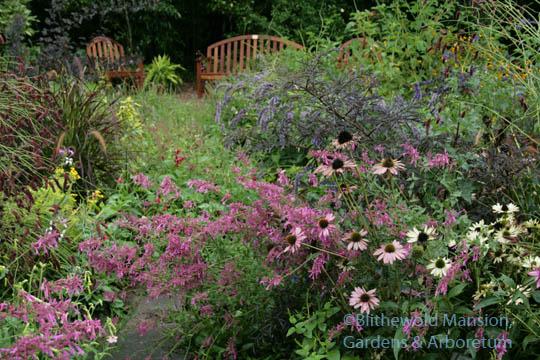 Christopher Lloyd called the September garden "sleazy" and looking out at all of the slouching and slumping I have to suspect our garden of a little debauchery too. If we could get in the gardens without compacting the soil, we'd be outside in the lulls propping everyone back up, tidying the overgrown and overblown, and thoroughly enjoying the party. There really is nothing livelier than a September garden – even as parts of the garden are starting to look their age, other plants, like the Autumn crocus (Colchicum autumnale) are just coming along to remind us in their weird way of spring and seasonal renewal.
But since we can't be out tromping around in the garden, we're catching up on housekeeping (Gail tackles the closet!) and looking forward to all of the amazing events planned for a spectacular September at Blithewold. If you don't already know that Helen Dillon is coming all the way from Dublin, Ireland to speak to us about the garden she has created and recreated in the most "down to earth" Helen-Dillon sort of way, mark your calendar now; call off work; and send the doggie to daycare. (Monday, September 19, 10:30am – 1:00pm) I mean it. This is a very big deal.
Autumn Splendor – our fall version of Daffodil Days – begins on the 17th and there are a plethora of events right through October 10. Gail, actually helps kick it off with a tour of her late season garden favorites (I can promise you'll also see at least 6 praying mantis on her tour and 2 hummingbirds.) There are teas coupled with floral design demonstrations (using flowers cut from our gardens) on Fridays and a Fall Family Food Fest on Sunday, September 25 11am – 3pm, billed as "the one day it's OK to Play with your food!" That same day our bff, Pam Gilpin will also give boggling slideshow of all the coolest bugs she's found dining in her gardens. And that's not the whole list by any stretch. (Click here for the lineup.) I'm telling you, rainy or not, September is definitely one of the best months in the garden.
Are you taking a rainy day opportunity to do a little housekeeping too?