Stuart over at Gardening Tips 'n' Ideas tagged me (me!) for a meme about 8 things for which I'm thankful. Thanks, Stuart! (I think that's #1)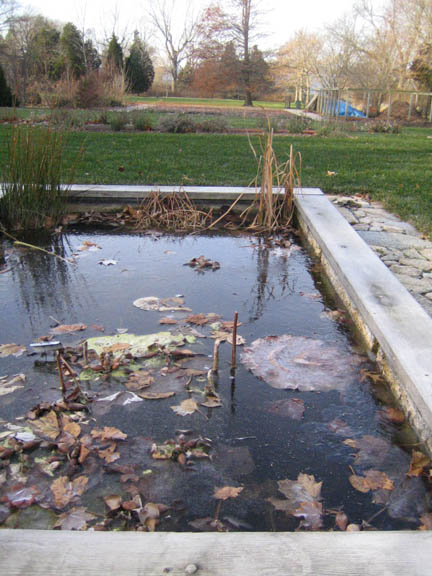 Yesterday on my walk around the property I decided to look for the shape of winter and although I was intent on *seeing* it, I realized that some of my other senses were raising their hands and saying oo! oo! Pick me! (I'm grateful to have at least 5 senses in full working order)
It might still be technically fall but unlike this time last year (warm through Nov., then a snowflake on the 3rd and warm again), it's been bitter cold enough to give the ground that firm soft crust that has a little bounce to it. My feet shouted out about that. (thankful now for the insulated boots they complained about over the summer)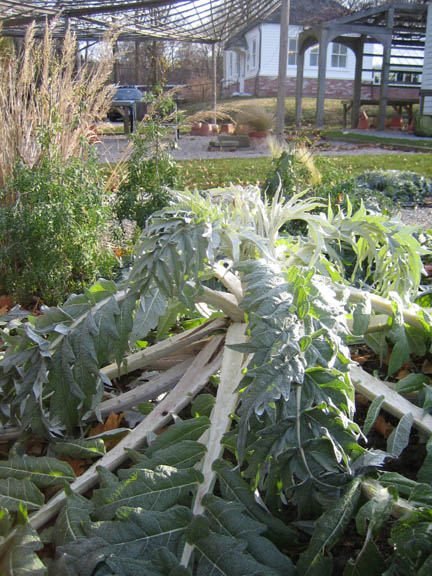 The Display Garden needs a little more tidying (thankful that Gail and Julie say it can wait for a warmer day) – the cardoons are still slightly perky but the cement pond has frozen over. The Water Garden pond has frozen over too (thankful we had some rain to fill it a bit again).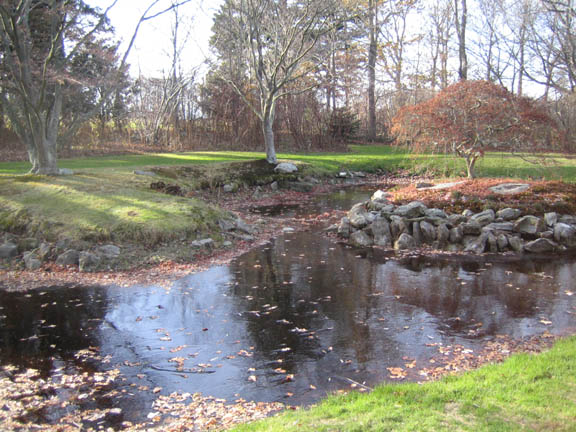 One of my favorite things about winter is the peek at fabulous naked branch structure and nature's own ornaments hung for the season. (thankful for enjoying winter – I didn't always and it sure helps to pass the time!)
I went right up to the Chinese chestnut for a photo op and – I swear this is a true story – before looking at the tag for the latin name which I had forgotten, I thought "hey this tree is rattling its leaves like castanets!". Castanea mollisma. You betcha. Castanets are so named because they look like chestnuts, not because they sound like the trees – even though they do. (thankful for learning something new every day)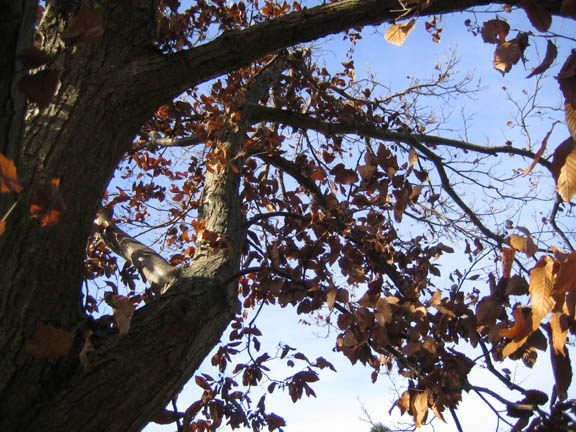 I have to admit my walk was fairly short – it was cold! – I don't know how Fred and Dan stand it – they're out all day long and not wusses like me. I went back to the greenhouse, thawed my cracked fingers and dove right into my kind of winter work. I enjoy greenhouse work (like rejuvenating this maiden hair fern) every bit as much as the garden work of summer and I'm thankful that I get to do the work I think I'm meant to do – with people I'm in awe of – in a public garden that I get to share with the world! (- in a nutshell)
Here's where I'm supposed to tag others for this meme: I invite any and all who read this to consider yourself "it". Use the comments box, use your own blog, pass it on!