Thursday, September 6, 2012
|
|
Marjorie's European Tour, 1903-1904
Taken from letters to her mother, Bessie
In early September, Marjorie's train steamed into Berlin where the temperature was 100 degrees in the shade.  It was debilitating after the freshness of Norway, and Marjorie wrote that they were all "mighty crochety."  But, short tempers notwithstanding, they set out immediately to tour Berlin, going through the Brandenburg Gate to the Thiergarten, a fascinating street lined with statues, and ending in the Monument to Victory.
Marjorie's postcard of the Brandenburg Gate, 1903
Other highlights in Berlin were Kroll's Theater where they drank beer, ("I'm trying to like the horrid stuff!") and a day at the Hohenzollern Museum and the Old Museum where they saw paintings by Van Eyck, Velasquez, and Murillo.  Marjorie purchased postcards of all her favorite paintings and sent them home to Bessie.   She celebrated her twentieth birthday in Berlin with cables and letters from home and the promise of a string of pearls that she could choose for herself when they arrived in Italy.
On a day trip to Potsdam they toured the palaces of the different German monarchs.  Their favorite garden was the "Orangerie,"  where they walked up the terraces to the summer palace, past fountains, trees, and arbors, until they came to "Sanssouci", the preferred palace of Frederick the Great.
Marjorie's postcard of the terraces at Sanssouci, 1903
Next they spent two days in Dresden ("a charming little city") where they stayed at Weber's Hotel and attended 'The Flying Dutchman' at the Opera House.
     Marjorie's postcard of the Opera House in Dresden, 1903
They went to the King's Palace where they saw a collection of "bronze, ivory, amber, coral, shell, silver, gold, and the most wonderful jewels you can imagine, a green diamond weighing 5 ½ ounces!  It is believed to be the richest collection in Europe."  But the most impressive experience for Marjorie was her visit to the Art Museum in Dresden to see the "Sistine Madonna" painted in 1513 by Raphael:  "She is wonderful, so calm and serene and yet seeming to see and know everything.  And the little cherubs do look so human – mischievous in contrast to the Christ Child."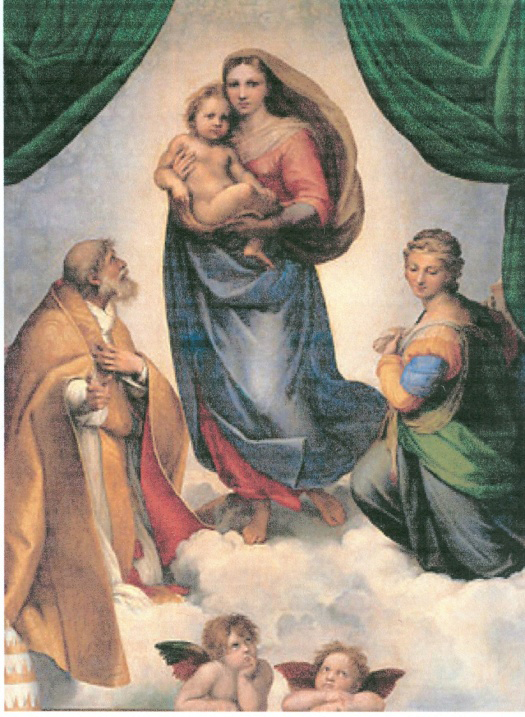 The Sistine Madonna, Dresden
The next step of the journey was a train ride to Salzburg in Austria where they visited Mozart's birthplace and saw scores and programs of his operas.  In contrast, the following day they left the city for a tour of a salt mine in the hills outside of Salzburg.  As they drove out of the town in the fresh morning light they said they could see why people called Salzburg one of the three most beautiful cities of Europe.  "As we rose higher and higher we looked at it from the distance, and the rambling old houses clustered so picturesquely below."  They passed snow capped mountains on their way to Berchtesgaden and the disused salt mine.  At the entrance to the mine they were required to put on "blue and black knitted caps, black alpaca redingotes, and duck trousers!"  The visit began with a walk along a dark underground passageway, carrying wooden lamps in their hands, and getting a good view of the sparkling salt imbedded in the dark rock.  They finally came to a chute where, three or four at a time, they sat down on the smooth, steep plane, and slid with the aid of little leather aprons fastened to their belts.  "It was the most exciting toboggan slide I ever had, and such fun … I had to slide, wildly clutching the man in front of me!  Then we went across a great black lake in an equally black and gruesome rowboat.  Then we went down another slide – this time I hung onto Gertrude!  We ended up with a breathless ride, downhill and around curves and finally out into the open air again – right in the middle of the little town, and all sitting astride of a 'bob sled' on wheels!"
Marjorie's postcard of the Salt Mine in Salzburg, 1903
 From there they crossed into Bavaria to see King's Lake.  They admired the picturesque boats and the people in Tyrolese costumes, and Marjorie was fascinated by the hundreds of shrines along the road where accidents had taken place.  Many of them had pictures of the mishap – "a man flying head downward into a chasm, or lying with a huge stone on top of him."  They reached their hotel, safely, at 8pm after a long but happy day.
Back in Salzburg, Marjorie and Dorothy were overjoyed to find that they were to have a visit from Dorothy's father, Frank Pardee.  They proudly took him around Salzburg, and the next day Frank hired a car and driver to take them all to Konigesee.  It was the first time Marjorie had been in an automobile, and she found the experience exhilarating:  "It was great fun.  We simply flew along, and so smoothly.  A fine way to see the country, and the weather was perfect too.  It was an ideal ride – up and down dale with splendid views of the mountains and snow.  Coming home, I never went so fast in all my life – around all the curves on two wheels.  We made the trip in 1 hour and 5 minutes – in a carriage it takes 3 hours!"
            Another day they took a beautiful train ride up mountains and around lakes, to the bathing resort of Ischl, and then a steam boat to Hallstadt.  This was followed by a visit to the "Three Lakes", Gundlsee, Toplitzsee, and Kammersee, where "The water was clearer than any I have seen and fairly glistening with reflections from the beautiful green mountains around.  It was exquisite."
Marjorie's postcard from Ischl, 1903
             Too soon, their visit to Salzburg came to an end and they took a five-hour train ride to Vienna.  "This is a fine city, great wide streets and so much to see.  It is gay like Paris, only more so, and everything goes with a rush – even the cabs tear around the streets as if on the lookout for excitement," wrote Marjorie.  Around this time, Bessie began to miss her older daughter and suggested that she should think about returning in November.  However, Marjorie wrote back immediately saying "I have just gotten your letter suggesting that I come home … How I should love to see you and all, but I really think I had better stay.  I think I will stay until March.  I know I shall weep all Christmas day, still I think I would be foolish to come home."  That settled, she spent the next few days shopping for new clothes.  She found this dull entertainment,  buying hats and gloves from the department stores, and standing for hours for dress and suit fittings at Drecoll's, the famous Viennese fashion house founded by Baron Christoff von Drecoll in 1896.  After several days, she wrote "Just think how long we have been in beautiful Vienna and seen nothing but stupid suits and things!"  But then they were rewarded for their patience, for they heard that the Czar of Russia was arriving in Vienna to meet the Kaiser.  They witnessed the whole procession from a hotel window.  "Presently the Kaiser came along on his way to the station – dressed in a grey Russian uniform with the cape and round Russian cap, and the band played "Glorious things of Thee are spoken".  At 11.30 they returned with the Czar in Austrian uniform sitting on Franz Joseph's right and all the fierce-looking Russian Guards following.  The Royal carriage was very stunning – fine horses, brilliantly caparisoned, and equerries on each of the two near ones. The Kaiser and Czar are both such very handsome men … "
On Thursday the first of October they went to the Historical Museum where they saw specimens of different kinds of stone and marble – one from Rhode Island, and another from Connecticut.  They went to the Kaiser's Palace where they saw the crown jewels and the richest, most beautiful collection they had seen.  On their last day they visited the beautiful gardens of the Kaiser's summer house, full of fountains, shady walks, and curious old ruins.  They were to spend the next two months in Italy.