Tuesday, September 25, 2018
|
|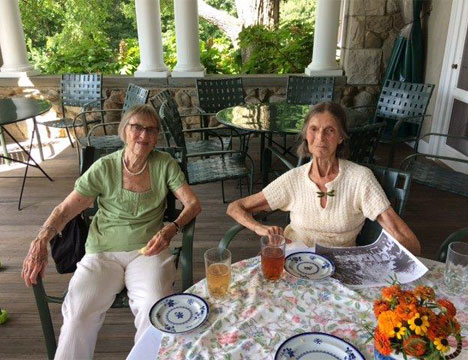 At the end of August 2018, on a beautiful sunny day, two Pardee cousins got together at Blithewold to reminisce about ninety years of shared history. Marjorie Jeffries is the granddaughter of Bessie Pardee Van Wickle McKee and Nancy Abercrombie is the granddaughter of Frank Pardee, Bessie's closest brother. Both women spent their summers at Blithewold swimming, playing tennis, and chasing July Fourth Japanese paper parachute fireworks across the Great Lawn. Nancy liked to climb trees with the boys and Marjorie loved to collect mushrooms. They pored over a photograph of nine children at a birthday party for Marjorie's sister Dee in 1935, trying to remember the names of the only two who were not Pardee relatives.
That afternoon, Marjorie particularly enjoyed an extended tour of the Blithewold gardens on the golf cart, stopping at favorite places like the Water Garden and savoring the view through the North Garden to the Bay.
Nancy talked about her travels, of how as a young woman she visited Florence and fell in love with Italian art. She told of her visit to the Bargello where she was astounded to see her Aunt Marjorie Lyon sitting on the stone steps sketching! That sketch is part of the Blithewold art collection.
Both Marjorie and Nancy have been instrumental in saving Blithewold, and their generous sharing of memories and archives over the years has helped give substance to the history of Blithewold.
Featured Image: Nancy Pardee Abercrombie and Marjorie Shaw Jeffries at Blithewold, August 2018