I thought the tide was high during the Nor'easter of spring 2007 – and it was – but this morning's moon tide storm sure did flood Blithewold.  I took these pictures about an hour after high tide so we'll all just have to imagine what it must have looked like earlier.  If only I had been a little speedier leaving the comfort of home this morning…  If you're at all familiar with Blithewold, then you are accustomed to the Narragansett Bay quietly lapping up a certain part of the view.  When the Bay shifts its shores, it's easy, especially looking through snapshots, to become a bit disoriented.  So I've included a couple/three pictures of what "normal" looks like down near the water.  Click on pictures for a larger look and hover over for captions.
Unlike my great-grandfather who would worry and go out to check on his gardens during any kind of weather, I'm always a little thrilled to forgetfulness by a good storm.  But I can sober right up when faced with the aftermath.  The grounds, aside from the flooding, didn't seem to fare too badly – no major limbs or trees down that I saw.  But we'll likely have our work cut out for us in the Rock Garden – maybe especially in this spot. (In the top right photo, this section of the garden is beyond the winterberry…)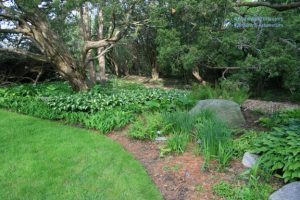 Over the years we've learned the hard way what-not-to-plant there and we'll have to wait and see if we'll be adding to that list.
How did your garden survive the last storm?  Did you worry during or did you enjoy the ride?