Wednesday, November 22, 2017
|
|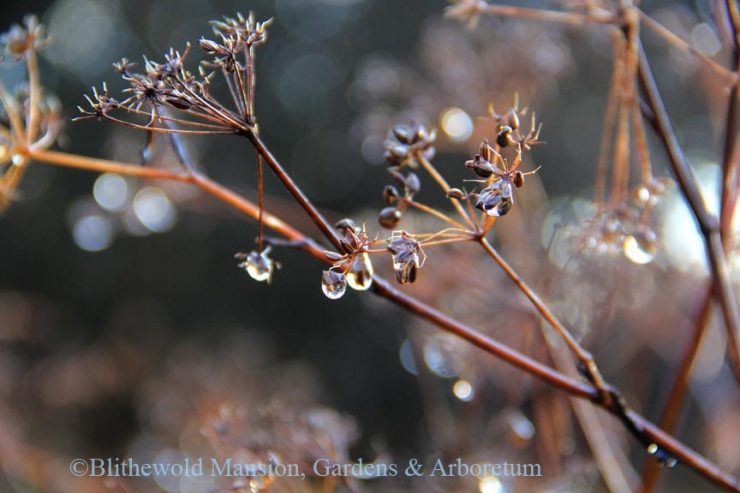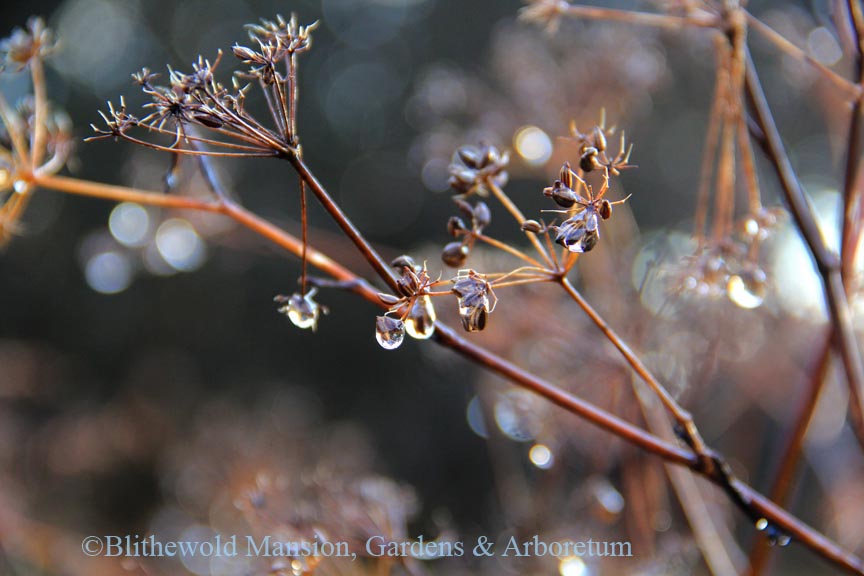 The holidays seem to be rushing at us full force this year, as usual.  Although I love the lights heralding this season and the feeling of magic in the chilled night air, I want to take this time to celebrate fall before it's over.  November in the garden encapsulates subdued beauty.  There is none of the dazzling glitz of the holidays; but, whenever I stop to appreciate the garden at rest, I find something new that captures my attention.  For instance, the slanted light that makes driving so difficult this time of year, sets aglow the plumes of maiden grass (Miscanthus sinensis 'Morning Light').
While we are on the subject of grasses, here is another beauty.  This switch grass (Panicum virgatum 'Shenandoah') can be found in the Pollinator Garden.  I love the way the rain rests on these glorious seed heads.  It is this subtle sparkle that draws me outside in November.
While in the Pollinator Garden, I noticed that the fennel seed heads were wearing raindrops like jewels in a crown.
We leave the Pollinator Garden up for the winter.  This is a practice beneficial to both the garden itself and the wildlife.  Birds and insects are provided habitat and food sources.  The standing foliage also protects the soil from the harsh winter extremes.
Although this is an uncommon practice in the age of ultra-manicured lawns and gardens, I highly recommend it.  Saving the pollinators involves more than providing a food source for these valuable insects.  We must also support them in the winter, when we hardly know that they are there.  Many insects overwinter in the ground or the stems of perennials gone by.  If we cut this all down, we would be doing these hardworking pollinators a great disservice.  I recommend, if you have not already cut down your garden, that you take this opportunity to leave at least some of it standing to provide for the wildlife we share our world with and depend on to pollinate our trees and flowers.
I'll leave you with this image from our Garden of Hope.  Although I was only joking when I suggested this name last year for our new garden area, the name stuck.  Truly gardens are a place for hope.  What better image for hopefulness than these aster seed heads just waiting for the right moment to fly out into the world.  They'll find a new home to adorn with their beauty next year.  May we all have such optimism!  Each year in the garden brings changes, but we adapt and learn how to work with these transitions.  There is beauty in every season.  Happy Thanksgiving to you and yours!
*Christmas at Blithewold begins Friday November 24th.  The first Sparkle! of the season is this Friday November 24th from 5-8.  Check here for more details about all the events going on at Blithewold.