Wednesday, November 14, 2012
|
|
fall
,
fall color
,
Hamamelis virginiana
,
How, When, What-we-do
,
Prunus x subhirtella 'Autumnalis
,
sensory stimulation
,
trees
,
what's blooming
,
what's colorful
I think we gardeners are generally pretty good at finding color during a black&white winter but I still always feel like I should stock up before fall's blaze dims. Even in the half-light of a gray day, oranges and reds, on Japanese maples especially, are so super-saturated right now that their leaves seem to fuse into a solid block of intensity. And I credit the yellow leaves for giving everything that strange glowy tawny tint though I should probably give all the shades of brown their due for that too.
And of course I wouldn't want to diss the few things still – or starting to bloom. In honor of Garden Bloggers Bloom Day over at May Dreams Gardens (tomorrow), here are a couple of tried and true November bloomers. — I say these are November bloomers but the autumn flowering cherries (Prunus x subhirtella 'Autumnalis') in the Rose Garden have been my poster children for December the last few years. Evidently they loved our recent run of Indian Summer days. (Please excuse the blur – it's impossible to get those tiny flowers to stand still on a windless day let alone a breezy one.)
Along with hording color, we're also starting to forage for the bits and bobs we like to have on hand for embellishing the wreaths made in our upcoming (sold out!) workshops. Last year nature withheld her usual bounty but this year, not only is she being generous again, but we managed to find some treasures before they were whisked away with the fallen leaves. My only difficulty with task of foraging is having the fortitude to quit when tubtrugs and pockets are full. (I'm just as obsessive when I go to the beach. At least sweetgum seedpods don't weigh as much as stones…)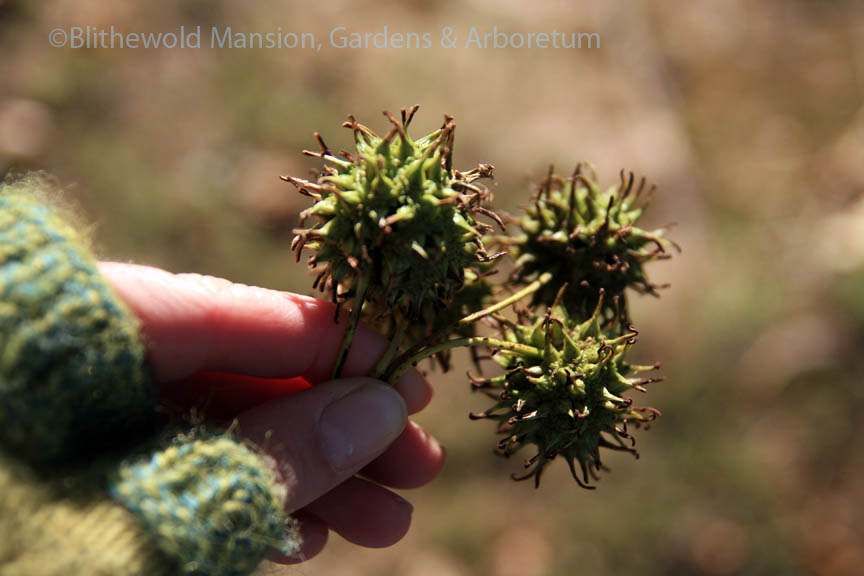 Are you taking in Autumn's last flash? And are you filling your pockets with treasures too?