Friday, September 3, 2021
|
|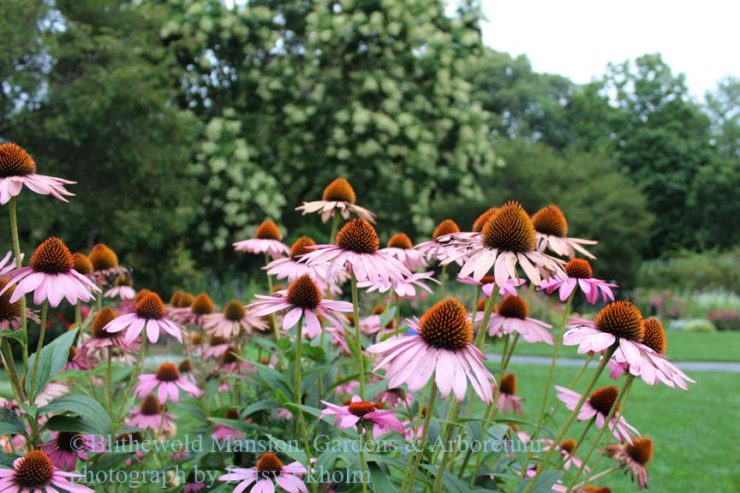 When September rolls around, many think of school and an end to all the fun that can be had in summer. But, truly, summer lives on in the gardens. With fall not starting until September 22nd, we still have three weeks of summer left and the flowers are soaking in every moment of it. 
One strange element of 2021 (to add to the list of things that made this year different) is how much rain we had here. It was more than I've seen in my eight years working in the gardens. The 7″ of rain that fell in the early hours of September 2nd did quite a number on the property. Many of the pathways were washed out and turned into flowing streams with deep gullies. The gardens sustained much less damage from the remnants of Ida. Indeed, we only lost a few dahlias that could not stand up to the drenching despite careful staking and tying up beforehand. There is not much one can do when the weather is as extreme as it has been lately.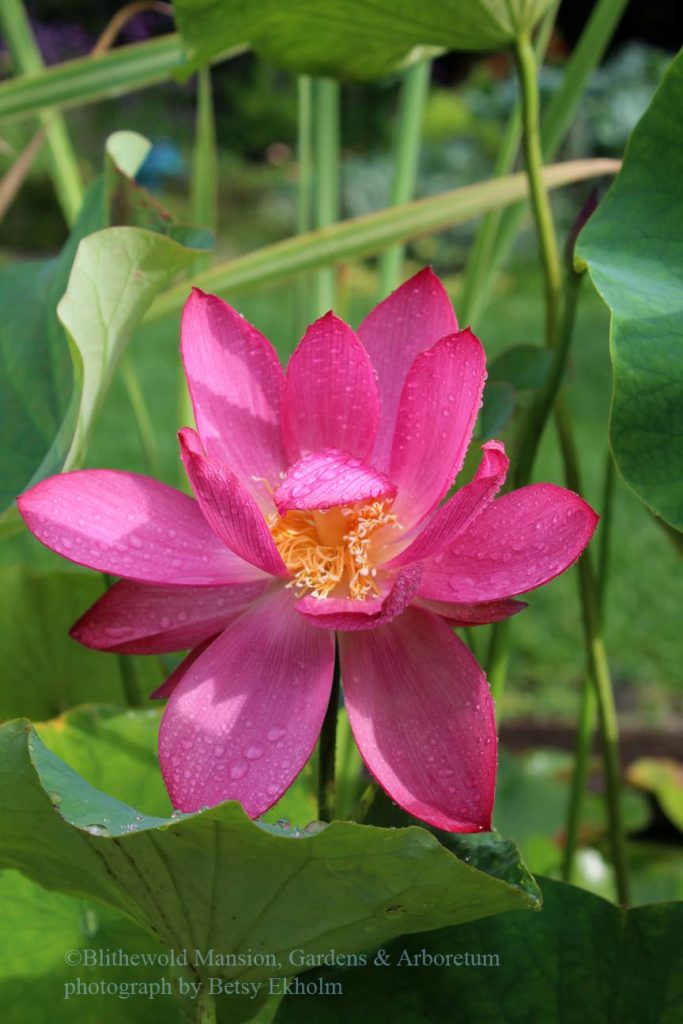 Our collection of lotus has not minded the rain one bit. These plants are hydrophobic (meaning that water beads up and rolls off their leaves and petals), which allows them to withstand rainstorms quite well. The sacred lotus is often the most awe-inspiring plant in the Idea Gardens in late summer. Many have questions or simply want to know more about how we care for our lotus. We are so pleased that everyone seems to be enjoying them as much as we do. We are also so grateful to volunteer Rick Burt for encouraging us to start growing lotus here again and for splitting and repotting many of our specimens this spring. Thanks, Rick!
Nearby, two varieties of cup and saucer vine grow intertwined on the bamboo arches soaring over the Cutting Garden. I started both varieties from seed in the greenhouse in late February and we planted them out once the soil warmed in the spring. The rain and heat have caused such a burst of growth in these vines that they have climbed to the top of the arches and are now reaching for the sky. Enthusiastic climbers to say the least!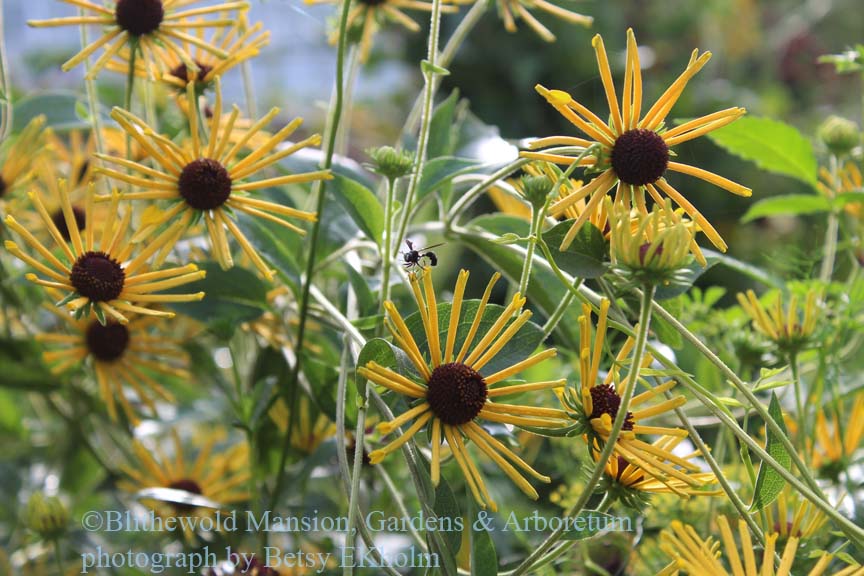 One of the many plants growing beneath these vines is sweet coneflower 'Henry Eilers' (seen above with pollinator perched on its petals). There is something so unendingly cheerful about 'Henry Eilers' blooming in late August into September. This plant reminds me that even more beauty is to come before the cold of late fall and winter. I love the curled petals that give each flower the classic cartoon sun effect. It also makes a wonderful cut flower to add to any bouquet.
Now that I've waxed poetic about the Cutting Garden, I wanted to highlight a few of my favorite vignettes in the North Garden at the moment. Each of these photos illustrates how plants work together to form a greater whole. Whenever we select a new plant for the garden or we're placing dahlias after the tulips go by, we take into account all the other plants that will grow up with the new plant. We envision the garden of the future and how everything will *hopefully* work together. The three pictures above show some successes in our vision this year. These little moments in the garden force us (and all who visit the gardens) to be in the present and appreciate what is before us. None of these combinations will last forever as the weather changes and flowers fall. However, I believe it is the very ephemeral nature of these moments in time that make them so special.
What are your favorite moments in the garden right now as summer comes to a close? 
Speaking of late summer gardens that are bursting with color and life, the Garden Conservancy Open Days for 2021 continues this fall in Rhode Island with Blithewold garden volunteer Sally Johnson's garden. I have visited Sally's garden in the fall and truly enjoyed it. There was so much beauty, color, and interest that I found deeply inspiring. I encourage you to come experience a lush fall garden replete with asters, goldenrod, ironweed, and salt tolerant shrubs. Sally's Coastal Native Garden is the only Rhode Island garden in this season's Garden Conservancy Open Days. She would love to share her experiences creating a beautiful habitat, roof and rain gardens on the shore of Bullocks Cove. 
Register for this garden here.