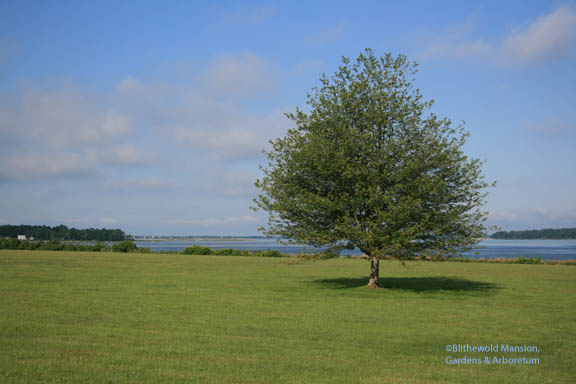 It's so convenient that our busiest days of the year are also the longest! There's so much fun stuff to do in – and out of – our gardens. Tomorrow is the very longest day of the year. What are you going to do?
Number 1 on my list is to get up early – might as well make the most of it, right? You know by now that I prefer early light for pictures of my walk around the gardens – by mid morning this time of year, the sunlight is already bleachy and squint inducing. If only I had sunglasses for my camera too…
It's also evidently a perfect time to do a little yoga in the great outdoors. Everyone who took this class looked fresh and lively as they were leaving. I heard one yogi say, "That was a great way to start the day!" (This was the first of a six week class in the North Garden: Thursdays from 8 – 9am. Click here for info!)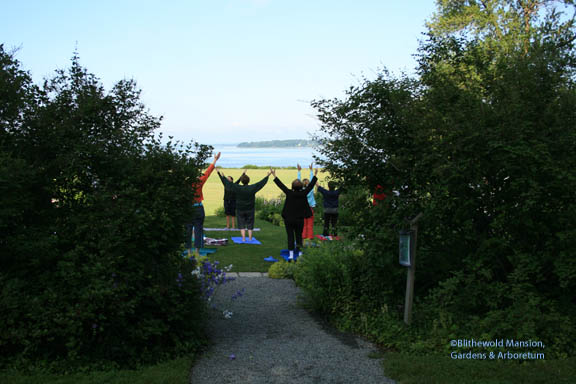 There are plenty of garden chores to go around – keep planting if you haven't finished. We set a deadline of July 4th for finishing our major planting projects. We're in pretty good shape this year and are almost done already! (I still have a lot to plant at home though…)
Cut back your autumn bloomers (like asters, montauk daisies and chrysanthemums) now if you want them to be full, bushy and a little less floppish come fall. They'll start to set buds in early July so that's another task with a July 4th-ish deadline. We cut ours back by half or at least a third.
Check out and be impressed by how enormous your plants are already. The teasel (Dipsacus) and the cardoons (Cynara cardunculus) – both biennials – are budded up and nearly as tall as me (not that I'm a giant – but that's pretty tall for this early in the season!)
Stop and smell the roses and while you're at it, you might as well deadhead them. The Rose Garden was thickly perfumed today and full of spent blooms. Good thing it's a long day – Lilah and Ellie worked on these roses (un-named — anyone recognize it??) for hours!
Keep your eyes out for wildlife – the baby katydids are out and about. Have you seen a baby praying mantis yet? Look for problem children too. I spotted spots on our Tupelo (Nyssa sylvatica) but have been unable to identify it. (Looks like a bad case of acne to me.)
There's probably still time in the day to do a little weeding and perhaps after that you might go for a sail… Or at least sit back and think about how nice it would be to have a sunset tour on a boat like the one moored beyond the blooming tamarix…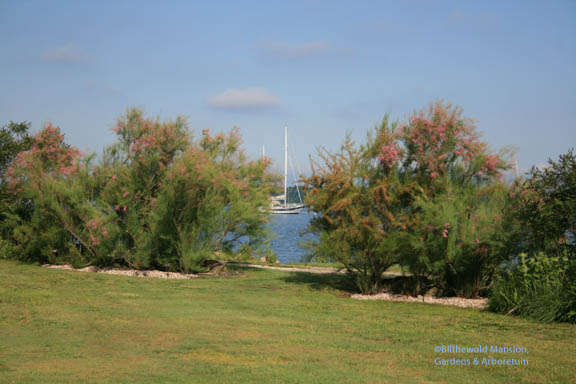 The most important thing to do on these longest days is enjoy the heck out of them dawn to dusk! And have a very happy solstice. (Some say it's the start of summer but I'm pretty sure it marks the start of winter's shortening days. I know that sounds pessimistic now, but come winter solstice – my official start of summer – you'll see I'm an optimist all over again!)