Blithewold's Collections Committee decided last year that it would develop a project to repair and conserve the textile collection in the Mansion, including bed coverings, furniture upholstery, and window treatments.  Everything, by definition, is more than one hundred years old, and some pieces are much older.
The first such object has recently been successfully completed. The lambrequin, or canopy, around Marjorie's four-poster tester bed was in poor condition.  It was taken down earlier this year by our textile conservators, and was re-installed in August. Examination of the fabric suggested that it dates from the mid-1800s. The bed itself, made of oak, is carved with medieval 'grotesque' masks and stylized escutcheons, and a Medici crest is carved into the bottom rail at the foot of the bed.  The posts are flared and fluted, rising to the flat-top molded cornice with a dentil edge. The lambrequin is attached to the top rail.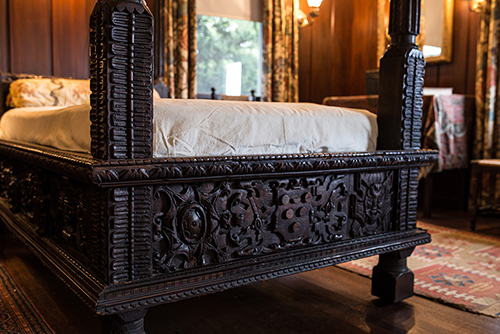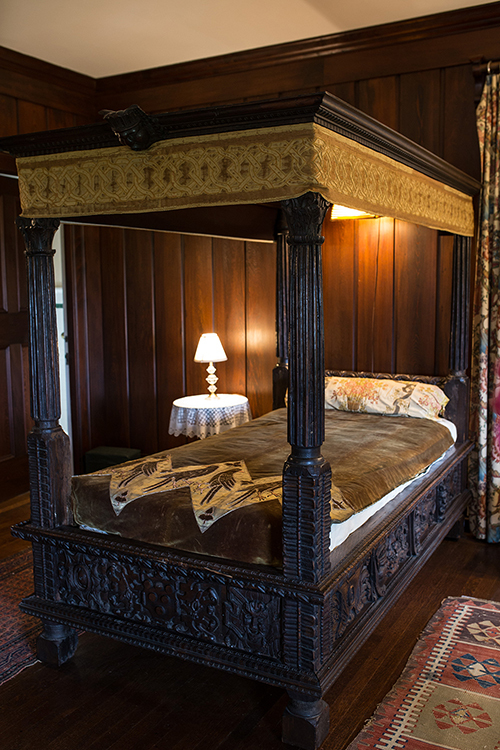 Four-poster tester bed with medieval 'grotesque' carvings and lambrequin
The fabric was soiled, and had many areas of warp loss, loose wefts, and horizontal splitting. The silk satin appliqué was shattered, with extensive fabric loss. The cord trim around the appliqués was abraded, and sections of the trim were missing. Because it is a historically important part of Marjorie's bedroom, Blithewold wished to keep the lambrequin on permanent public display. Allowing it to remain hanging would only have led to further deterioration:  intervention was necessary and professional conservation was crucial.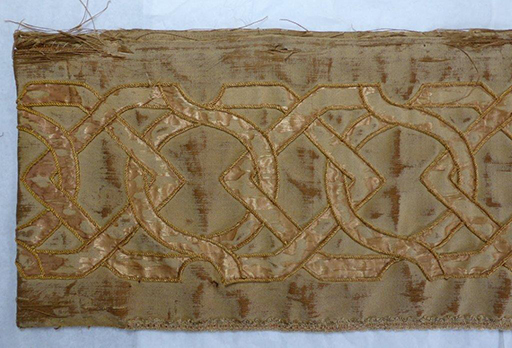 Panel before treatment
Since the lambrequin came in two panels, a long one and a short one, it was decided to conserve only the larger panel which surrounds the tester except for the head of the bed where an overhead light hangs. The smaller panel is displayed in an exhibit case in Marjorie's bedroom. A small part of it was conserved in a similar fashion to the large panel, leaving the remainder of the panel untreated. This small sample has been conserved to a higher degree, showing how the fabric looked originally in the mid-1800s: silk habotai was custom-dyed to match the existing silk applique fabric fragments, and inserted under the cord trim. This side-by-side contrast shows clearly the advantages of timely conservation.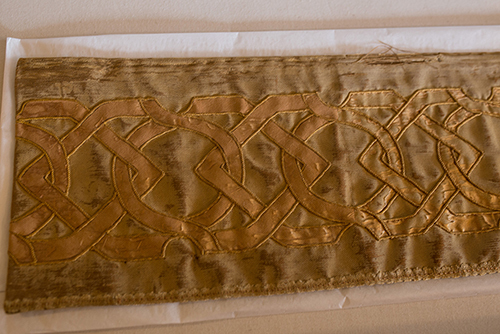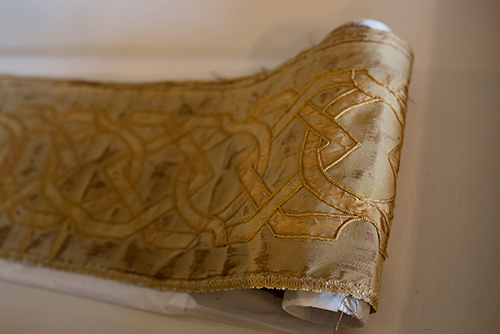 Panels after partial treatment