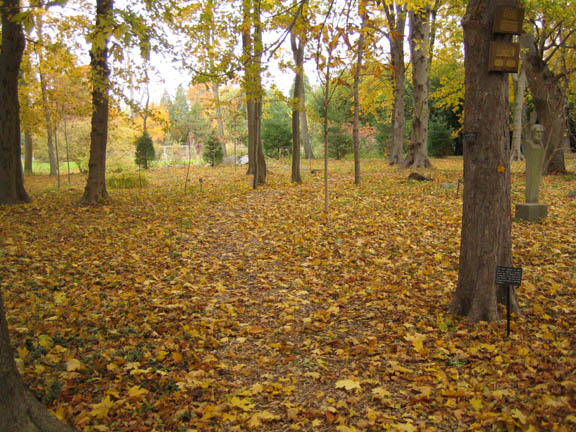 For Fred and Dan, leaf cleanup on the property must feel about as futile as vacuuming a cat. They were collecting leaves this breezy morning in the same places they've been cleaning up for weeks now and the trees just kept right on shedding. Sometimes it's better to put off until tomorrow what can't be finished today!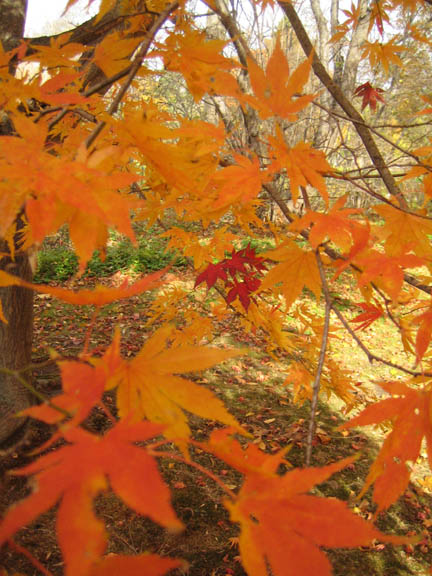 A couple of weeks ago Fred and Dan delivered 4 truckloads of beautiful dry leaves to the compost area for us to shred for the gardens. There's nothing so delicious as shredded leaves for the garden! This time of year we use the leaves to mulch things like the figs which need extra protection in the winter (more about the figs later!),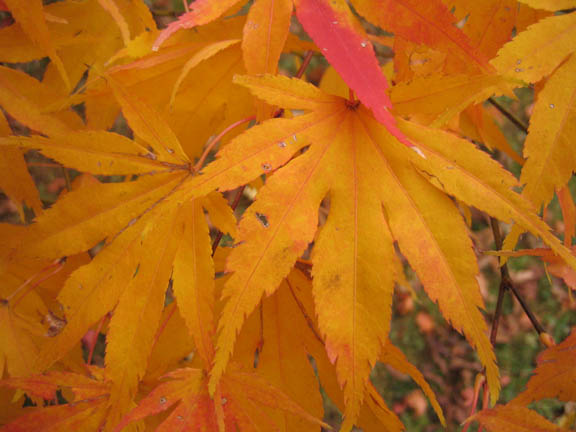 and Dick (the veggie garden volunteer) was given a layer of leaves and grass for the vegetable bed – he should be able to plant right in the mix next spring without needing to rototill. In the spring and summer we use the shredded leaves to top dress the beds in the Display Garden. I think they make a beautiful looking as well as a beneficial mulch and I always think the gardens look "done" when they've been dressed. Even if you mulch your beds in the fall, it's a good idea to shred the leaves rather than use them whole so that they begin the breakdown process and allow the rain to reach through – a solid mat of leaves can choke rather than feed a garden.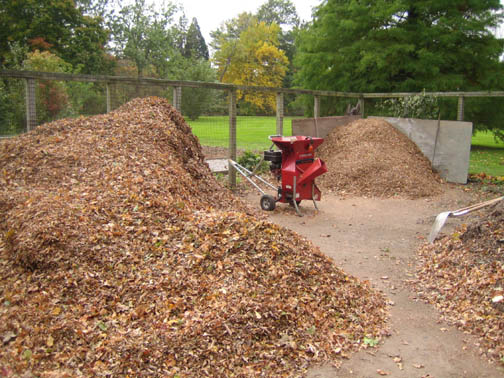 So between Fred, Nick-The-Willing (one of the Deadheads who says "Sure, I'll do that!" anytime we ask for help), and myself we passed that enormous pile, scoop by scoop through the machine into another slightly smaller enormous pile. We already have more leaves in that pile than we had last year but we're feeling greedy and needy and with any luck, Fred and Dan will be able to gather another pile for us next week. I'll bet they are crossing their fingers for a good breeze to shake off the rest of the leaves while they're otherwise occupied decorating the property for the holidays. (I wonder what Christmas light suprise is in the works for us this year?! – We'll all have to come by on Friday to find out!) The house also opens for the holiday season on Friday. Come and see how the decorators have interpreted the family's "favorite things" with a different theme in each room. (For more information about hours, holiday teas, events, and the live music schedule click here)  Happy Thanksgiving, everyone!