Thursday, October 13, 2011
|
|
fall
,
fall planting
,
garden design
,
garden renovation
,
How, When, What-we-do
,
North Garden
,
North Garden
,
perennials
,
planting
,
projects
,
star wall project
,
volunteers
,
weather
The North Garden Star Wall Project has officially begun! (The wall, 100 years old this month, will be restored this winter.) Yesterday Team Rockette dug and hauled hundreds of pounds of perennials out of the two beds along the North Star wall and southeast side and heeled them in the vegetable bed (readied by Team Deadhead on Tuesday) for the winter. They also unceremoniously pitched all of the annuals along with moldy-old Phlox paniculata 'David' (it may be mildew resistant for awhile but for us, no longer) and anything infested with goutweed (Aegopodium podagraria), which over the last few years has insidiously reentered the North Garden in a number of places.
As hard as the work was yesterday – we all needed restorative naps afterwards – I kept thinking about how much easier it was, psychically at least, to do a major renovation project now as opposed to spring. As hard as it is to cut back or take out late season flowers that the bees and butterflies are still working, I find it much more difficult to move or destroy anything with fresh growth full of the season's potential. And fall weather is much more reliably cooperative too.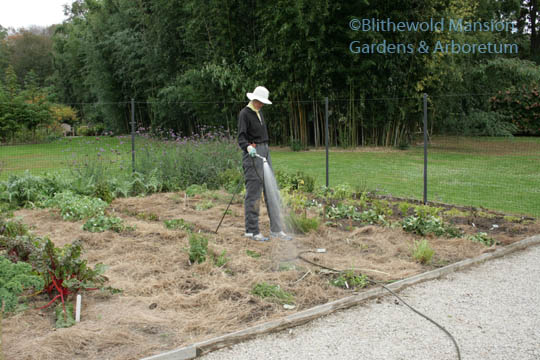 The ground is still warm so plants' roots can take hold easily and there's plenty of rain in the forecast. As much as we'd like to be able to get back into the North Garden with Team Florabunda, today's rain is helping yesterday's transplants settle into to their temporary home. The timing for that is also perfect. As long as you're careful to not plant wherever you'd want to sow the early crops next spring (and we were careful) a vegetable garden makes a brilliant holding bed for anyone that doesn't have space for a dedicated nursery bed.
We still have to get the roses (Ballerina) and hydrangeas (Limelight) out and sundry back row denizens but we're nearly there thanks to the Rockettes – and the Tuesday Deadheads – (we could not have done this without them) and we're right on schedule despite the rain. Stay tuned for progress reports and maybe even a discussion about all of the ideas being floated about potential design tweaks. (If the garden is going to be under the mayhem of construction, why not think about making a change or two? – Always preserving the family's intentions, of course.)
Are you starting a big project now too? Do you prefer to do the work in spring or fall?