Wednesday, June 15, 2011
|
|
Display Garden
,
floral arrangements
,
Garden Bloggers Bloom Day
,
June
,
Rose Garden
,
volunteers
,
what's blooming
,
what's colorful
,
what's in bloom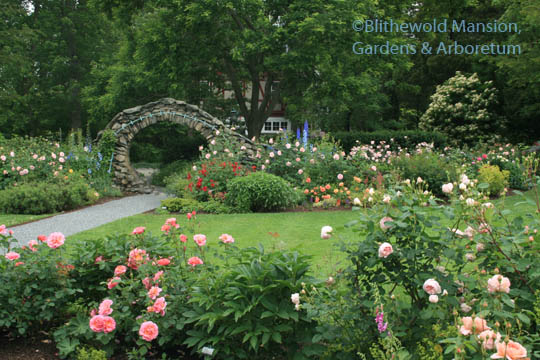 With so much coming into bloom now I might be crazy to try to identify June's quintessential color. (I might be crazy full stop.) There are some great colors to choose from: take anything in the Rose Garden for instance. ( – I had to include another gratuitous Rose Garden shot because it's so thrilling. And I think you can just about smell it from the picture if you concentrate.)
I also think that while blue is one of the colors that defines late spring/May, the dusky blues of June – like the Berggarten sage (Salvia officinalis 'Berggarten') in the herb garden – are completely different and entirely June-ish, evocative of June's extra-long twilight. Of course my favorite sweet pea 'Nimbus' takes dusk to a-whole-nother level of stormy, also perfectly appropriate given the wild and wooly weather lately. But then that brings me around to the wooly ivories of things like Filipendula, Clematis recta, giant fleece flower (Persicaria polymorpha) and the Clary sage (Salvia sclarea) that has been catching everyone's eyes this week. You just don't see that color in July, not even in the clouds. Or else I don't notice it the way I do in June.
And there's a certain hot pink that seems to belong only to June although I'd have to say it's a great color for introducing us to the notion of July. It's about to burst on every Spirea japonica in that shocking combination of pink and yell-green (I had meant to type "yellow-green" but yell-green's more like it) and it's already capping the catchfly (Silene armeria).
When it comes right down to it I can't decide – and don't they all look like June in Terry's arrangement? So in honor of Garden Bloggers Bloom Day, I'd rather put it to you for a vote anyway.
What color do you think defines June?