Friday, June 29, 2018
|
|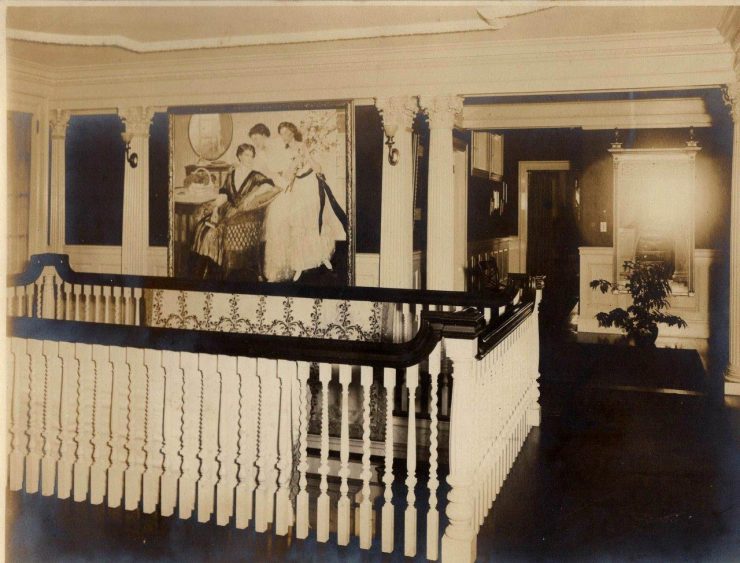 In 1912 the French portrait painter Henry Caro-Delvaille sailed from Cherbourg to New York on the S.S. France. Among his fellow passengers was Walter Kilham, an old friend of Bessie and William McKee and the architect of Blithewold.
Walter Kilham had been in Paris with his wife, Jane, studying painting, and a friendship with Caro-Delvaille developed. Mrs. Kilham assured the artist that she had influence in Boston and would be able to secure him commissions. She subsequently introduced him to Bessie McKee, and shortly after Caro-Delvaille painted a portrait of Bessie and her daughters Marjorie and Augustine for a fee of $10,000 (more than $250,000 in today's values).  It was so large that it covered the north wall of the second-floor gallery space.
It is said that William McKee disliked the painting intensely and, according to Walter Kilham's memoir, "he liked Caro-Delvaille even less, if such a thing were possible."
On April 22, 1916, Estelle, Bessie, and Marjorie drove from Boston to Blithewold for the day to begin to open the mansion for the season. They were shocked to find that Caro-Delvaille's portrait had been cut from its frame and stolen. The theft was reported and a reward offered, but "nothing came of it," wrote Walter Kilham. Estelle Clements' diary mentions a mysterious phone call to William McKee referring to a ransom, but the trail went dead. The theft was the subject of much speculation, some wondering if it was an 'outside' or an 'inside' job, and Walter Kilham wrote, "I have always had my own ideas about the affair."
By 1987 several major American museums owned and exhibited Caro-Delvaille's work, and Blithewold curators began a new search, contacting American art museums in a bid to locate the stolen painting, but to no avail. At Blithewold the whole mansion has been searched, including long-inaccessible crawl spaces and dark corners of the attic, but we fear the painting will never be seen again. Photographs of the painting remain and a small preliminary study, signed by Caro-Delvaille, hangs in the upstairs hall to remind us of the intrigue.