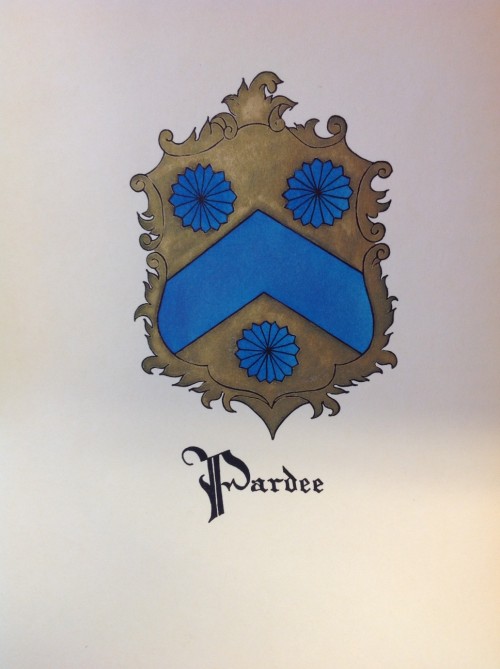 The name Pardee is derived from the French oath par Dieu which was Anglicised to Parde, Pardy, Pardie, and ultimately to Pardieu and Pardee. Around 1530 these families were living in the Normandy region of France. Religious persecution drove the families across the Channel to the south of England, and in the 1580s John Pardee was living in Devon, working in the woolen trade. In 1591 John's son Anthony Pardee (1591 – 1645) was born and the family moved to nearby Taunton in Somerset where Anthony became a Protestant minister.
It was Anthony's son, George Pardee (1622 – 1700), who left England for America. He was an ardent Puritan, and it became clear that his life was in danger when the Royalist force invaded Taunton. In the New World he settled in New Haven, Connecticut, where he became a teacher of Latin, Greek, Hebrew, English, and Arithmetic.
George's son Joseph Pardee (1664 – 1742) lived in New Haven and married Elizabeth Yale, first cousin of the benefactor of Yale College, Governor Elihu Yale.
Joseph's son John Pardee (1697 – 1766) moved from New Haven to Sharon, Connecticut where he bought land, built a house, and started a tanning and shoe manufacturing business.
John's son Captain Thomas Pardee (1722 – 1806) lived in Sharon and fought in the Revolutionary War.
His son Dr. Calvin Pardee (1757 – 1795) served as a surgeon in the Revolutionary War. He moved to Stephentown, New York and erected the homestead where Bessie's father and grandfather were born.
The first Ariovistus Pardee (1778 – 1853) was born in Stephentown and farmed there until his son Ario left to work on the canal systems in New Jersey and Delaware. He then moved to Ypsilanti, Michigan, to be close to his married daughters. In later life he took great interest in civil affairs and became Treasurer of Ypsilanti in 1832.
Ario Pardee (1810 – 1892) founded the town of Hazleton and established a coal mining business there. His sons Ario Jr. and Calvin Pardee fought in the Civil War and his daughter Bessie married Augustus Van Wickle and built Blithewold.