Tuesday, November 18, 2014
|
|
Back to Blithewold
,
Blithewold mansion
,
Christmas
,
Christmas at Blithewold
,
Festive
,
Holiday
,
Ornaments
,
Presents
,
Shop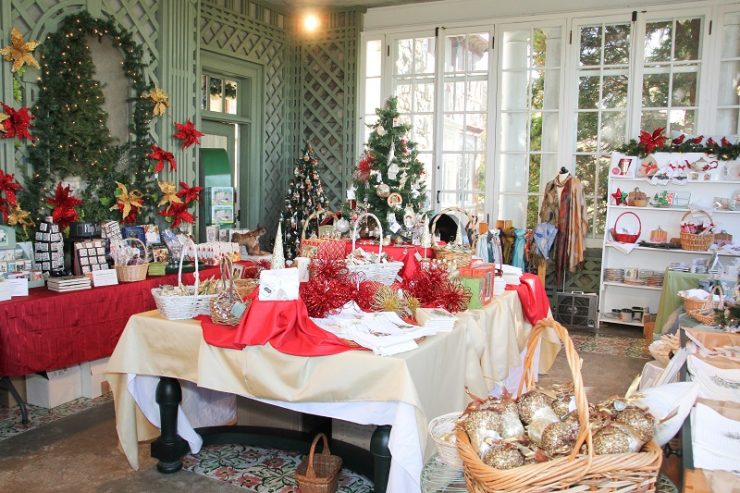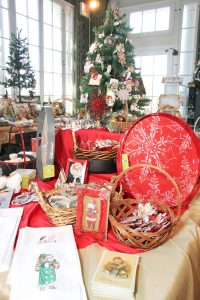 If you've visited Blithewold during our Christmas season before, I'm sure you've noticed the cheery, little shop tucked away in the Breakfast Porch. The Shop at Blithewold normally lives in the Visitor's Center, but at Christmastime it moves to the Breakfast Porch and nearly triples in size, allowing them to carry more fun, festive, Christmas goods! Sue Legault, Visitor Center and Gift Shop Manager, has been in charge of the Shop at Blithewold since 2010 and has enjoyed every second of it.
The Shop at Blithewold is unique in comparison to traditional museum gift shops because of the wide range of items that are sold. Sue explained to me how she has worked to transition the shop from selling purely souvenirs to selling an assortment of items "inspired by Blithewold." Of course, the shop does still carry Blithewold souvenirs such as Blithewold magnets and books about the history of Blithewold, but the majority of the items are those that truly capture the essence of the Mansion, the natural beauty of the Gardens and Grounds, and the spirit of the Van Wickle-McKee-Lyon Family.
Sue also works very hard to buy the Shop's goods from vendors that are local, or at least made in the US. Incorporating the local community into the Shop at Blithewold is very important to Sue; some of the items sold are made by our very own volunteers! For example, the lovely, Swarovski crystal and sterling silver jewelry found in the gift shop is created by Laura Collins and is sold year-round. MaryEllen Dwyer (who also decorates Augustine's Room every year!) provides us with exquisite hand-painted water-color note cards all year, with special Christmas-themed cards available only during Christmas.
During the regular season, which runs from April until October, Sue fills the Shop with floral and seashore themed items, but at this time of the year these familiar themes take on a Christmas flair. You'll find holiday tabletop adornments, ladies accessories, handmade jewelry, unique and fanciful decorations, and much more! I'm sure that you've noticed the lovely ornaments that give Big Tree in the front entrance of the Mansion its grandeur and sparkle. Many of these same ornaments can also be found in the Shop where you can bring them home to decorate your own tree!
In addition to the ornaments, the Shop will feature many new and exciting items this Christmas! For example, because of Blithewold's recent partnership with Ellie's Bakery, a sister concept to Four Diamond Award winning Gracie's, Providence, we are now able to sell their delicious scone mix and other baked good mixes in our Shop. So now you can enjoy the tasty treats from Blithewold's Tea in your own home! Another special item this year is a Blithewold calendar featuring stunning photos of all different aspects of Blithewold, designed by our own Jill Cleveland, intern turned Communications Assistant. All the proceeds go to fund the Blithewold Intern Program. These items and many more can be found at this year's Christmas Shop!
Another interesting aspect of the Shop at Christmas is the incorporation of the Christmas at Blithewold theme in the gift shop each year. Sue coordinates with the decorators to further enhance the Christmas at Blithewold spirit of the Shop. She listens to them, reads their decorating proposals, and pulls ideas from each of the rooms. The decorators also work with her – looking through all the catalogs she orders from and even ordering some of the same Shop acquisitions to decorate their rooms. So as you can see, Christmas at Blithewold is an all-inclusive event that truly incorporates every facet of Blithewold into a joyous holiday celebration.
This year when you visit Blithewold on a lovely winter day to enjoy a Christmas Tea or a fun-filled evening of s'mores and caroling at Sparkle, be sure to stop by the Shop at Blithewold. Sue's hope is that when people purchase something from the Shop at Blithewold that "they'll feel as though they're taking a small piece of Blithewold with them as a reminder of the magical feelings they had while they were here." So, come find your own piece of Blithewold this Christmas at the Shop at Blithewold!
Also, join us for an exclusive Members and Friends Preview Party this Sunday, November 23rd from 12 – 3pm and be one of the first to see the wonderful items the Shop at Blithewold has to offer!
To follow the continuing progress of Blithewold's holiday transformation, visit our Facebook page and Twitter. To see more photographs of Christmas at Blithewold, please stop by our Flickr and Pinterest!
Sincerely,
Kelly Sobolewski
Roger Williams University '16
Blithewold Communications and Web Design Intern