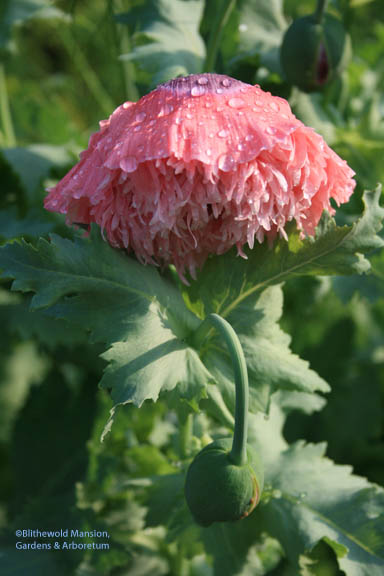 Gail doesn't want me to admit this but we've both hit The Wall. It's a June wall and I think we hit it every year as we finish planting and every year we think there's something really the matter with us. We've been so wiped out for the past couple of weeks that Gail's convinced that she has the flu and I'm so prone to inappropriately timed naps that I'm pretty sure I've developed narcolepsy. But what ails us is probably nothing more than "the slows". Our slows generally coincide with summer humidity to which we haven't yet acclimatized and that has made the blood in our veins turn to fluffernutter.
And we're ready to be done with the digging, heavy lifting and mental strain of design and placing plants. The good news is we've almost finished planting and moving out of the greenhouse. We just have one… more… new bed in the Display Garden to plant up as soon as Fred, Dan and Matt (their summer intern) finish creating something magical. Look out, kiddos – this one's for you!
And we're starting to move on to the next phase of garden chores that are perennially romanticized for being therapeutic: We're weeding and deadheading! The Cutting Garden got a thorough going over this morning by the Deadheads who made their way at a steady pace through the beds.
It's also time to do battle with the bugs – Dick's veggie garden has a bad case of potato beetles – shown here in the larval stage. He finds drowning them slowly to be wickedly cathartic (though back breaking). Some of the Deadheads who helped him did not get the same degree of enjoyment out of plucking and drowning…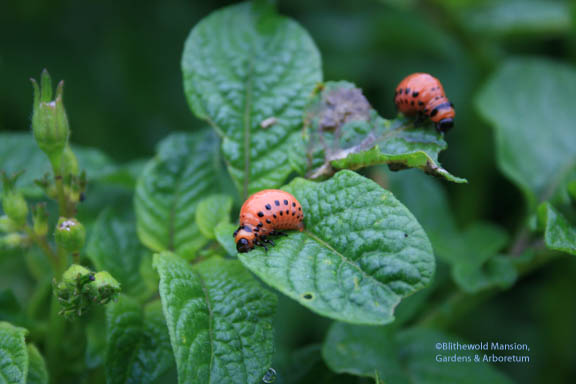 And the gardens are looking amazing – everyone says so – not just me! It's good for us to take a minute to really gaze at them and enjoy them at their June peak (so long as we don't take stopping for a minute as a nap'portunity). In the next week we'll be lost in deadheading the roses and Lady's mantle (Alchemilla mollis) but right now, this moment, they're pretty perfect.
We've been entertained by a rather exciting electrical rainstorm this afternoon that has brought back some chilly breezes and I'm feeling a titch more energetic all of a sudden (which isn't to say I couldn't nap on the bench right now). Do you hit a Wall or get "the slows" this time of year? What do you do to get over it?