Friday, October 26, 2018
|
|
bulbs
,
Display Garden
,
fall
,
How
,
planting
,
What-we-do
,
what's blooming
,
what's in bloom
,
When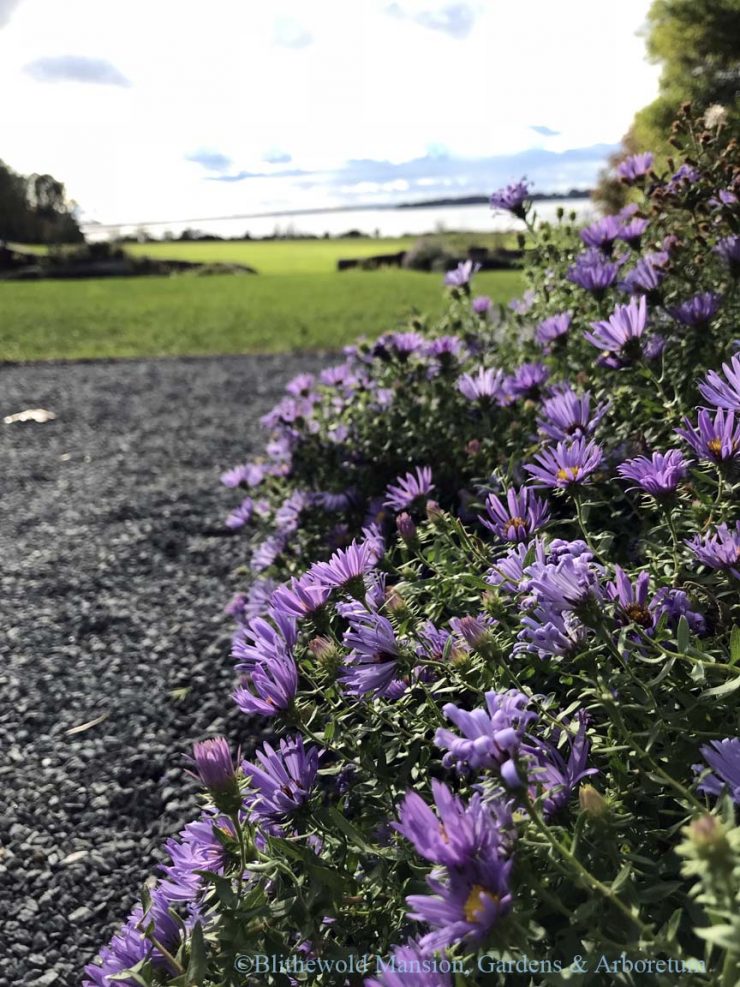 When October turns the corner towards Halloween, I feel The Wait begin. Frost is on the horizon. Some parts of Rhode Island have had frost in the last week. Blithewold is in one of the fortunate areas to be still watching for this official end of the growing season. In the meantime, we have removed the annual plants from most of our gardens and cut back perennials. We have also begun planting bulbs in a few of our gardens (the North and Rose Gardens will be planted next week).
Personally, I am still hanging on to the beauty of every new flower that appears in the very late season. Here are a few of the ones you will see if you stroll the grounds this weekend.
I never thought I'd say this, but I love asters and chrysanthemums. They put a cheerful face on cold October weather. If you are accustomed only to the varieties that are pruned into short mushroom-shapes available on every roadside stand throughout New England, then do I have a treat for you! There are many other kinds of late blooming chrysanthemums and asters that come in interesting shapes, colors, and sizes. These lesser known varieties are quite worthy of your attention. Chrysanthemum 'Hillside Sheffield Pink' is one of our favorites here. You will find it blooming in the Rose Garden and also in the Idea Garden.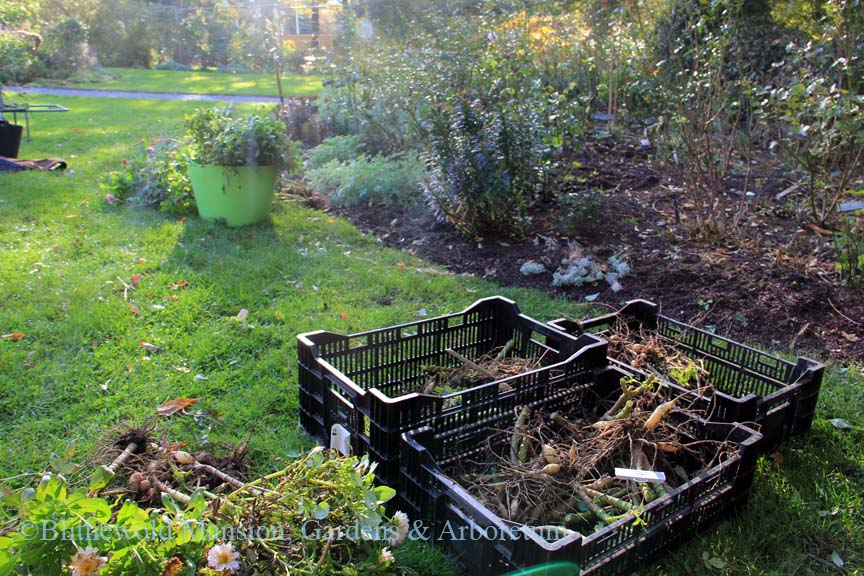 It was a little heartbreaking to dig up the dahlias this week. The spring bulbs are often planted in the same spaces as the dahlias come out of and the dahlias were planted in the spaces vacated by the tulips in the spring – creating a year-round circle of plants. In a perfect world we would wait for the dahlias to be hit by a frost so that the tubers would get the message that it's time to shut down for the winter. We don't often have that luxury since there is a limited window in which we can ask our wonderful volunteers to come out in the cold and help us plant thousands of bulbs. It's worth the heartbreak to have the help.
Planting 8,000-ish bulbs is a lot of work. This year we decided to enlist the help of some power tools. We used two different sized augers to drill holes for tulips, daffodils, and alliums (daffodils tend to be larger bulbs). It made a world of difference! Plus it was fun!
We also used a new method of bulb planting in the Cutting Garden. Instead of digging a hole and planting each tulip individually, we dug one large plot and placed all the bulbs in it together. It was definitely a time saver (though still hard on the back with all that digging).
It is always interesting to try different methods of accomplishing a perennial task. Bulb planting can be monotonous, but mixing it up creates some excitement. What methods do you use for bulb planting? Have you tried using an auger? Were you pleased with the results?
We are looking forward to next year's spring bulb displays around the property at Blithewold. Hopefully the winter will fly by and we will be appreciating the flowers before we know it. For now, we hang on to the final flowers of fall.