I am ashamed to admit that before yesterday I had never set foot inside Arnold Arboretum. Crazy. Good thing for me we came up with a couple excellent excuses for a day trip. The first excuse was that Gail always likes to take our intern on a field trip or two to see different gardens as a treat. This time Betsy was the one to take us out. Betsy spent last year interning at The Arnold and was eager to take us on a tour of her favorite trees and areas. Fine by me – and Gail! It's such a huge place (a 281 acre link in Fredrick Law Olmsted's Emerald Necklace in Boston) that it was extra special to see it through the eyes of someone so familiar with it.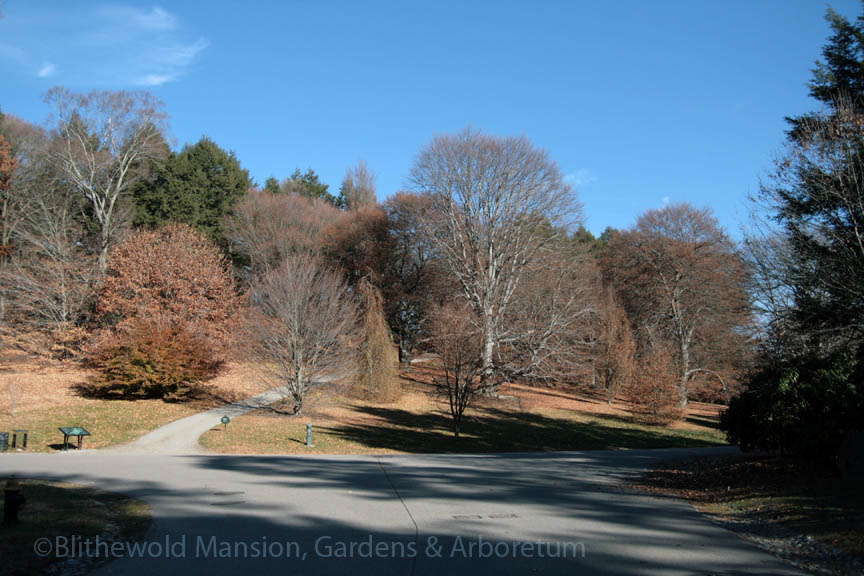 The second excuse is one we have had all along — the Blithewold connection. Back in 1926, George McKee brought a flower from one of their trees up to Arnold for identification. Ernest Henry Wilson and Alfred Rehder followed him back to see the first toon tree (Toona sinensis syn. Cedrela sinensis) thought to bloom in this country. They were so impressed with the property they declared Blithewold an arboretum too. And so began a strong relationship that continues to this day. (Most notably in the intervening, a crew from The Arnold came down to assist with clean-up and tree work after Hurricane Bob in 1991. And, incidentally, yesterday all of the staff members we encountered on our walk mentioned planning a visit to Blithewold this coming spring.)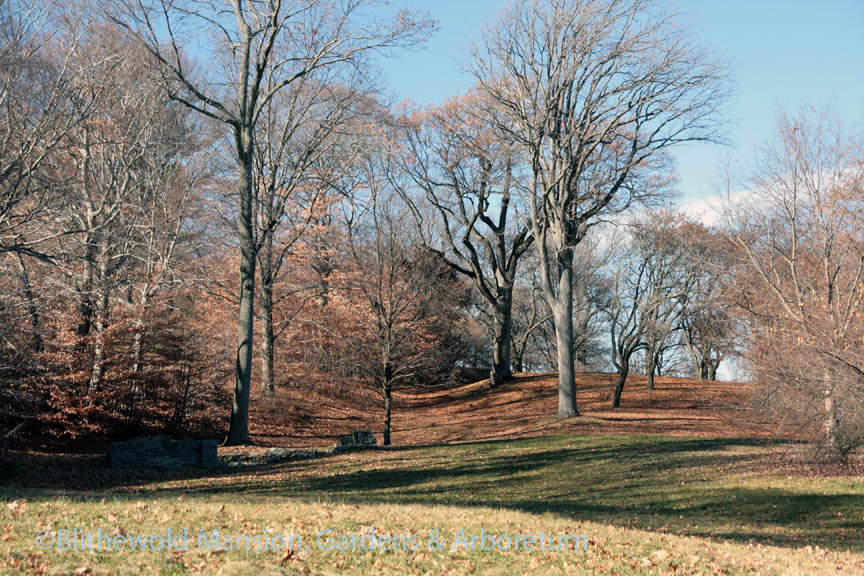 With those excellent excuses as our impetus, we decided to celebrate family tradition (this year's Christmas theme) with a display in the greenhouse and on the front door wreath of conifer cones gathered from The Arnold. Betsy obtained enthusiastic permission from Michael Dosmann, Curator of Living Collections, and we set off with an inventory of collections and a sheet to tally our finds and turn back in. Remember – never take stuff from anyone's property – maybe especially an arboretum's – even if it's on the ground, without permission. You never know what trees and areas might be being studied and surveyed.
I'll just share a few highlights from our tour that started at Hunnewell Visitor Center, took us through the recently redesigned Levintritt Shrub and Vine Garden, to the bonsai collection (just hours before they were moved into winter storage); onward to the conifer path, way off the beaten path, and back by way of Hemlock Hill Road, the Beech Path and Meadow Road. It was as dreamy as it sounds. And I'm actually glad that my first visit to the arboretum was at the onset of winter. Just taking in the shapes – the age! – of the trees and hills, beautiful bark, cones, and berries was overwhelming enough.
Have you been to Arnold Arboretum? Any favorite trees or walks? Are you like me – have you somehow managed to put off visiting some nearby gorgeous place for way too long? Let's make a pact to start crossing all of those places off our bucket lists. (Thank you, Betsy!)