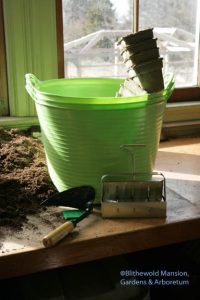 Every year Gail and I take it upon ourselves to try a few new tools. We want to stay on the cutting edge, so to speak, of what's handy, so to speak. We have not been offered any free trials, alas – we buy only what we think looks useful. So what follows are a couple of unsolicited reviews and previews of products that maybe you have considered trying too. (Deliberately linkless because this is currently a no-ad blog.)
The super slim lightweight hose from Gardeners Supply truly weighs next to nothing. I love that about it. What I don't love, and what they don't tell you, is that its tiny slimness doesn't provide enough pressure to support a full size watering wand – we use it only with a smaller wonder waterer. It is also super kinktastic.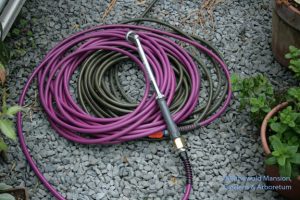 Plus if you don't take the time to wind the diabolical thing up exactly the way it wants to wind, it becomes a tripping snake monster. Is there no perfect hose?
Last year we purchased coir (rhymes with foyer) pots for our seedlings because they are made of coconut fiber, a renewable resource more sustainable than peat. We were also sold on them because they are supposed to break down faster than peat making it possible to actually plant them.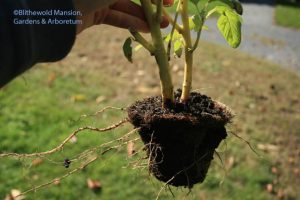 Too good to be true? You bet. They do not break down quickly. We had a suspicion so not every plant was planted in the pot – only the ones whose roots were already tangled in the fibers. And those plants did not thrive probably because they were strangled by pots that could probably survive an apocalypse. On the upside, we will be reusing the sturdiest ones.
This year we're trying cow pots but because they're much more expensive, we only purchased enough for our sweet peas. Cow pots are made from composted cow manure – a genius use for a truly unlimited resource – and are also supposed to break down quickly and be plant-able. I'll keep you posted. We also bought a soil block maker – if we can get our soil mix right, we'll just go pot-less.
Last year we also purchased half a pallet of coir bricks for mixing our own potting soil and that we love especially because it's re-wettable. (Peat is so not.)
I already know we're going to like the tub trugs because I have one at home and I'm not sure what I carried everything-under-the-sun in before I owned it.
The ho-mi digger (Korean hand plow) is new to us but has been used by other gardeners for something like 5000 years. Anything that has stood that kind of test of time must be a pretty perfect tool.
Everybody raves about the Cobrahead weeder so we bought a few last year for our volunteers to try. They haven't taken to it yet.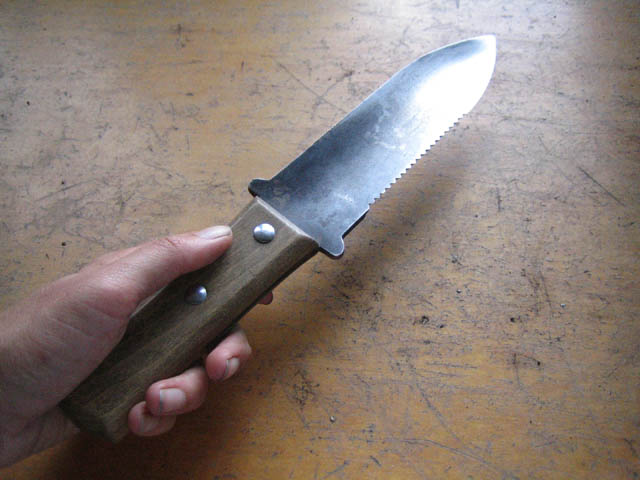 But most of them are fiercely loyal to an old broken-down batch of Cape Cod weeders that aren't being manufactured anymore. And I don't use it because I carry a hori-hori – my favorite garden tool ever – in my back pocket.
Have you used any of these things? What do you think of them? Do you have any suggestions for other tools we should try?