Tuesday, December 6, 2011
|
|
container gardening
,
container plants
,
Display Garden
,
garden design
,
How, When, What-we-do
,
hypertufa
,
hypertufa recipe
,
projects
,
trough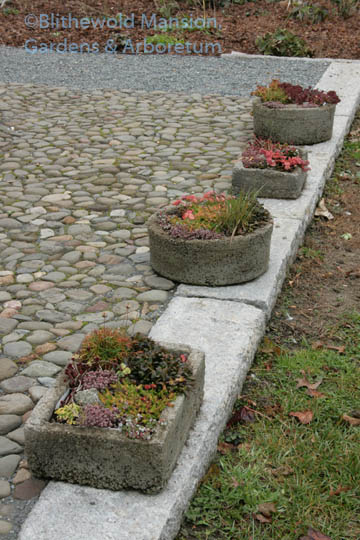 Ever since Gail and I went on a bus trip to Wave Hill – eight or so years ago – we've been coveting hypertufa troughs. A year or two after that trip we each made a couple, then a year later a couple more. After that, Fred and Dan made some, including the thyme bench seat in the herb bed and an enormous trough that might never leave the container bed. But we have wanted more. And there's nothing like wanting something to make you notice it everywhere. They've been showing up in every magazine; there are books full of ideas; we've noticed them tucked into gardens and out in front and center displays, and they're all over Kathy and Chris Tracy's Avant Gardens Nursery, in all shapes and sizes filled with the most luscious combinations of plants.  We're talking serious trough envy here.
So we hatched a plan to make a bunch more to fill our Display Garden stone bench bed (an abundance of anything in one place can make a gardener feel rich) and if we have enough left over, we'll tuck them in other beds here and there. We might even leave some on display in front of the pump house because they're so sweet against the cobbles.
For anyone who isn't already familiar with hypertufa, it's a Portland cement mixture that is meant to mimic something called tufa, which is a precipitated limestone (according to wikipedia). Being porous and high pH both real tufa and the ersatz version is a perfect container material for alpines among other little lovelies. It's also sturdy enough to stay outside over the winter and not quite as heavy to move around as straight concrete.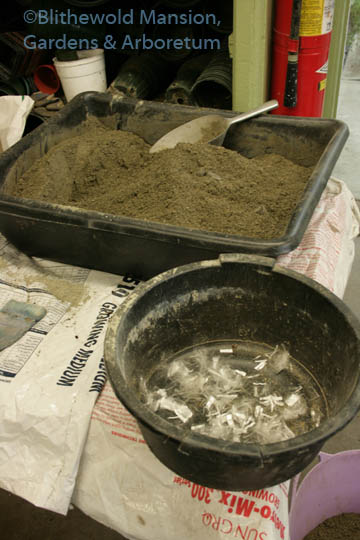 Gail and I obsessively researched recipes – there are many possible variations – and for our first go we tried two. Both included Portland cement and peat. One batch had perlite, the other vermiculite. To those mixes we also added a handful of microfiber concrete reinforcement and then a whole lot of water. We also obsessively collected molds, everything from a saucer sled to nursery pots to trash cans to jello molds to cardboard boxes.
Now that we've done one batch and are preparing for another morning spent wearing rubber gloves and dust masks, we know what we'll do differently. This time we'll go with the vermiculite mix – it feels smoother to the touch and more elegant. We'll also line more of our molds in plastic bags. Even molds heavily greased with vegetable oil didn't want to give up their stuff. Luckily, almost all of the pots and troughs we made were sturdy enough after curing for 4 days to knock out of their molds. (Only one will live inside its aluminum jello mold forever.) The cardboard boxes were the easiest to release and those troughs are actually pretty cool looking.
Our recipe: 1 part Portland cement; 1.5 parts peat moss; 1.5 parts vermiculite and a small amount of microfiber concrete reinforcement. Add enough water to make mud the consistency of cottage cheese.
Have you made any hypertufa pots or troughs or garden ornaments? Do you have any helpful hints to share – or maybe a different favorite recipe?