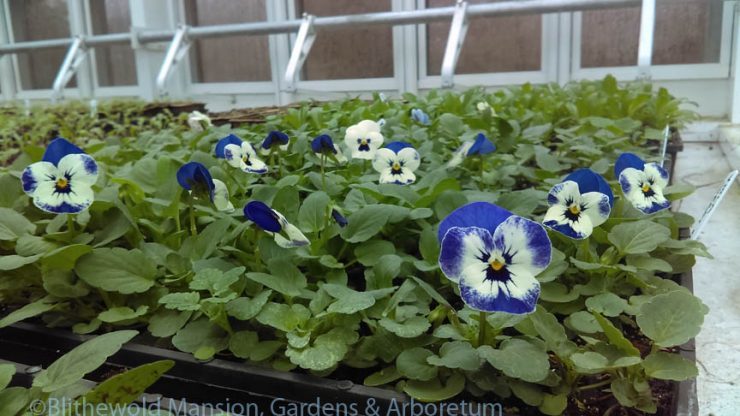 It certainly feels like a New England spring to me!  We've had snow, rain, and 65 degree weather all within several days.  It's always interesting when I hear people wondering if their spring bulbs will be okay.  My answer: yes!  These bulbs are not as temperamental as is often thought.  They can handle the changes – perhaps better than we can!  Mind you, the temperature fluctuations might play with their bloom times a bit.  Some will bloom earlier and for a shorter time, others might be slowed down a little.  Either way, they'll still make do with whatever weather we have.  I don't mind the alterations in bloom time so much.  It keeps things exciting.  It also helps me to appreciate each flower that opens.
I really do love spring.  It is such a time of discovery!  As we approached each garden this past week, I thought "things don't look so bad here!"  But, after we had cut back all the old foliage and raked out the leaves that always manage to accumulate around the plants, I realized how amazingly different the garden looked.  We discovered the new growth hiding under the previous year's cover.  If we hadn't taken the time to trim back this old foliage, it might be easy to pass by the garden and think that nothing is happening.  Not so!  Plants are growing and beginning to use all that stored up energy from the winter to emerge from the soil and surprise us with their new life.   Now when we look at the garden we can appreciate the Siberian squill (Scilla siberica), earliest daffodils (Narcissi spp.) and lovely Lenten roses (Helleborus orientalis) in all their glory.   They were not competing anymore with the long-past perennial foliage we'd left in place through the winter.
In other news, the Viola seeds we started in January and February are blooming in the new plant house!  There are few things that elicit such excitement as when a plant grown from seed begins to flower.  We're beginning to envision these lovely blooms spread throughout the gardens.  We're so happy we get to share them with you!
Amidst all this excitement, we have also continued to start more seeds.  The latest sewing includes Globe Amaranth (Gomphrena), Pincushion flower (Scabiosa), Cock's Comb (Celosia), Tassel flower (Emilia), and many more.  We are constantly shifting plants to find room for our newest seedlings, but that is a happy problem to have.  Soon enough we'll be able to start putting some of the earliest plants outdoors.  Spring really is upon us!
Have you been inspired to investigate new life in your own garden lately?  What are the flowers you most look forward to seeing in the spring?