Sometimes, it's the pockets of lovely that catch and hold my eye rather than the grand view. In my own garden, the whole isn't as pleasing (yet) as some of the little things here and there. And rather than feel disappointed in the grand view, I'm magnetically drawn in to the pretty parts and could gaze for days at them without even seeing the weeds! (hmmm… could that be a weeding chore avoidance tactic?) At Blithewold, the grand view is always stunning (sometimes overwhelmingly so) but now that we're putting gardens to bed, and there are holes in the whole, the vignettes are extra especially noticeable and eye capturing.
The trees and shrubs are catching my eyes too – I've been waiting for the Common witch hazel (Hamamelis virginiana) to bloom and it's beginning just in time for Halloween. Perfect timing because the blooms look, to me, like teeny weeny Tim Burton creations!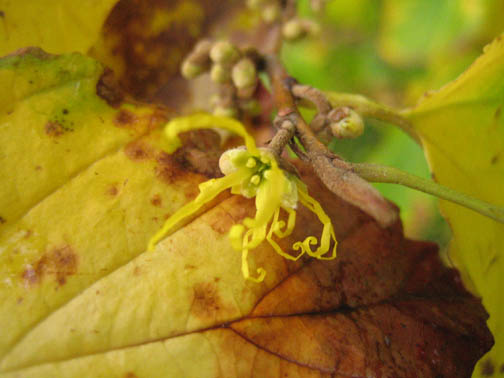 The Carolina allspice (Calycanthus floridus) smells like cotton candy this time of year.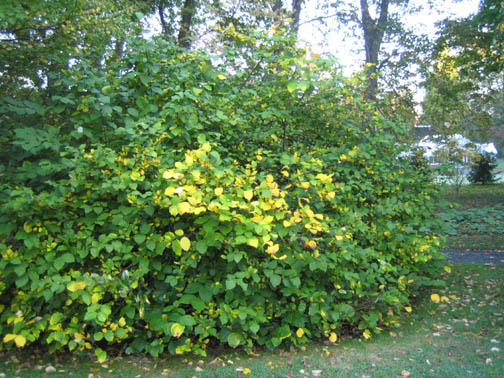 The Sourwood (Oxydendrum arboreum) might be my new favorite tree – look at the colors!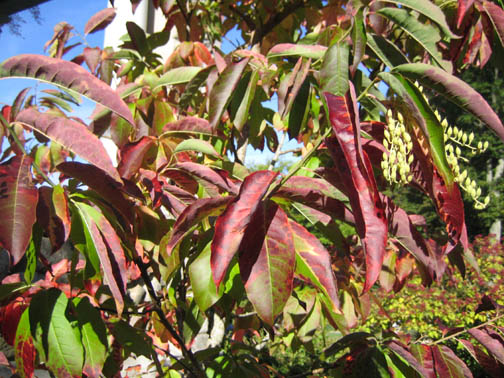 This week we were a little undone by rain in the forecast (notice I didn't say "undone by rain" period – we got some but not a lot in the end) and the Rockettes and Florabundas got days off. I missed the Rockettes' company when I raked pine needles for the Rock Garden's winter blanket
and Gail and I missed the Florabundas' when we dropped daffodils in auger drilled holes (Thanks, Fred and Dan!) by the main gate. We're hoping an April display of daffs by the entrance will entice people to drop in to see the real show inside… I hope the bulbs do ok. The ground along Ferry Road is so fiercely dry, root-y and rocky that we couldn't (no matter how Hitchcock's Psycho we went at the holes with our hori-horis) plant some of the daffs at their preferred planting depth of 6-8″ down. You can see in the picture, some are pretty close to the surface… Clever things, they will dig themselves in deeper – if they can!…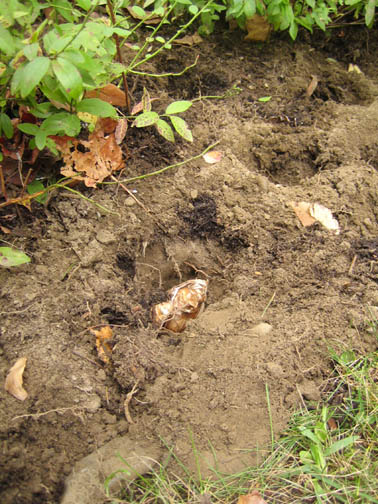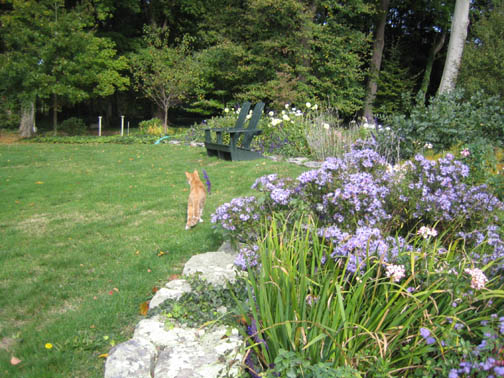 The last wedding of the season is this weekend – it will probably be chilly but gorgeous! Cathy (our pinch-hitter garden helper), Gail and I spruced the Rose Garden and North Garden for the bride and her guests – and Jake came along to give his approving head butt. We had pockets of frost this morning but luckily nothing in the gardens was touched. Next week we'll take out the dahlias in the North Garden, cut back perennials, toss annuals and plant tulips – we're nearly ready for winter! Are you?