Tuesday, June 22, 2010
|
|
Annuals
,
companion plants
,
container plants
,
Display Garden
,
Display Garden
,
greenhouse
,
Gunnera
,
poppies
,
Rose Garden
,
Snafu Day
,
soil blocks
,
weeds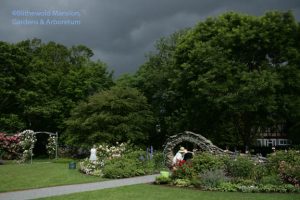 Summer solstice is a perfect occasion for taking stock of the season so far. We're at a midpoint – at the start of summer – with a lot to look forward to and plenty to look back on with both pride and chagrin. We always like to try new things here and although I have every intention of talking about what works and what doesn't, I seem to be much more likely to show off our successes (the pictures are prettier). So today I'm joining Susan over at Ink and Penstemon for her Solstice snafu day celebration for a virtual bonfire of disappointments, mistakes and failures.
We tried soil blocks this year thinking that it would be great if we didn't have to use peat pots or the indestructible coir pots anymore. (Planting this spring we turned up more intact coir pots – it's like an archeological dig around here.) It turns out that soil blocks are not easy to make. I definitely didn't get the soil mix right – any suggestions for what works would be welcome. They took every shoulder muscle to jam soil into the maker and a lot of finesse to stamp them into the tray without breaking the fragile clumps. Ours – the ones that held together – were like cement and most of the seeds we tried in them didn't stand a chance of germinating.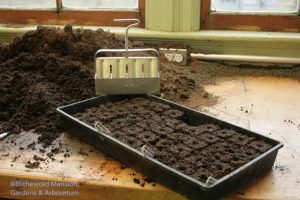 I count it is as a failure that we allowed Lilah (Weed Woman) to take a vacation this week. Not only would we rather be kicking back on a Block Island beach too but the weeds have suddenly taken off as if they knew they were safe. This particular patch of purslane, onions and Berggarten sage (Salvia officinalis 'Berggarten') is an example of an intentional snafu. Supposedly onions do not love sage. We want to see if they really won't grow well or if it's simply a silly idea to pair such excellent companion plants with each other instead of with plants they might benefit instead.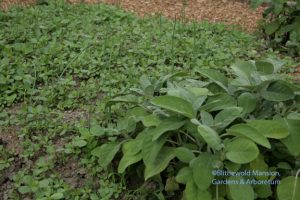 We were so excited to place the Gunnera manicata in our little cement pond. Gail and I both said, "It's perfect!" especially paired with our other greenhouse behemoth (Agave americana) in a nearby bed. But then the gunnera started to wilt. My research has indicated that they like full sun to partial shade so I can only think that the poor thing is in re-potting shock. We've cut all the big leaves off and might make a last ditch attempt to save it by taking off the flowers too. It just doesn't look stupendous anymore and I'm seriously disappointed. We might have to take it out and hide it just to keep from feeling so terrible about it.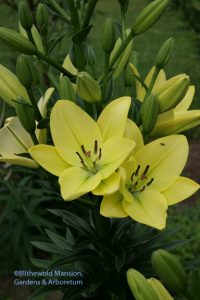 Plant labels are something I would love to put on the bonfire. Just when I feel like I'm catching up printing them, the entire garden bursts into bloom, hiding the labels I've already placed and requiring about twenty-hundred more. The weekend garden docents must have fits trying to find plant names for interested visitors. At least I know which plants I put labels on… And in the last couple of years I never got a tag on this enormous lily. I know that if I'm dying suddenly to know its name, visitors must be curious too. We ordered Lilium 'Gerrit Zalm' back in 2008 but perhaps now it's known as 'Trebbiano'? Curious.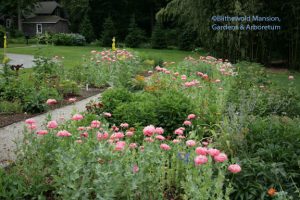 And lastly, our self-sowers might look to some like an egregious error of judgment but in the case of our pink peony poppies, we meant to have so many. We'll be saving seed perhaps to sell in the shop. Plus, we and our visitors love them. I did, however, remove them completely from our big Display Garden bed. I have come to the realization that the reason self-sowers are considered such a nightmare is that it's mentally challenging – heartbreaking and difficult – to edit out something you think is beautiful. But sometimes, just one (or twenty-hundred) will do and make the garden more fantastic than it might otherwise be.
Do you have any snafus to throw on the solstice bonfire? Confess it here and/or head over to Ink and Penstemon to join the celebration.