Monday, January 16, 2012
|
|
Brugmansia
,
Camellia
,
Chaenomeles
,
greenhouse
,
Hamamelis x intermedia 'Diane'
,
houseplants
,
ice
,
Loropetalum
,
Rabdosia longituba
,
weather
,
what's blooming
,
what's fragrant
,
winter
,
winter
,
worry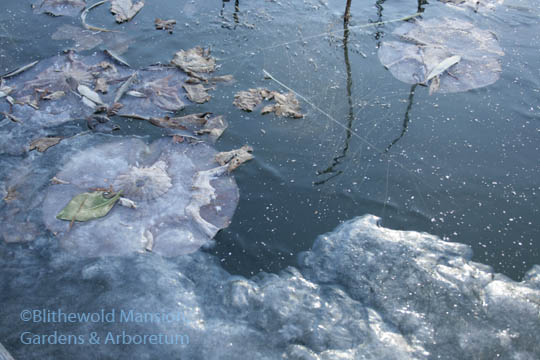 Gardeners are reputed to be an optimistic group but I think we might just be stubborn. Most of us at least are prone to occasional – usually weather related – bouts of pessimism, gloom-and-doom opinion competitions, and worry. But no matter how dire we guess things will be, giving up is never an option. (And doesn't the garden always surprise us by being beautiful beyond our wildest dreams?)
Never mind that wild temperature swings have caused the marginally hardy trumpet spur flower's (Rabdosia longituba) pipes to burst. We should have left the stalks standing as protection… and I'm mentally preparing myself to replace the plants if they die. An unusually warm December caused the quince's (Chaenomeles speciosa 'Contorta') flower buds to swell and open just in time to be blasted by an arctic freeze. The buds on Cornus mas are perilously fat too and it looks like the acorn-deprived squirrels have eaten most of the tulips. Will spring still be lovely? (After Tropical Storm Irene blew the color out of the leaves last August, I worried that we'd have a lousy fall. It wasn't lousy by a long shot.)
I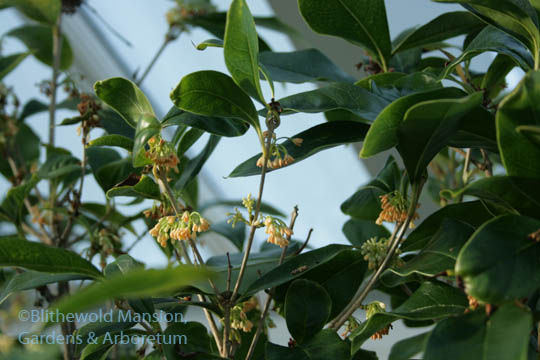 n any case there's absolutely nothing we can do but wait and see and enjoy what we have in the meantime. In honor of Garden Bloggers Bloom Day (yesterday) hosted as always by Carol at May Dreams Gardens, here are a few indoor distractions. Who cares what it's doing outside when the sweet olive is scenting the whole house? Our Brugmansia should have gone into dormancy down cellar ages ago but I won't deny it or myself one last bloom. If we can't grow Camellias outside, might as well have them in. And the razzleberry has just pulled ahead of its witch hazel cousin (running fast this year – what if they've finished before Valentine's Day?!) in the race to bloom.
Are you worried about spring or are you distracting yourself with an abundance of blooms inside?