Memorial Day is the official opening of the summer season – especially in New York resort towns like Rhode Island – and today's weather, instead of being an appropriately crisp (or rainy) farewell to Spring, is a muggy slide into the middle of Summer. We had our chance yesterday to acclimatize – it was only 80 something…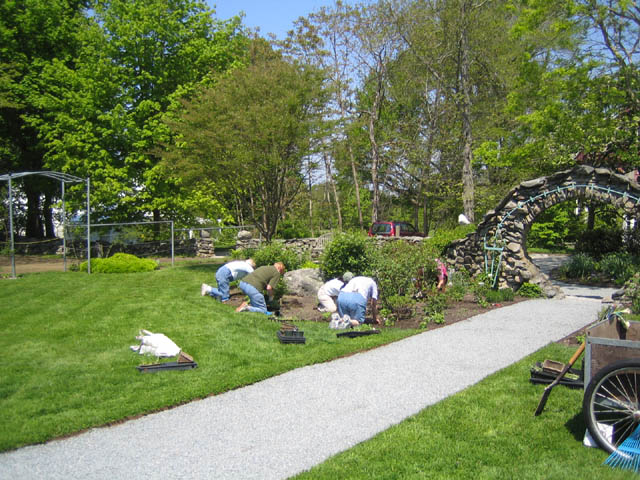 The Florabundas took the temperature in stride and without the least sign of wilt, forked out more tulips and planted 219 more plants in the Rose Garden — it's really going to be specacular this year!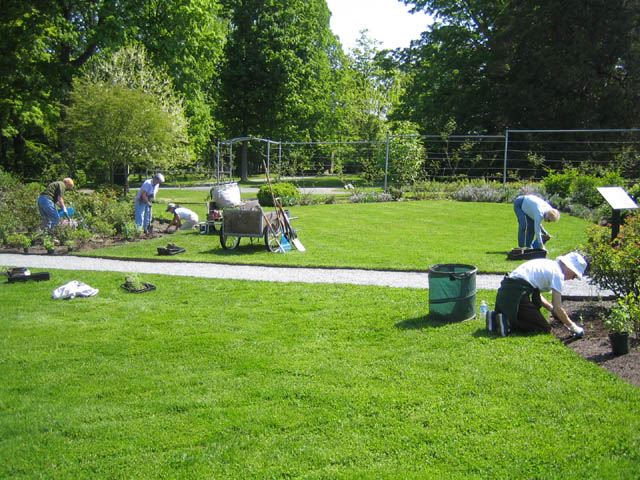 We placed 90 Heliotrope (an old fashioned variety that's hard to come by which is strange because it's vigorous and super highly scented. Why isn't it the one that's widely available??) all over the garden rather than just in the entrance beds. If the fragrance was cloying, it might be too much but I think it will be a delicate wash of vanilla nostalgia to linger in.
A note on forking out the tulips: Visitors have asked – what do we do with them? Of the new ones we buy every year, we try to save about half to replant for next year. (We try new ones in the Visitor's Center beds and the North Garden every year and last year's go usually to the Cutting Bed. Because the 2nd year show tends to be less dramatic, we also buy new ones for the Cutting Bed.) To save the tulips that we fork out, we allow them to slowly dry with the foliage attached for a couple of weeks. (It's best to let them dry in the shade rather than leaving them in the blazing like we did this year – Oops! Do as we say, not as we do!) Then we paper bag them by variety and store them either down cellar or in our pot cubbies until we're ready to replant them in the fall. The viable extras are snapped up by staff and volunteers (there have to be some bennies for all their hard work!)
Here's just one bloom for today because it stole the show: Paeonia suffruticosa 'Yachiyotsubaki'. I had to put my hand in for scale because how else would you know that it's the size of a dessert plate and that I didn't need the macro setting to fill the frame!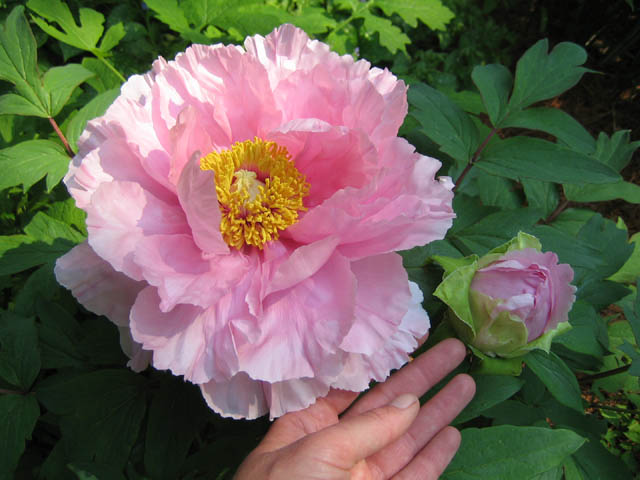 And to tempt you and the kiddies to visit — I wonder what's behind the bamboo?!….