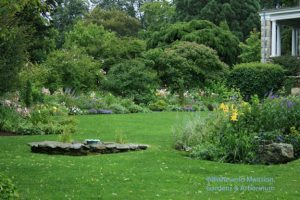 A rainy day offers many possibilities to the dedicated gardener. Even though a few of us might see a storm as a welcome opportunity for a break (I'm sure I'd like to wrap up on the couch with a cup of tea, a good garden book in my paws and a dog on my feet), there are others of us who not only have a job to do, but can't quit fussing with plants. There's always some kind of gardening to do inside when it's raining outside besides watching the grass grow. I know this to be true because it's been raining lately. A lot.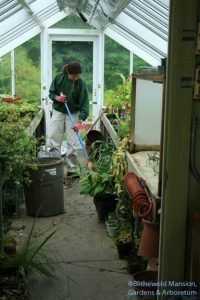 Gail and Lilah and I have been slowly chipping away at moving all of the plants out of the greenhouse. It's a lot like moving out of an apartment – the hardest decisions are always saved for last when everyone is tired of the whole process. Gail made a couple of the final big pushes out during the most recent rain squalls but we both have a such a hard time getting rid of the dregs and stragglers that we went at it in stages this year.
The last plants in the greenhouse, aside from our array of succulents that can take the heat, are the sick, the dying, the forgotten and the ugly – our failures on display. It ain't pretty. But it's the hardest thing to surrender to failure and let them go. So we allocated clemency benches for plants that just desperately needed repotting and a bench for orphan adoptions – most of which seem to have ended up on my back porch.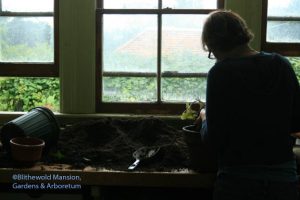 And we designated a pitch-it bench for a good last look at all of the plants we had both "had it" with. I have to hand it to Gail who finally hardened her heart and hurled them while Lilah and I had the much greater pleasure of potting up the keepers.
The greenhouse is mostly empty now. The fans are off, the hose coiled and Gail has earned another week's vacation. Lilah and I will move the succulents outdoors next week – although if the rain continues, they'd definitely be better off staying put. And if we have to, we'll move on to other rainy day chores like cleaning out the cellar, organizing old plant labels and ordering tulips. Can you guess which task we'll tackle next?