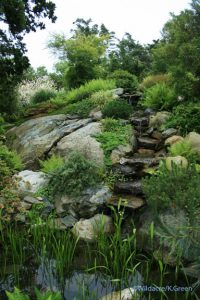 What is it about someone else's garden that can make even ordinary plants look extra special and precious? Once a month or so during the summer, Blithewold offers a great treat called an Intimate Garden Tour and this past week we were invited for a slow meander inside Wildacre on Ocean Drive in Newport. Wildacre was originally designed by Fredrick Law Olmstead (of Central Park fame) for his brother and has been beautifully preserved and restored by one of Blithewold's favorite benefactors and is now listed on the National Register of Historic Places. It was, for me, the kind of garden that is so extra-ordinary and so site specific that I really couldn't glean any particular ideas for my own garden but then – I didn't want to. It was enough just to trespass and enjoy and to borrow the whole of it fully intact inside my mind's eye (and on digital file too, of course).
The gardens are meticulously tended by 3 gardeners – one of whom we were told spent the entire day replacing moss and sedum that the birds had just seen fit to fling about – and has been decorated with a whimsically elegant sense of folly by its owner. Although it has always been described as being a relatively flower-free garden, the sedums and peonies were in full glorious bloom and a wonderfully floriferous butterfly garden is a work currently in progress. And every plant and every element (unlike my own garden) was in perfect scale with the garden as a whole.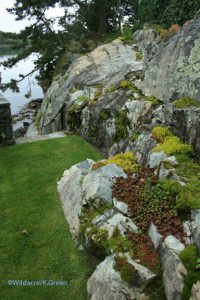 Rocky crags, softly planted and serene cove views beyond a vertigo inducing edge-less infinity pool took our blissed out eyes in all directions and stone steps led us on tiptoe from lookout to lookout. I am so unaccustomed to visiting private gardens that I found myself feeling like a reluctant but obsessed peeping Tom – I wanted to see it all and memorize it and take it with me but it also seemed like such a personal and private place that I didn't want to intrude either. I think that's all part of the fun of getting these glimpses of someone else's garden, whether it's someone we know and admire or a perfect stranger. And even though I didn't bring back any specific ideas, seeing Wildacre gave me a fresh perspective on the gardens here at Blithewold and my own at home. I hope that our gardens give a similar impression of being truly beloved and perfectly situated.  Do you ever go on private garden tours? What do you bring home?
Next month an entirely different sort of garden for entirely different perpective will be open in Portsmouth, RI! For more information and to register click here.