I really enjoy working with each group of volunteers and I missed out a little this week. We called off the volunteers on Tuesday because of Monday's torrential rain and I was lashed to my desk on Wednesday.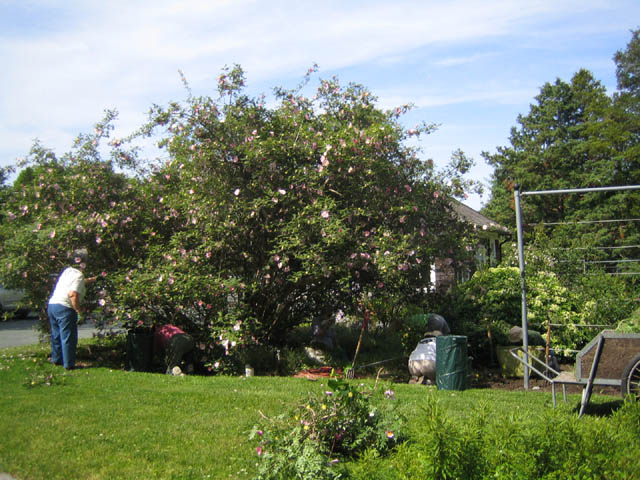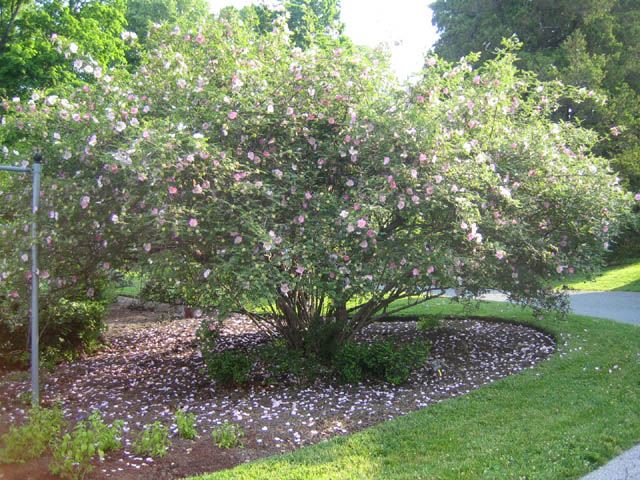 But Thursday!! We all got underneath the chestnut rose — everyone was poked in the nogg by thorny low hanging branches — and cleaned out all the forget-me-nots and grape hyacinths and weeds. It was a big big big job and it looks really beautiful now because you can finally see the gorgeous form of the (still blooming) tree. And then – Tea Time! I have to say my favorite time of the week is 10:30 on Thursday mornings. It's better than second grade recess. Check out the spread! Fruit salad and cake and pastries – oh my!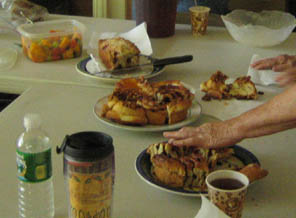 Today (with no baked motivation *sigh*) Gail and I did another chunk of planting. The Epimediums finally arrived so we finished off the new dry shade bed under the Sophora by the Moon Gate and after lunch (salad *yawn*) we planted what we placed in the new megalith (for lack of a better name at this moment) bed in the Display Garden.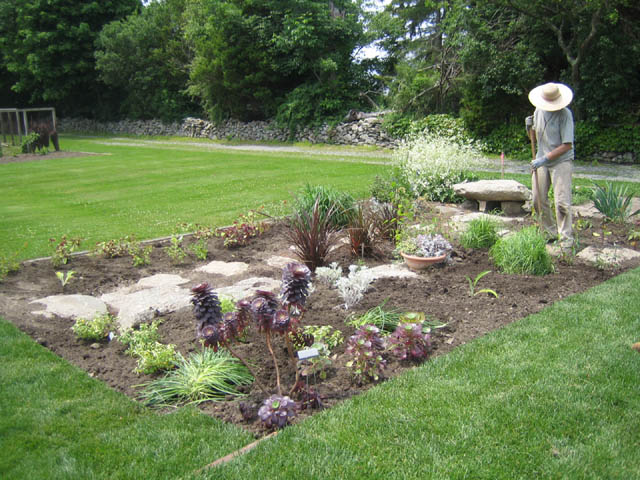 I love it! We put in a bunch of different kinds of cupheas and some relocated grasses, knifophias, Aeoniums, phormiums, senecios, plectranthus, salvias and soon the guys will move the big smoke bush (Cotinus) over to this bed. The bed is heavy on burgundy with some inky and smokey blue blots and a little rainbow color here and there. The froth of bloom behind the mini megatithic structure is Crambe cordifolia.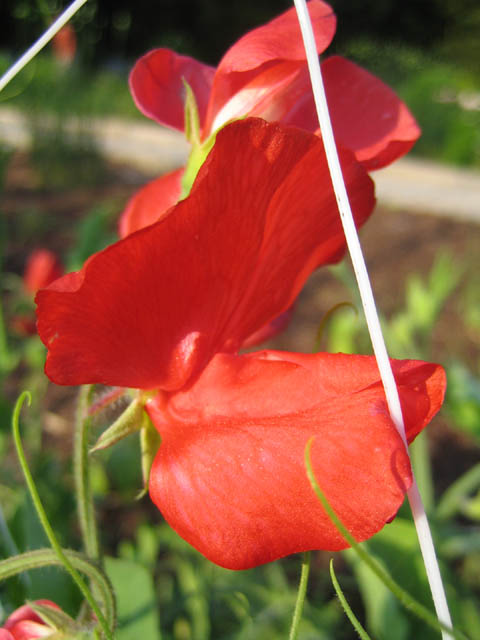 I took a lot of rose pictures this week because they're just opening and looking so pretty with all their still-green foliage but instead of one of those pics here's one of our new sweet peas instead! We've had trouble getting a good red to germinate and bloom in recent years but this one is a winner – Red Arrow is as red as it gets! Orange is next on my list. (We keep trying!)
And here's a bamboo update: last week and this week!