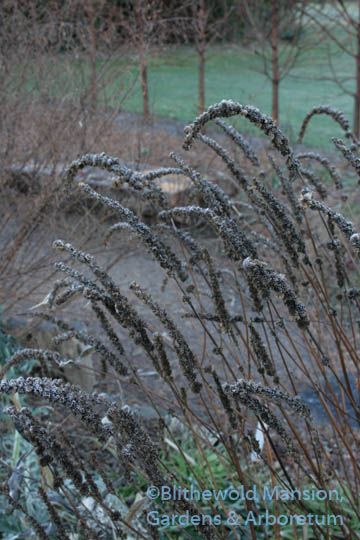 The other day Gail brought in an old book, Designing with Plants by the Dutch designer Piet Oudolf and Noël Kingsbury. As I flipped through it, a little lightbulb blinked. Oudolf says the best way to approach garden design is to consider the plant's – or flowers' – form first, then its leaves, and color dead last. I'm pretty sure my mind usually puzzles with design using the exact opposite sequence. Color first with leaves and form to follow. And I've been wondering why some of the garden jigsaws have been so difficult to solve.*
This time of year it's a no brainer. Of course form and structure are more important than color. Color went a while ago; form can last longer. – I have to admit having a little ah-ha about why seedheads are so integral to Oudolf's designs.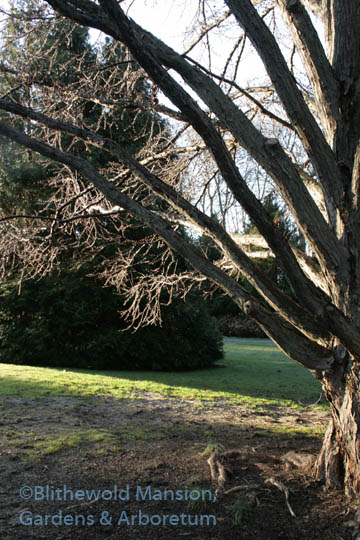 (They're not just about feeding the birds.) But at least lately I've been seeing the bones everywhere without needing the prompt, and wishing my own garden looked better naked.
I will also admit to you that I think I am in danger of being too obsessed with filling my garden with evergreens (not that I have many yet.) They definitely give the garden a certain winter weight, and they provide a lovely foil for the deciduous trees and shrubs whose naked form we might want to spotlight. But it's exactly those plants that I think I have been in danger of forgetting about. I get all caught up in flower color and leaf shape and feel downright lucky if a plant's winter form ends up being lovely too. Maybe this year I'll put that requirement a little closer to the top of the list.
*Gail says we've had form in mind all along. True. But I hope that consciously making it the priority will be just the shift I need to get in gear and extra excited about planning this year's gardens.
Are you finding any fresh inspiration or new ways of thinking about the garden this winter?